First-Hand News?
Obtain news and background information about sealing technology, get in touch with innovative products – subscribe to the free e-mail newsletter.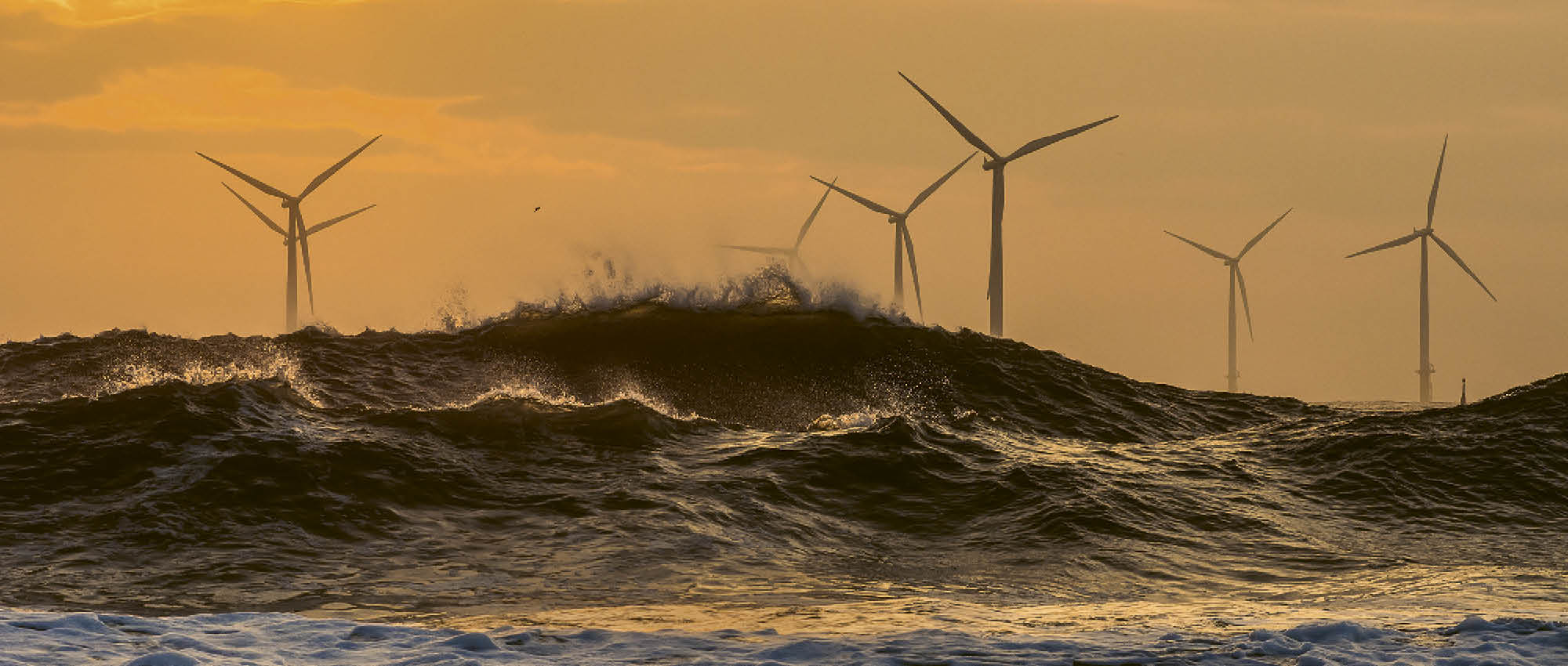 Long-lasting Systems for High-performance Wind Turbines
The wind power industry has set its sights on ever larger and more powerful turbines. HINE is one of the companies driving this trend with its hydraulic systems. Based in Spain's Basque region, the company has worked closely with Freudenberg Sealing Technologies for several years.
When you travel by car down the A-1 toward Pamplona from the Basque capital of Vitoria-Gasteiz, you will eventually see the Aumategi on the left. The peak of this 1,200-meter (3,900-foot) mountain is a popular destination for hikers. Once you reach the summit, a strong breeze usually blows off the Bay of Biscay. The wind industry is putting the situation to good use. Dozens of small wind turbines are positioned on the Aumategi's sides.
HINE
Founded in 1974, the company is headquartered in Olaberria in northern Spain. HINE began to make a name for itself among manufacturers of wind turbines with its hydraulic systems in 1996. Today, many leaders in this industry rely on HINE products, which have been installed in more than 85,000 wind turbines worldwide. With more than 700 employees in Spain, China, Brazil, India, the United States and Mexico, HINE is not just involved in the construction of the turbines but in their maintenance as well. HINE also develops hydraulic products for the solar energy sector and many other industries such as mining, aeronautics, marine and railway.
The hamlet of Olaberria is no more than 40 kilometers (25 miles) away as the crow flies. Day in and day out, the wind plays a role here as well, at the headquarters of the HINE company. Today, its components can be found in the wind turbines built by the industry's most important manufacturers. HINE has specialized in the development of the hydraulic and cooling systems that are built into the nacelles of wind turbines. The company was founded in 1974 as a source for hydraulic systems for industrial applications. The technology has remained a pillar of the business down to the present. In 1996, the management decided to provide its expertise to the still-maturing wind power sector. It quickly turned out that it had backed the right horse. Revenue grew, and HINE founded subsidiaries in the United States and China just 10 years later. Today, its workforce has grown to more than 700 employees worldwide.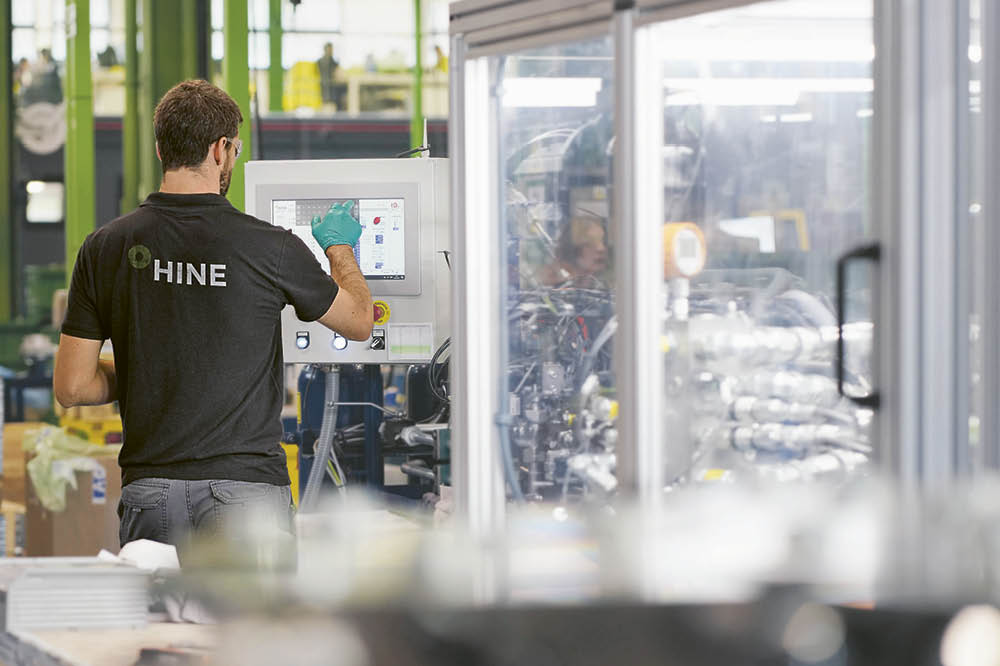 The Market Leader, Thanks to Expertise and Quality
Shortly before HINE turned to the renewable energy industry, a mechanical engineering company in the region – Gamesa – began building wind turbines. Early on, HINE began cooperating with its countrymen, who now do business as Siemens Gamesa after their merger with Siemens' wind energy division. HINE has not only impressed its Basque neighbors with its quality. Other industry leaders, such as Vestas, Nordex Acciona, GE, Goldwind and Mingyang Wind Power, put their faith in high-quality products from Olaberria.
But how did HINE components prevail in most of the hydraulic systems for the current wind power turbines, securing a market share of 60 percent? "With our systems, we helped a still evolving wind industry take off," says Alberto Frauca, Chief Sales Officer of HINE Group. "Due to our experience and the expertise of our engineers, we were able to create and install urgently needed products. So, we grew gradually with the industry." Due to their close contacts with manufacturers, the company's hydraulic specialists discover where problems lie at an early stage. Thanks to their expertise and the company's in-house research center, they develop made-to-order solutions for the latest challenges, first and foremost cylinders, hydraulic power units, fluid connections and cooling systems.
In Freudenberg Sealing Technologies, we have found a partner that demonstrates the same standard of quality as we do.
Rubén Martínez, Chief Procurement Officer of HINE Group
Components and Tools for Largest Wind Turbines
HINE also built up a powerful service division. Hence it is able to give operators fast, professional support globally, including spare parts, training and updated programs on the maintenance of their facilities. For example, its engineers came up with "wind tools" several years ago. They facilitate the safe operation of wind turbines as well as their simplified maintenance. There are tools that support the installation of rotor blades and power cables, the remote rotation of the drive train and the overall maintenance of the gearbox.
Today, HINE is developing its components for next-generation offshore turbines. They will have an installed capacity of 16 to 20 megawatts. The diameter of the rotor blades for these facilities exceeds 250 meters (820 feet). Even as the turbines grow in size, the expectation is that the products inside them will have to be more and more robust – and thus last longer. Alberto Frauca describes the challenge: "Today, the components have to function for more than 25 years, and they have to operate under harsh conditions that expose offshore turbines to corrosive saltwater at wind speeds up to 200 kilometers (128 miles) an hour."
Diaphragm Accumulators
Diaphragm accumulators from Freudenberg Sealing Technologies are built into numerous wind turbines. They have a specially developed elastomer diaphragm that withstands a considerable number of load cycles and exhibits extremely low permeation. A large portfolio of accumulator sizes, from 0.07 to 3.5 liters, and filling pressures up to 350 bar permit their use in the wind turbines of today and tomorrow while meeting an extremely wide range of system requirements.
Accumulator size from 0.07 to 3.5 liters
Operating pressures up to 350 bar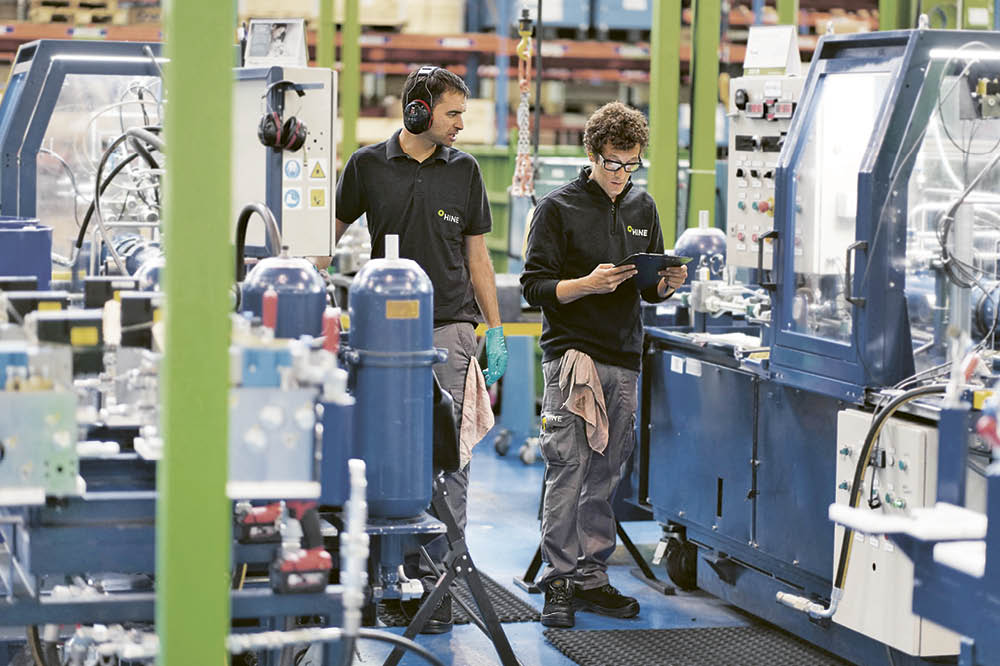 Moderating the Wind's Pressure on the Turbine
That means the highest possible quality is required for all HINE components. When the company was looking for a manufacturer of powerful and durable accumulators for its hydraulic power units, HINE started teaming up with Freudenberg Sealing Technologies in 2015. The accumulators help moderate the powerful pressures that build up in a wind turbine's hydraulic system. If one considers the solution visually, then a pressure peak becomes a flattened curve. This relieves the entire system. "In Freudenberg Sealing Technologies, we have found a partner that demonstrates the same standard of quality as we do. It's a company that brings security and confidence to us," Rubén Martínez, Chief Procurement Officer of HINE Group, confirms. "At HINE, we need to develop complex systems in a short time; therefore, we have integrated solutions from Freudenberg Sealing Technologies into our systems. These Freudenberg products help us achieve our goals."
More than 200,000 HINE hydraulic pitch systems have been installed in wind turbines (hydraulic power units + pitch blocks) as well as more than 12,000 cooling systems. The hydraulic power units regulate the pressure inside the hydraulic system of a wind turbine, while accumulators provide the energy for turning the rotor blades toward and away from the wind. Freudenberg products make a contribution here as well. "Freudenberg is not standing still – it has a strong team that is continuing to develop technologies. That is a benefit to us," says Martínez. "Not least of all because we are called on again and again to find made-to-order solutions that meet our standards in a dynamic market. Freudenberg can support us with products developed especially for this purpose."
Demand for Wind Energy Keeps Climbing
HINE believes that the wind industry's potential is far from exhausted. Quite the opposite. "We assume that the total global installed capacity will increase many times over," Alberto Frauca, CSO of HINE Group, projects. "It will triple for onshore facilities by the year 2030 and increase tenfold by 2050. That increase will already be achieved for offshore facilities by 2030." By 2050, the company expects wind energy to cover one third of the world's demand for electricity. HINE is responding to these forecasts by expanding its portfolio of products and services and by acquiring appropriate companies. HINE considers itself well prepared to continue to actively accompany the rise of the growing wind energy market.
---
This article originally appeared in ESSENTIAL, Freudenberg Sealing Technologies' corporate magazine that covers trends, industries and new ideas. To read more stories like this, click here.
More Stories About Renewable Energy