First-Hand News?
Obtain news and background information about sealing technology, get in touch with innovative products – subscribe to the free e-mail newsletter.

Clamp Seals@Model.HeadlineTag.Tag>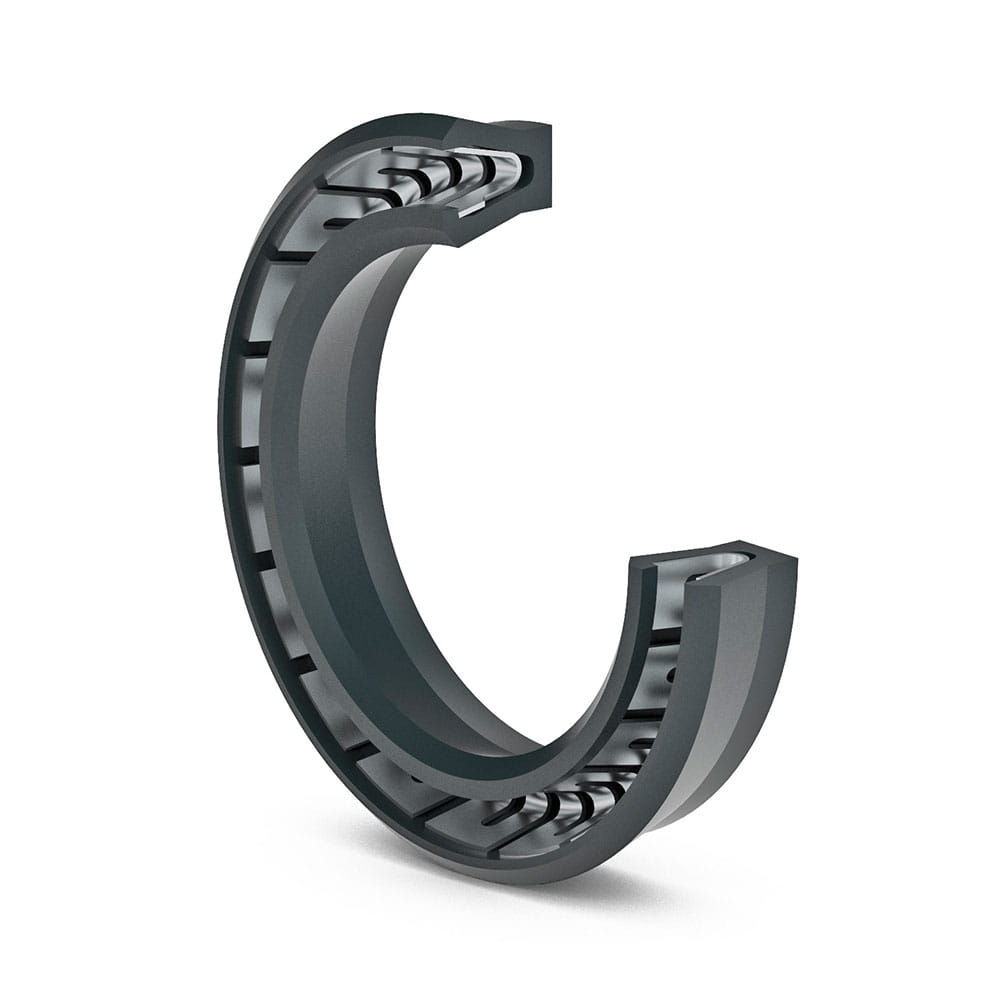 Lip Seals, PTFE Seals, Forseal, Industrial Sealing Products
Pressurized on One Side, as Rod or Piston Seals
Forseal seals from Freudenberg Sealing Technologies are groove-ring-like seals for pistons and rods that can be pressurized on one side. In their basic design, they consist of an especially stressable PTFE seal and a metal spring as a static pretensioning element for the seal lip. As a customer-specific solution, Forseal seals can be oriented to precise requirements for materials and designs.
Open the 3D view
Wide-Ranging Use With High Functional Security
With its nearly universal resistance and a spring- assisted seal design, Forseal permits optimal, long-lasting functional reliability in a wide range of applications – especially under extreme loads. The basic design consists of an especially stressable PTFE seal and a metal spring as a static pretensioning element for the seal lip. In case of heat expansion, this guarantees the optimum contact pressure if it cannot be provided by the system pressure during operation. Thanks to this combination, Forseal shows an extraordinary capacity to handle exposures to aggressive media, thermal influences as well as friction and abrasion. This makes it an especially reliable and cost-effective sealing approach for demanding requirements.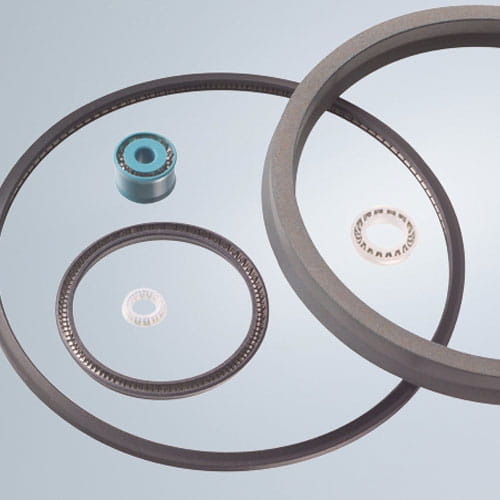 Freudenberg Sealing Technologies offers standard Forseal designs from its broad, economical catalog product line. It includes Forseal FOI as an internally sealing, axially moved rod seal as well as Forseal FOA as an externally sealing, axially moved piston seal. This unilaterally active seal variation made of PTFE 10/F56110 is provided with a metallic tensioning spring made of 1.4310 steel and is quickly available for piston diameters of 5 to 200 mm (in some cases as stocked products). In addition, special dimensions can be delivered on request. As a customer-specific solution, Forseal can also be geared to precise material and design requirements, for example as a rotation seal with a radial/axial direction of action.
A wide array of PTFE compounds and spring materials is available for Forseal design. Other compounds from Freudenberg Sealing Technologies are available for special requirements, such as those in medical technology. That means the seal can be adapted to exactly the right requirements. Stainless steel (1.4310) is preferred for use in Forseal springs. To reliably seal applications in aggressive media, Freudenberg Seal Technologies also offers special spring materials such as Hastelloy C276.
Limits of Forseal use
It is rare for a seal concept to offer the multifaceted options that Forseal does. It only reaches its limits below –200°C and above +260°C, and at pressures above 30 MPa (dynamically) and 120 MPa (statically) as well as at speeds above 10 m/s alternating and above 2.5 m/s rotating.
* Operating parameters are dependent on one another and are maximum values. The seal type and the highest permissible values should always be adapted to the individual case.
Technical and Economic Advantages at a Glance: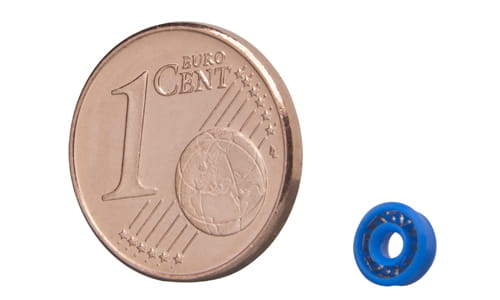 Very good chemical resistance
Extreme temperature resistance
Low friction
No stick-slip effect
Good dry running characteristics
Outstanding functional reliability
Sterilization capability
Excellent cost-effectiveness
Short delivery times
Customer-specific solutions
Freudenberg Sealing Technologies already offers standardized Forseal designs as excellent technical and cost-effective solutions for a wide range of uses. The option of customer-specific adaptations also opens up the opportunity for reliable use in special applications.
Multifaceted Applications
Among other areas, Forseal seals are employed in:
Exhaust gas recirculation
Auxiliary engine equipment
Manual and automatic transmissions
Headlight cleaning systems
Duo Forseal
The piston rod of today's high-pressure injection pumps moves with a frequency of more than 200 Hertz. This calls for an extremely wear- and heat-resistant seal. The Duo Forseal stands up to these stresses – even after more than a billion strokes. As a result, high-pressure pumps can function efficiently and remain trouble-free during the long service life of a commercial vehicle.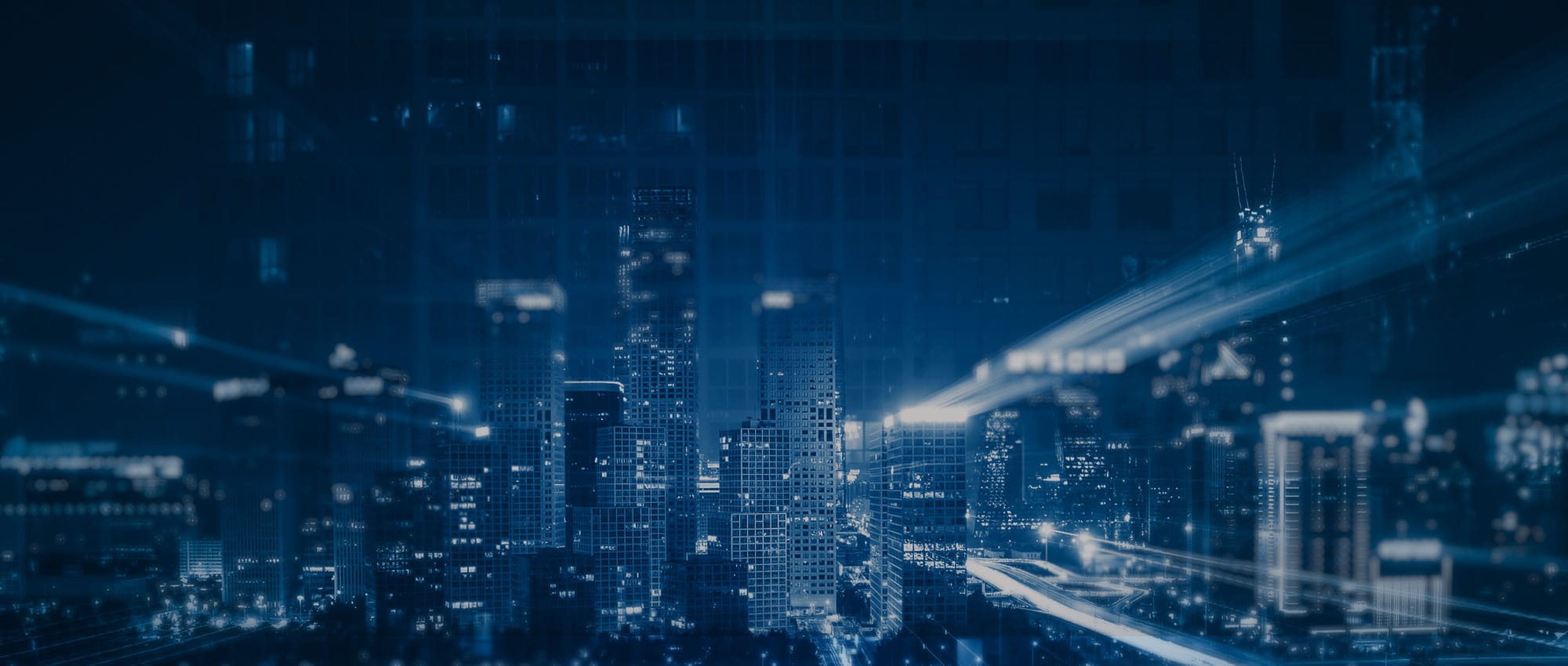 Join Us!
Experience Freudenberg Sealing Technologies, its products and service offerings in text and videos, network with colleagues and stakeholders, and make valuable business contacts.
Connect on LinkedIn!