First-Hand News?
Obtain news and background information about sealing technology, get in touch with innovative products – subscribe to the free e-mail newsletter.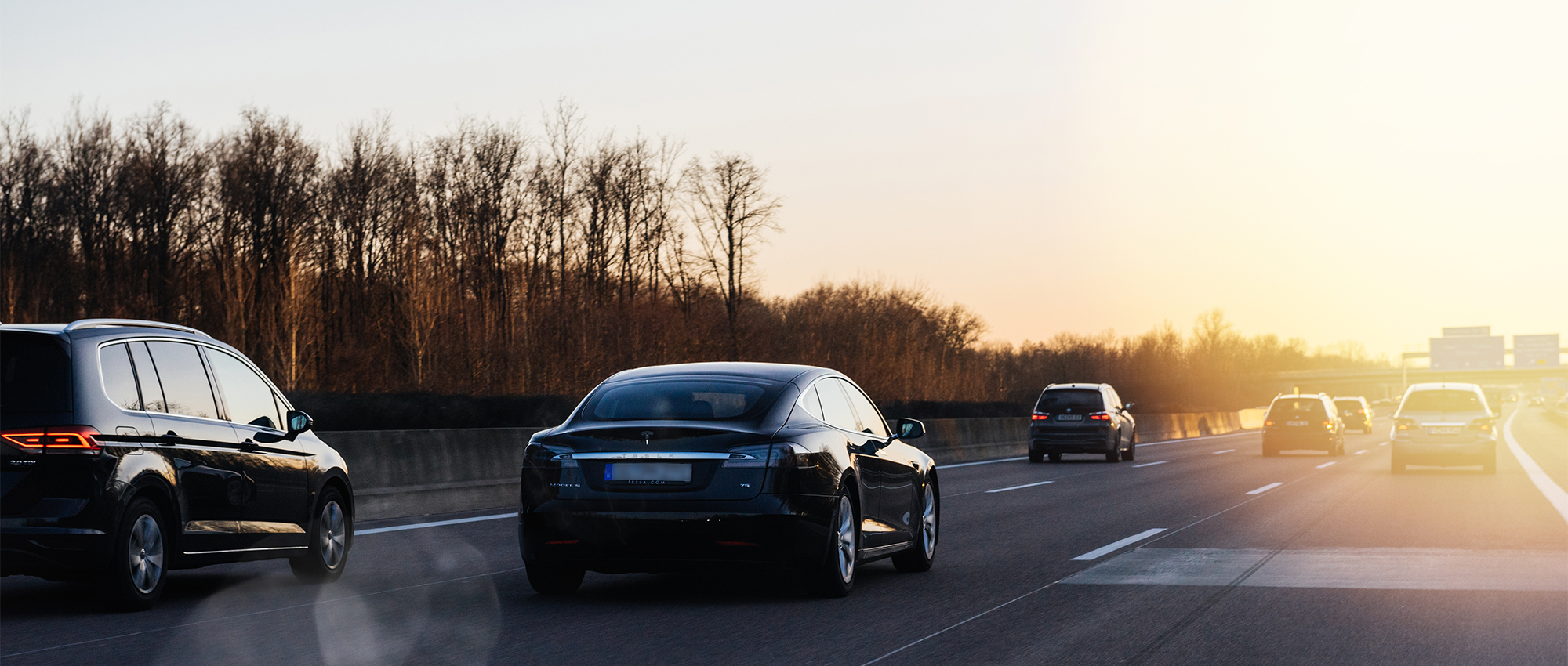 Fireproofing E-mobility's Future
There is a risk of fire when electric-car batteries overheat. To keep that from happening, Freudenberg Sealing Technologies is developing fire-resistant materials – and adding to the safety of electric vehicles.
More and more consumers are buying electric cars. In 2021 alone, they purchased 6.5 million cars with electric or hybrid powertrains. With a market share of about 10 percent, electric cars still lag far behind gasoline- and diesel-fueled vehicles. But their growth curve is steep: Their share of the car market has doubled in a year. In the future, the industry will have to gear up for the production of more and more electrically powered cars, according to Michael Blake, a U.S.-based expert on e-mobility at Freudenberg Sealing Technologies. "And that's exactly what we are preparing for."
A Growth Spurt for E-mobility
China and Europe are currently leading the market. Although small-car sales are booming in China, SUVs are popular in Europe and the U.S. The latter require more energy to guarantee specific ranges, which has an impact on the charging infrastructure. It has to be enlarged to the point that drivers are sure they can charge their vehicles when they need to. Furthermore, there is a demand for higher battery output: Manufacturers are trying to pack as many battery cells as possible into their housings. But that poses serious risks. "It is as though you're playing with fireworks," Blake said. He was referring to something called "thermal runaway." This is the worst case scenario for an electric car: a battery fire. It can occur when the battery is damaged due to an accident or a defect in the system, and then short-circuits as a result. The affected battery cells heat up, triggering a dangerous chain reaction that jumps from cell to cell. The cells are exposed to high heat and pressure, and catch fire one after another. "It is an event with great destructive force," Blake said.
Does More Energy Mean Greater Risk?
From a statistical standpoint, electric cars do not catch fire any more often than vehicles with conventional powertrains. But it is the high intensity of battery fires that makes them so dangerous, along with the job of extinguishing them. While the fire gradually destroys the car's interior systems, the thermal runaway in the batteries lags behind. That means a battery fire can continue for some time and can flare up hours later. The ill-fated electric car is hauled to a safe location, quarantined there, and steadily cooled down with large quantities of water. Another tactic is to totally immerse the vehicle in a pool of water. Specially equipped firefighters are needed for this demanding work.
In some cases, our products are just a millimeter thick and withstand temperatures up to 1,200°C (nearly 2,200°F) for 15 minutes.
Michael Blake, Application Engineer for the Automotive E-Mobility sales team
Thermal Protection Prevents Dangerous Battery Short-Circuits
It was essential to minimize the risk of battery fires to maximize the safety of electric cars. "It was time for a new level of safety," Blake said, referring to Freudenberg Sealing Technologies' starting position. The goal was to use innovative products and materials to optimize thermal protection in electrically powered vehicles. Today the company's portfolio includes several product lines to prevent thermal runaway from occurring in the first place or to slow it down so the occupants have time to escape the vehicle. "In some cases, our products are just a millimeter thick and withstand temperatures up to 1,200°C (nearly 2,200°F) for 15 minutes," Blake said. Cell dividers are one example. They are thermal barriers between battery cells that prevent the spread of a short-circuit. Fireproof cladding for cooling hoses and plastic plates in various thicknesses function in much the same way, keeping heat and pressure localized as much as possible. Freudenberg Sealing Technologies also develops elastomers to meet customer-specific requirements, such as especially narrow installation spaces or light weight. "In the end, all the solutions are tailor-made," Blake said. That's why all the products so far have been developed in close cooperation with the companies that need them.
Fire-resistant materials
Heat-resistant applications rely on special plastics or silicones that are in part reinforced with fire-resistant layers of fabric. Freudenberg Sealing Technologies has also developed blends of materials that do not melt after they are injection-molded and cured. The compounds are polyketones (PKs or POKs for short) and are patent-protected.
Freudenberg's Concentrated Aerospace Expertise Benefits E-mobility
Blake and his team have been working on products made of fire-resistant materials for about four years. Customers were looking for ways to bring thermal runaway under control and came to Blake for help. The e-mobility expert turned to Freudenberg's aerospace team in Tillsonburg, Canada. The Canadian team was well acquainted with applications exposed to high heat and how to deal with it. For example, temperatures in jet engines can reach 2,000°C (or 3,630°F). That translates to high requirements for aviation-related materials and their inspection. "Our aerospace team has all kinds of experience. After all, they have been developing materials for 40 years to make sure aircraft are safe," Blake said. For example, so-called fire seals maintain pressure and vacuums in certain areas of an aircraft engine, preventing damage. Their purpose is similar to what cell dividers do in electric-car batteries. So Blake and the aerospace team got together to see what materials and technologies could be carried over to e-mobility. New materials and production processes had to be devised since cars are built in far greater numbers than airplanes are, and some conditions in the two fields vary significantly. But the efforts were successful: The company's comparatively new electric car division gained a crucial edge over the competition thanks to Freudenberg Sealing Technologies' expertise in materials and the lessons learned from its work in the aerospace field. "Our expertise made it possible for us to respond quickly with new materials to meet the needs of our customers," Blake said. That's exactly what will be in demand in the future: the ability to respond quickly to trends and changes in the market with impressive solutions that the company develops on its own.
More Stories About Sustainability