First-Hand News?
Obtain news and background information about sealing technology, get in touch with innovative products – subscribe to the free e-mail newsletter.
Dynamic Seals
Dynamic seals are used in applications with motion between the hardware component and the sealing solution. The motion can be rotary, translatory, reciprocating or oscillating. Effective dynamic seals need to maintain a balance between the sealing force, minimize the friction and furthermore prevent leakage.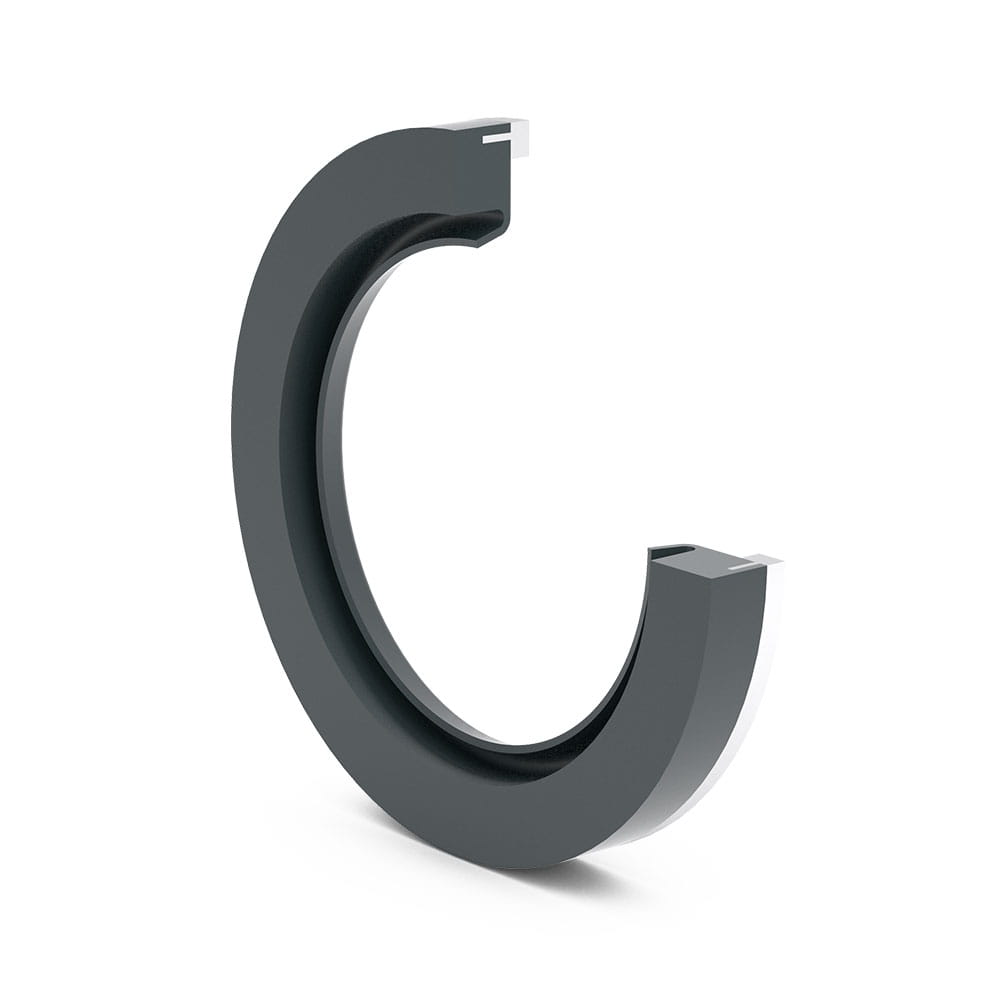 Circumferential Seal Radiamatic
To Us, Leakage Is a Foreign Word
The requirements are high. Freedom from leakage is not only a "must" for drive shafts in shipping. Cleanliness is also of utmost importance in the paper industry with its high-speed rolls. There are other key factors in addition to the required high functionality: robustness, ease of installation and above all the quick availability of shaft seal rings, for example, in the steel industry. Freudenberg Sealing Technologies has risen to these challenges and provides made-to-order shaft seal rings with the maximum leak tightness and reliability for a wide range of applications.
Open the 3D view
Made-To-Order for Work Rolls
The newly developed Merkel® Radiamatic RPM 41 (Fig. 1) is an example of a shaft seal ring made-to-order by Freudenberg Sealing Technologies. In addition to its FEM-optimized design, a special material was developed for the Radiamatic RPM 41.
The seal lip made of pure elastomer requires no spring for pre-tensioning and offers minimal friction along with a maximum sealing effect. A vulcanized-in pre-tensioning element provides a tight, secure fit in the installation space. This prevents potential damage to the installation space.
In addition, a special production process makes the seal's high availability possible: All the current standard profiles with any diameter up to 1,100 mm can be delivered within 24 hours when necessary.
Maximum Circumferential Velocity
The Merkel® Radiamatic RHS 51 covers an entirely different area (Fig. 2). This shaft seal ring is always used when it is imperative to deal with maximum circumferential velocities. It can be employed at speeds up to 40 m/s, even as it offsets high shaft misalignment. The Radiamatic RHS 51 owes these characteristics to a double spring acting as a pre-tensioning element for the seal lip, along with an elastomer material especially developed for this application. The spring provides a defined, uniformly distributed radial contact pressure. The paper and steel industries in particular benefit from the high performance of this shaft seal ring from Freudenberg Sealing Technologies.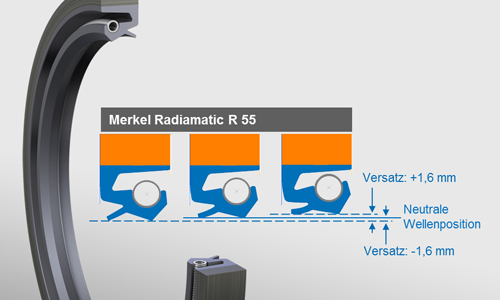 Multifunctionality in an Extremely Small Space
Shaft seal rings with additional functions are used to seal the main bearing in wind turbines, among other uses. One example is the integration of a deflector lip to protect against external contaminants. The result is a compact installation space.
But in multifunction seals, it is essential to ensure that the individual sealing functions are operationally decoupled from one another. But that is not a matter of course in sealing systems made of elastomer materials. By contrast, the newly developed Merkel® Radiamatic R 55 from Freudenberg Sealing Technologies manages this balancing act. Even at shaft deflections of ± 1.6 mm, the full functional capacity of the sealing and dust lips are maintained (Fig. 3). This is a prerequisite to meet high service life expectation of up to 20 years.
For Clean Processes
In the process industry, the Simmerring® Radiamatic HTS II shaft seal ring offers diverse options for its use, such as bottling systems, food equipment, and pharmaceutical and cosmetics units, along with mixers. The key advantage of HTS II shaft seal rings is their high resistance to media since the substances only come into contact with PTFE. This makes it possible to achieve particularly hygienic processes. For approaches based on hygienic design, Freudenberg Sealing Technologies offers dead-space-free variations, such as HTS II 9539 VL with a forward-positioned seal lip.
Our Products in Detail
Radiamatic HTS II
Simmerring® Radiamatic HTS II - shaft seal rings offer multifaceted options for use in the processing industry. This special development made of PTFE is distinguished by its lip's low contact pressure on the shaft and, as a result, low frictional losses.
Merkel® Radiamatic R 35
Shaft seal ring with a fabric-reinforced static part that is securely joined to the elastomer sealing lip. The sealing is also preloaded with a garter spring. Primarily suited to roller mills and large gearboxes in heavy machinery manufacturing.
Merkel® Radiamatic R 36
Based on the Radiamatic R 35 model with additional radial grooves for efficient lubrication from the exterior in a tandem arrangement.
Merkel® Radiamatic R 37
Based on the Radiamatic R 35 model with additional radial grooves and a circumferential groove for efficient lubrication from the exterior in a tandem arrangement.
Merkel® Radiamatic R 55
Based on the Radiamatic R 35 model with a large reinforced garter spring and an integrated, functionally decoupled deflector lip to protect against external contaminants. Primarily envisioned for the main bearing area in wind turbines.
Merkel® Radiamatic R 58
Based on the Radiamatic R 37 model. Suited to the special requirements of grease-lubricated bearings in rolling mill construction.
Merkel® Radiamatic RHS 51
High-speed shaft seal ring with integrated steel strip for a firm fit in the housing. High allowable shaft offset. Primarily for rolling mills and large gearboxes.
Merkel® Radiamatic RPM 41
Innovative, self-retaining shaft seal ring without a pre-tensioning element at the seal lip. Short delivery time, including the express delivery of customized dimensions. Typically used in grease-lubricated roller bearings in roller mills, such as those in the steel industry.
Merkel® Radiamatic RS 85
Self-retaining shaft seal ring with two functional elastomer components and an integrated steel strip. Conceived for shaft feedthroughs in heavy machinery construction.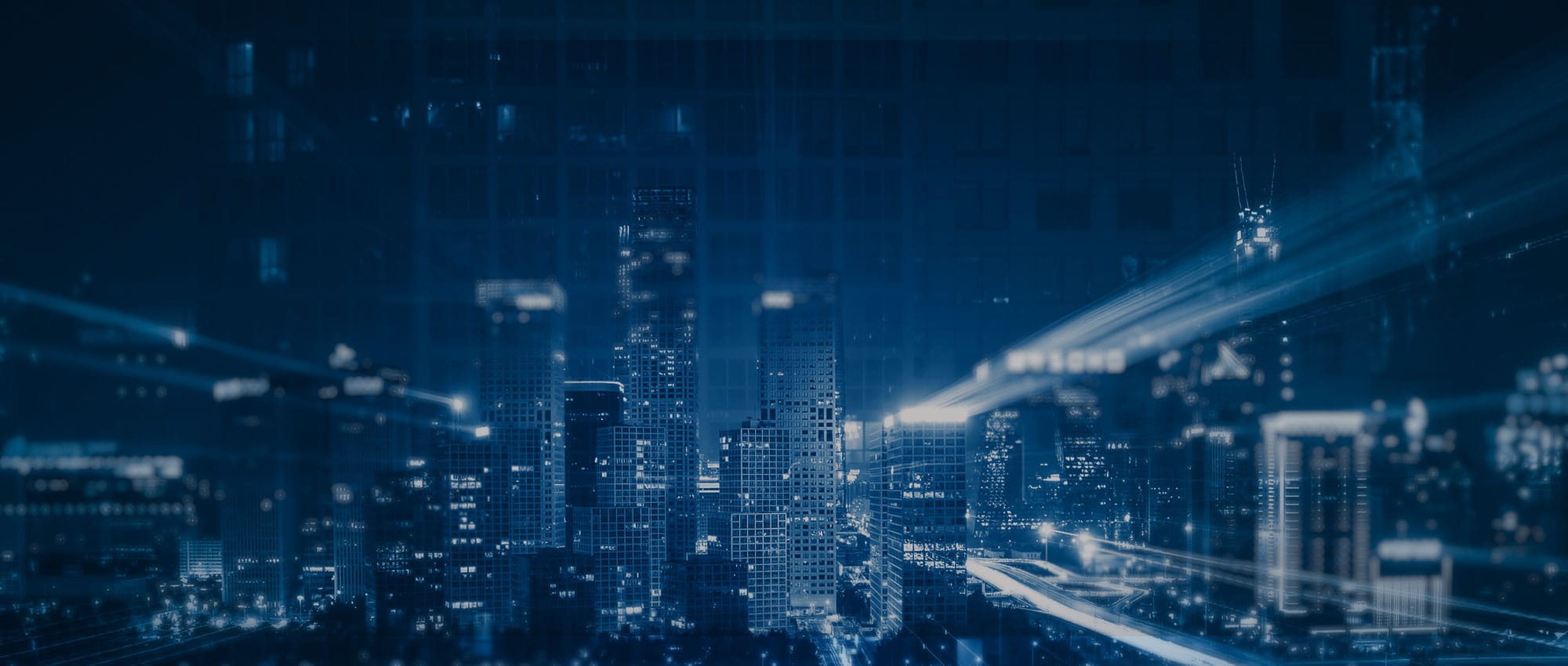 Join Us!
Experience Freudenberg Sealing Technologies, its products and service offerings in text and videos, network with colleagues and stakeholders, and make valuable business contacts.
Connect on LinkedIn!