With four perfectly straight lanes in each driving direction, it is the epitome of what is considered to be a "German autobahn" on the other side of the Atlantic. For now, just a single truck from Spedition Schanz is traveling on the roughly three-mile-long electrified stretch of the route. By mid-2020, the fleet is expected to grow to five vehicles – enough to gather early experience with an entirely new technology designed to reduce CO2 emissions coming from road transport. This is essential. Even if the volume of goods transported by train increases two-and-one-half times, truck transportation in Germany will still grow by about 60 percent by 2050. The International Transport Forum even estimates that CO2 emissions from road transport will double by 2050.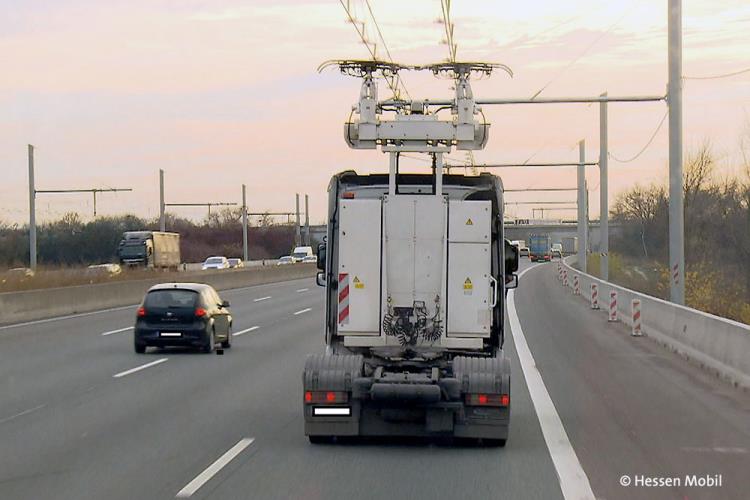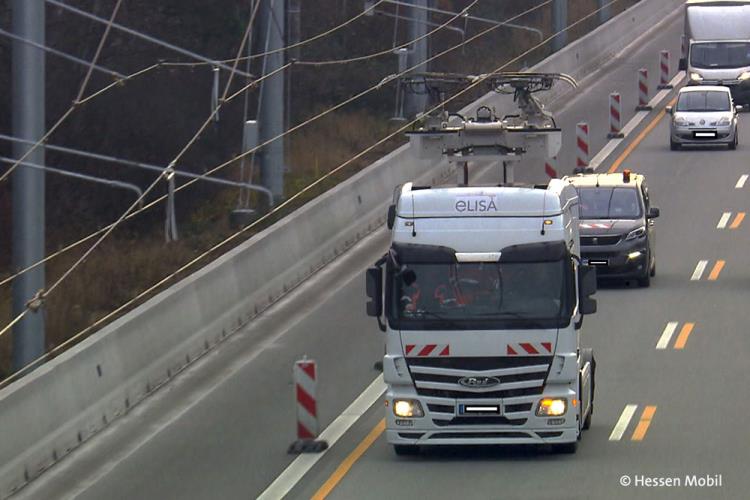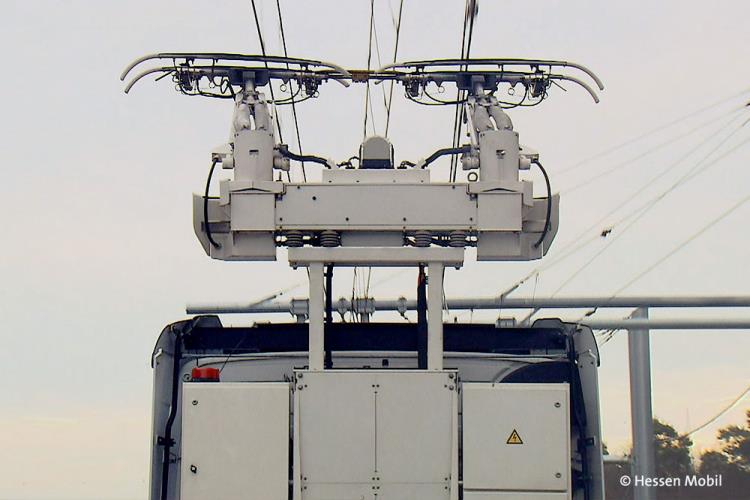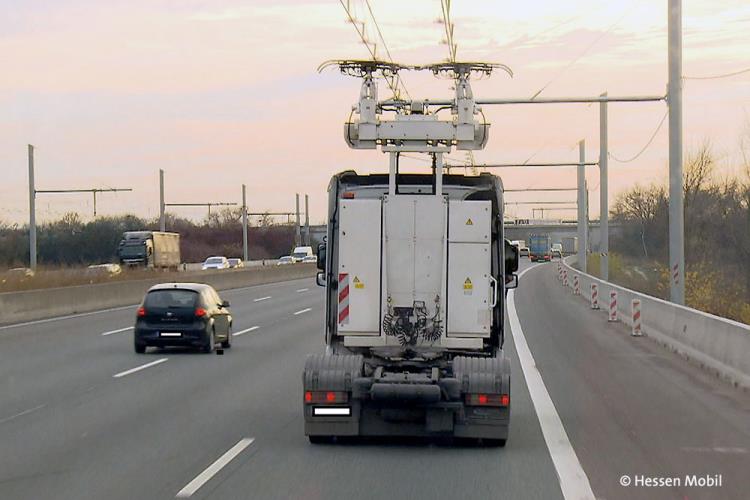 The Infrastructure
To bring the electric current to the truck, the right driving lane in each direction is equipped with an overhead electric line, supported by a total of 231 masts. At an autobahn service area, two so-called traction substations draw current from a medium-voltage grid and transform it from 10,000 to 670 volts. They also change the grid's alternating current into direct current, which the overhead line requires. The electrical infrastructure roughly corresponds to the technology that buses with overhead lines use in Switzerland. There are no rails for grounding the buses as there are for the railway version of the technology. As a solution, two overhead contact wires are installed, one serving as the positive pole and the other serving as the negative. During braking, the electric current can also be fed back over the lines into the grid. That basically makes the electric powertrain a generator.
Trucks with Current Collectors
Every truck that would get its electric current from an overhead line needs a current collector, which experts call a pantograph. It can be extended and retracted even when the truck is traveling at full speed. Otherwise it would not be possible for a truck drawing electricity from overhead lines to overtake slower vehicles or continue on its route if a lane were blocked. In order to cover these short stretches under its own power, the truck stores energy in an on-board battery. (This approach is currently being tested by Scania). When the truck leaves the test area, the diesel engine – which is on board and readily available – kicks in. Hybrid powertrains will presumably be the appropriate option if the technology catches on. With their greater flexibility in selecting routes and destinations, trucks have a major advantage over railroads.
In the latest edition of our customer magazine ESSENTIAL, we report further on how truck transport can be made more climate-friendly. Read more here.
---