Mr. Schmidt, you were the Olympic champion in the kayak slalom in 2000. But you were no great fan of the Olympic course at first.
Absolutely not. In the pre-Olympics competition, I had a hard time with the course. It had an entirely different character than my home course in Augsburg. The bank was designed differently, with a V-form and not a U-form. That made a huge difference. The water behaves differently. It doesn't build up as much pressure. It oscillates back and forth. We did in-depth analyses of videos of my runs and then I trained on courses that resembled the one in Sydney.
And you did so successfully. Before the next Olympic Games in 2004 in Athens, you turned your attention to the design and construction of two boats of your own. Why did that become important to you?
I wanted to improve the production process as part of a research project. Kayaks are made of plastic and are constructed manually even today. My goal was to get away from the usual hand lay-up laminate and move to a digital design with a milled form.
Thomas Schmidt won a gold medal in the kayak slalom in the Olympic Games in Sydney in 2000.
What exactly does that mean?
We developed the form of the kayak on a computer and produced a positive block with a milling machine based on the data. We produced a negative form with it, and then we laminated the skin for the boat inside. For the skin, we turned to carbon fiber that had been impregnated with epoxide resin. Then we cured the boat in an autoclave – a special kind of oven – under high pressure to perfection.
Why hasn't this type of boat construction caught on?
Because it is too expensive. Back then, my project was financed by several partners. If manufacturers were to build boats that way today, their price would increase fivefold. Autoclaves are usually used in the aerospace industry, medical technology and car manufacturing, not in boatbuilding. But today new plastics are coming into fashion whose parameters are comparable to the plastics in my boats years ago.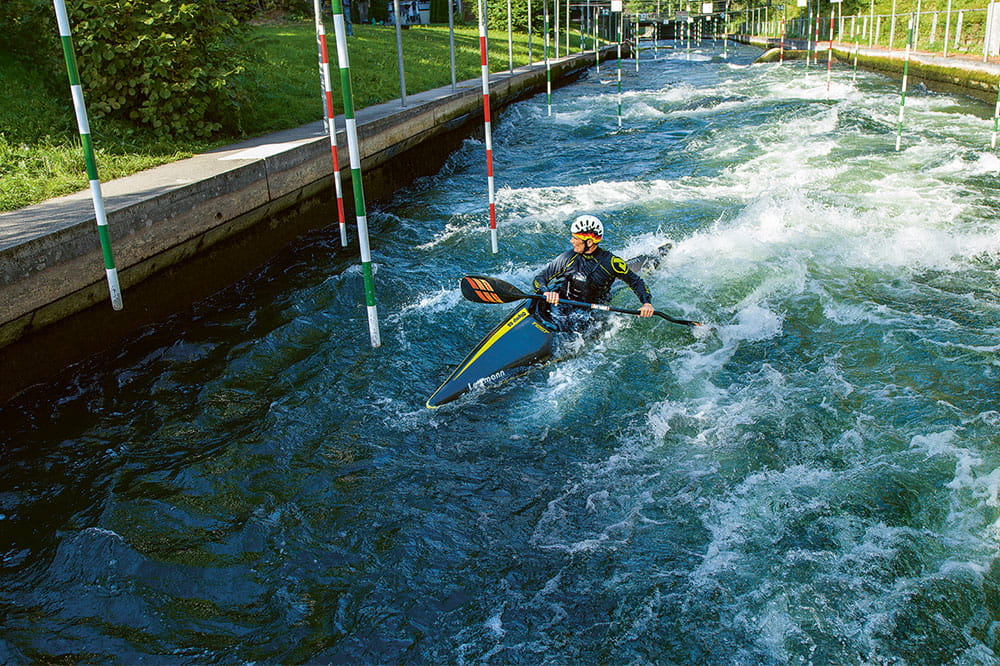 Did you experiment with various plastics at the time?
A number of different suppliers and I shared information about the best materials since the project duration was too short to allow our own development work. It was very important to me that the material be highly resistant to extreme temperatures: The boat was not supposed to be painted, in order to reduce weight further. In Athens, the host city of the 2004 Olympic Games, the weather is often sunny and carbon fibers are black. In direct sunlight, temperatures of the material can rise to more than 200°F. It was important that the boat not deform. The solution was using the right epoxide resin.
After your career in sports, your professional focus was on lightweight design and on aerospace applications. What unbeatable advantages do plastics have in this regard?
Along with aluminum, plastics are the quintessential lightweight material. But aluminum requires extensive treatment to prevent corrosion, which is not a problem for plastics. As I already mentioned, plastics are lightweight yet stable and unbelievably formable. They can also be woven, braided and laminated. Their material qualities fit products perfectly.
As a high-performance athlete, you've spent a lot of time training in the great outdoors. Have you seen plastics as a problem at those times?
Oh yes, we kayakers don't just train on artificial courses but in rivers and in the mountains as well. The problem is more evident in metropolitan areas than in the mountains. Our goal is to use the waterways where we paddle for sport and not pollute them. In my associations, we regularly organize environment days when we pick up trash and plastics in and around the waterway. It is frightening to see what accumulates there.
Thank you very much for the interview.
---
You can read the complete interview with Thomas Schmidt in the November edition of our company magazine ESSENTIAL. The issue is entirely devoted to plastics – everything from single-use plastics – and how we can deal with this problem – as well as the question of whether plastics can be a solution.
Freudenberg Sealing Technologies also considers plastics as a focus material: www.fst.com/products/materials
---