First-Hand News?
Obtain news and background information about sealing technology, get in touch with innovative products – subscribe to the free e-mail newsletter.
Searching for the Holy Grail
Olympic champion, kayaker, boat designer, racing venue designer: Thomas Schmidt has already played a number of roles. He has always been involved with plastic – and has benefited from its virtues.
Thomas Schmidt, you won't ever forget september 20, 2000, will you?
Schmidt: No, how could I? I was an Olympic champion in the kayak slalom in Sydney. It seemed inconceivable that I had won the most important event in the field. In the first and second heats, I was more than three seconds faster than my competitors – and that's in a sport where things are always tight. We have to battle through gates in whitewater without touching them, even against the current. Contact results in penalty seconds. But on that day, everything came together for me. It was an absolute dream.
But your success was still a surprise in the end.
Definitely. A year earlier, I had dislocated my shoulder. That's a very serious injury for a kayaker. An operation was unavoidable. At times during rehab, deep down inside, I thought things looked bleak. I had to learn how to steer straight all over again. While the national team was training in Australia and New Zealand, I had to stay at home. But in the end, that was an advantage.
Thomas Schmidt
Born in 1976, Thomas Schmidt entered his first slalom competition at the age of 9. In 2000, he won a gold medal at the Olympic Games in Sydney, Australia, and then the overall World Cup a year later. After coming in fifth place in the Olympic Games in Athens, he ended his athletic career in 2004.
A mechanical engineer with a master's degree in engineering studies, he has worked at KUKA since 2016. The company has focused on intelligent automation solutions. A key account manager, he is in charge of the sales of friction-welding machines and related automation systems.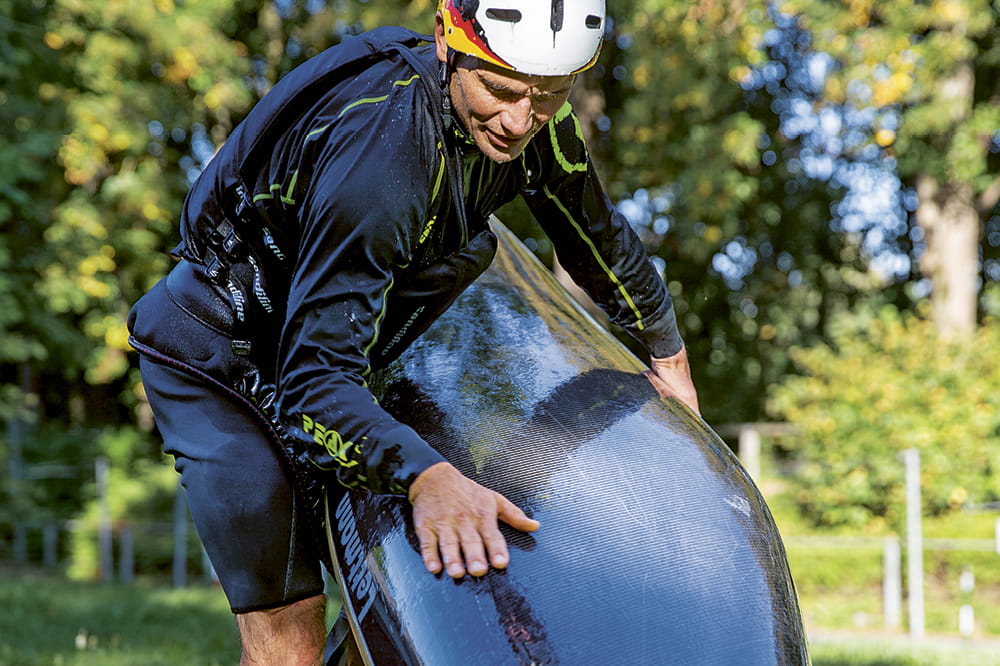 Why?
I changed my technique, worked hard mentally and fine-tuned my boat extensively. When my teammates came back, I had become faster than they were and secured my starting position.
How did you change the boat?
I took over the boat of a heavier teammate. That's not unusual, but I had to adjust it to my body weight and my needs. Otherwise, due to its height, I would have kept getting hit somewhere while padding. I would have only been able to bring the stern underwater with difficulty. But that's crucial for control and speed. I had to make it flatter.
How does that work?
A kayak consists of two parts, an upper deck and a lower hull. I removed the boat's upper deck and ground off 0.75 to 1.2 inches and then glued it back on the lower hull. I changed the sitting position and reallocated the extra weight. That turned a good boat into an even better boat.
Is it normal for top kayakers to work on their own boats?
Absolutely, even though manufacturers have put about 20 to 30 models in circulation, it is important for athletes to determine the right dimensions for themselves. Not least of all, this is due to our individual paddling styles. In the end, it is the entire package – athlete, boat and paddle – that determines success. But there is always some tinkering. Everyone is looking for the Holy Grail.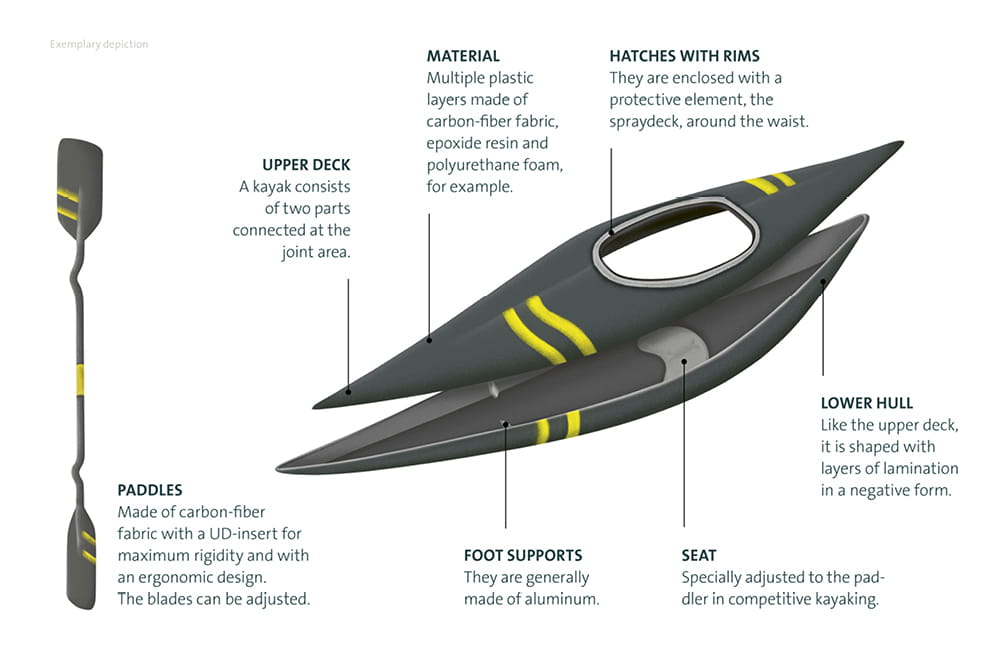 For that reason alone, today's racing boats must differ enormously from the original kayaks.
Definitely. Especially in terms of the materials. Our kayaks are inspired by the boats of the Eskimos. They were made of wood and bone and covered with animal skins. In the first competitions, the athletes used folding boats consisting of a waterproofed linen tent material stretched over a collapsible frame. Plastic boats caught on about 50 years ago. The material today is carbon-fiber-reinforced plastic. The only parts of a kayak not made of plastic are the foot supports. They are aluminum.
How should we envision the artificial skin of a kayak?
The carbon-fiber fabric is processed with epoxide resin – an artificial resin – in multiple layers into a one-tenth-inch-thick laminate. You should look at the boat's wall as a sandwich. Two separate layers of carbon-fiber fabric are followed by a layer of polyurethane foam and then another two layers of fabric and resin. It ultimately resembles the wall of a travel trailer.
Why is plastic so well-suited for your sport?
Plastic gives a boat designer great freedom. It facilitates shaping and styling. Boats made of plastic can also be manufactured quickly, and the material is ultra-lightweight yet strong and tough. The robustness is important because there are obstacles made of concrete on my home course in Augsburg. A boat has to be able to withstand them. In turn, a boat's light weight makes it easier to control.
What is the effect in water?
The turning process is significantly better. Paddling techniques have continued to develop with the new boats. Maneuvers that were impossible ten years ago are being executed today. It takes fewer paddle strokes to get through a gate against the current. Overall, the boats have become faster.
The Rules
Green and white: A downstream gate must be navigated during the descent and is marked with two green- and white-striped rods. Each gate also carries a sign with a number. It must be legible in the direction of travel. The number is crossed off on the reverse side.
Red and white: An upstream gate must be navigated against the flow. It consists of two red- and white-striped rods.
So you could say that the kayak and canoe slaloms would not be where they are today without plastic?
This form of the canoe and kayak slalom would be inconceivable. Speaking figuratively, we would still be up in the trees.
In the run-up to the 2004 olympic games, you were even able to build your own boats.
That's true. After my studies, starting in 2002, I was able to direct a research project tailored to my needs at my university and get financial support for it. One important goal was to optimize the production process for the boats.
What were the individual steps in constructing your boats?
You always need a negative form in which you can laminate. That's the only way the exterior skin of the boat can be made really smooth. To manufacture a negative form, you need a positive block. It is nothing more than the shape of the kayak. We played with it on the computer and then machined it from molded plastic with a milling machine. We obtained the desired negative mold by applying glass-fiber laminate onto the positive block.
So the negative mold allows you to manufacture the boat's hull?
Precisely. The sandwich material I mentioned earlier. I used carbon fibers preimpregnated in epoxide resin and a special polyurethane foam that I could place into the negative form without folding it. After we had joined the two halves of the kayak's form, the boat had to cure perfectly. The curing took place under great pressure in a special oven, an autoclave.
So you made sure that the shape of the boat did not change in the process?
We placed a vacuum bag in the boat, which pressed against the wall and maintained the shape. Then we pulled the bag back out through the hatch. Using this technique, we manufactured two identical boats that were perfectly adapted to me. It was as though they came out of the same mold. They were also of very high quality. The material was even lighter than earlier options – and stronger.
Why were you so fascinated with plastic?
It was the options for lightweight design that are associated with the material. There are diverse possibilities for the production process, and they open up entirely new opportunities for design. This interaction makes plastic very appealing. An incredible range of things become possible.
At the 2012 olympic games in London and the 2016 games in Rio, you switched sides and were in charge of course design. What does that involve?
My job was to set the gates on the channels, determining the course. Here it was essential to take the characteristics of the particular channel, including its currents and waves, into account. The mission was to challenge the best kayakers while not overpowering the weaker ones. That's a fine line. I know from my own experience that you can only rarely get it right for the kayakers. I also had to take referees and TV broadcasters into consideration. Television wants spectacular images, and the referees want easily visible gates. That's not easy when the waves are so high.
The competitions have long taken place on artificial courses. Plastics are also playing a major role in the construction of new channels.
That's right. Huge plastic walls produce the characteristic currents and vortexes. What seem to be boulders on TV are actually just fixtures on the walls. By manipulating the walls, the characteristics of the course can be easily changed. They are connected like Lego blocks or are pushed along on a rail system. The changes are made only once or twice a year, but they certainly make things entertaining and exciting for the athlete.
Plastics are lightweight yet stable and unbelievably formable. Their material qualities fit products perfectly.
Thomas Schmidt, Olympiasieger im Kayak 2000 in Sydney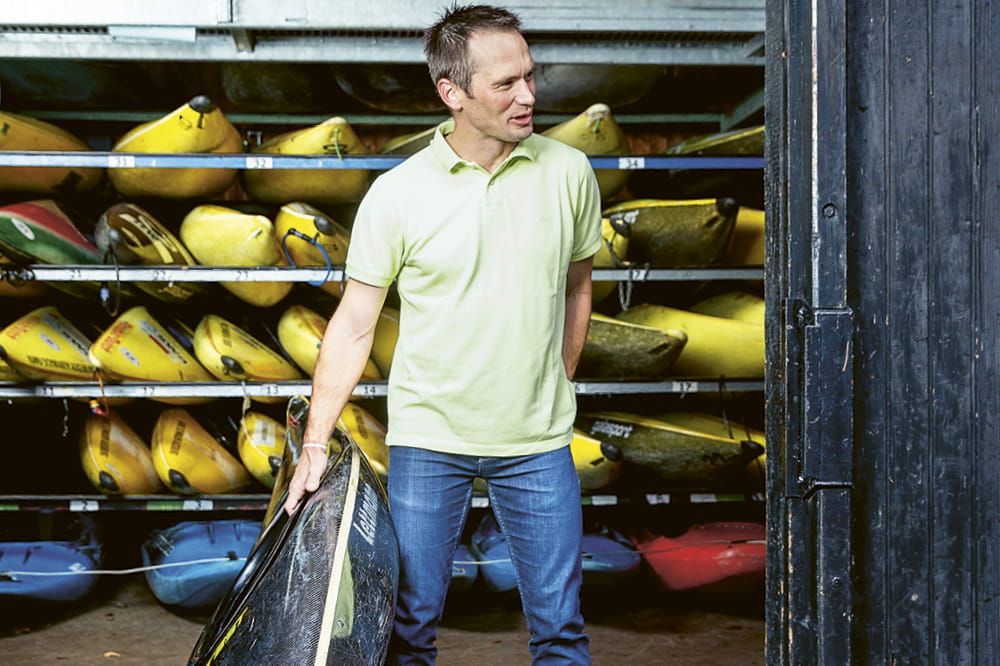 After your career in sports, your professional focus was on lightweight design and on aerospace applications. What unbeatable advantages do plastics have in this regard?
Along with aluminum, plastics are the quintessential lightweight material. But aluminum requires extensive treatment to prevent corrosion, which is not a problem for plastics. As I already mentioned, plastics are lightweight yet stable and unbelievably formable. They can also be woven, braided and laminated. Their material qualities fit products perfectly.
As a high-performance athlete, You´ve spent a lot of time training in the great outdoors. Have you seen plastics as a problem at those times?
Oh yes, we kayakers don't just train on artificial courses but in rivers and in the mountains as well. The problem is more evident in metropolitan areas than in the mountains. Our goal is to use the waterways where we paddle for sport and not pollute them. In my associations, we regularly organize environment days when we pick up trash and plastics in and around the waterway. It is frightening to see what accumulates there.
You are now an employee of the international technology company kuka. What role does plastic play at kuka and how is the company promoting sustainability?
There is no way around the use of plastics in KUKA products. But in its sustainability report, the company highlights its efforts to procure recycled materials and to use recyclable plastics in manufacturing whenever possible.
Thank you very much for the interview.
---
This article originally appeared in ESSENTIAL, Freudenberg Sealing Technologies' corporate magazine that covers, trends, industries and new ideas. To read more stories like this, click here.
More Stories About Sustainability