First-Hand News?
Obtain news and background information about sealing technology, get in touch with innovative products – subscribe to the free e-mail newsletter.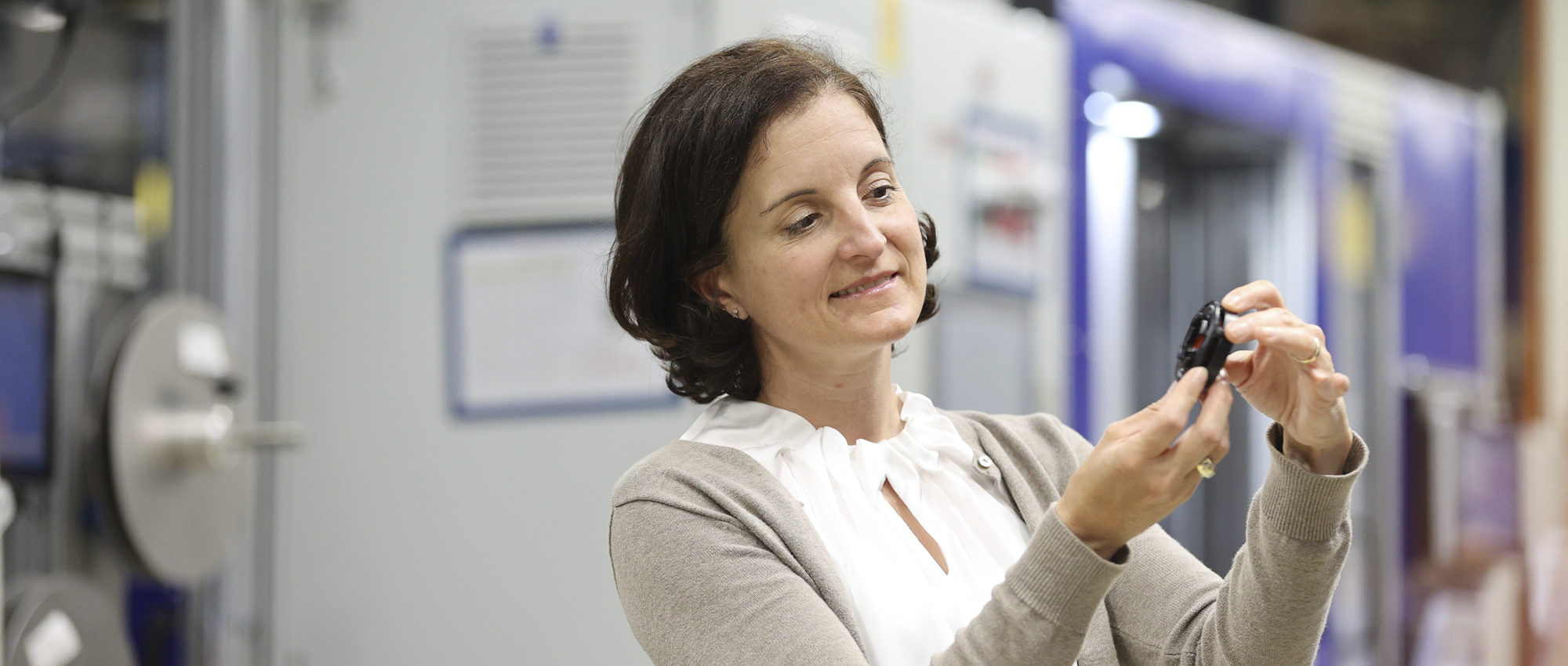 More electric cars than ever were sold in 2020. The trend is expected to continue thanks to the longer ranges resulting from higher-performance batteries. To guarantee the safety of the drives, Freudenberg Sealing Technologies has created a product that combines two functions in one: pressure equalization during normal operation and emergency venting.
If you were to handle the plastic part known as DIAvent®, it might seem unremarkable. With a diameter of just 55 millimeters (2.2 inches) and a height of 16 millimeters (0.6 inches), it is not unduly large. But as unprepossessing as it may look, it has what it takes. The product is mounted on the battery housings of electric vehicles. Its real attraction relates to its internal operation. Nonwoven elements ensure that lithium-ion batteries are not only aerated and degassed properly – they are also protected from moisture. In emergencies, an elastic seal lip helps to drain off volumes of gas quickly and then completely reseals the battery housing. Tanja Heislitz, Technical Director, e-Mobility at Freudenberg Sealing Technologies, has already heard the positive reactions from e-vehicle and e-battery manufacturers. "Our customers are showing very high interest. At a minimum, the four series production orders awarded to us testify to that. That means we are on the right track for our future portfolio."
The Challenges of Pressure Equalization and Emergency Degassing
Lithium-ion batteries are at the heart of battery-powered electric vehicles. Their metal or plastic housings are supposed to protect the cells from dust, moisture and oil. Still, it is important to keep track of two trends: The energy densities of battery cells are continually rising and extending the range of electric vehicles. In addition, the cells in the housings are arranged ever more tightly to keep the "dead volume" as low as possible. The housings themselves are becoming lighter and thinner-walled, making them more sensitive to pressure. Efficient pressure equalization is needed to keep the housings from deforming on mountain passes or between a cold start and a high speed on freeways. A porous PTFE film once handled this task. But it was sensitive to mechanical disruptions as well as particulate and oil contaminants. They can impede air permeability and ultimately pressure equalization during normal operation.
Safety determines the success of electric mobility, and we are making electric mobility safer with DIAvent®.
Tanja Heislitz, Technical Director, e-Mobility at Freudenberg Sealing Technologies
In battery housings, gases or high heat can develop suddenly during malfunctions. They can be released by short-circuits, foreign bodies penetrating the cells, or damage during accidents. In these cases, pressure and heat must be able to dissipate quickly. Otherwise, there is the risk that the housing will burst, creating a hazard for the vehicle and its occupants. That means every battery needs a totally reliable degassing function.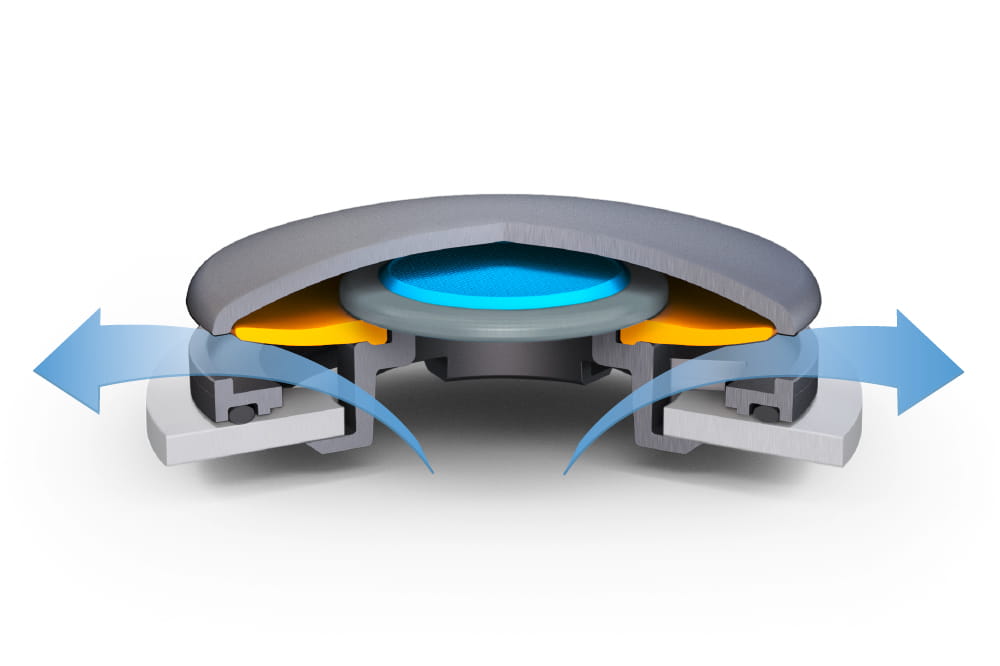 Until now, this has only been possible by driving a pin through a rupture disc when pressure differences reached a specified point. This approach does eliminate serious hazards, but at the cost of creating still other risks. After the rupture disc is activated, the battery housing stays open. Ambient air can be drawn into the battery's interior, permitting subsequent uncontrollable thermal reactions. Moisture can also penetrate the housing, which complicates the defective battery's transport. Toxic products can also escape.
Turning Two into One: DIAvent®
DIAvent® is the right response to these weaknesses. It manages normal operation as well as emergency degassing, eliminating the need for the PTFE film and rupture discs. In normal operation, the valve ensures constant pressure equalization. Inside, integrated, breathable nonwoven layers allow the desired air exchange, about 16 liters per minute. In addition, the pressure equalization layer, modeled after a filter, prevents the penetration of water and dirt. During emergency degassing, DIAvent®'s other function comes into play. An umbrella valve responds once a specified pressure difference between the battery's interior and the atmosphere is reached. At a pressure difference of 300 mbar, the valve opens and allows 15 liters of gas per second to escape from openings on its side. And that's not all: After the gas has escaped, an elastic sealing lip springs back and closes the battery watertight, as it was previously. The emergency degassing function is also used to reduce short-term pressure spikes. As soon as they occur, the umbrella valve opens, draws pressure from the system and quickly closes. The conventional system using rupture discs stays open at this point, even though the situation may not be urgent at all.
But how did Freudenberg Sealing Technologies, with its expertise in seal engineering, happen to bring this type of product to the market? "In the vehicle industry, we have seen a shift toward electric mobility. This means manufacturers will continue to need seals from us," Heislitz explained. "Still, material developments for the safety of battery-electric vehicles are playing a growing role." If safety is not guaranteed, consumers' growing interest in the powertrain would subside. "Safety determines the success of electric mobility, and we are making electric mobility safer with DIAvent®," she said.
'Innovating Together' as a Basis for Innovation
In any case, Freudenberg Sealing Technologies was in an excellent position to develop DIAvent®. "We have outstanding expertise in material development. That's in our DNA. That expertise was also the key to DIAvent®'s success," Heislitz said. For example, the sealing lip is made from a special silicone elastomer. The company's experts in the field are able to adjust it so it reacts reliably to specified pressure conditions, clearing the way to emergency degassing. The sealing lip closes automatically afterwards. There was also a contribution from Performance Materials, a business unit of the Freudenberg Group. It provided know-how in high-performance nonwovens. "DIAvent® is a perfect demonstration of Freudenberg's 'Innovating Together' claim," she said. "We've shown that we have good ideas for a segment that is new to us, and we can implement them. This is giving us credibility quickly."
We get together with the customer and develop the solution that is right for them. That is our top priority.
Tanja Heislitz, Technical Director, e-Mobility at Freudenberg Sealing Technologies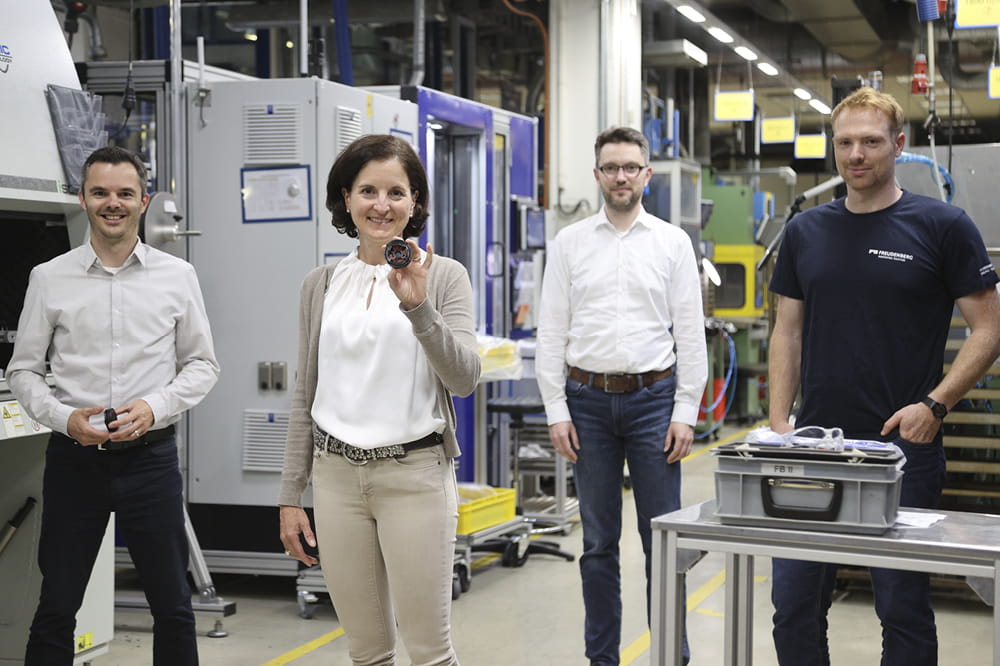 It took just four years to go from the launch of DIAvent®'s development to the production stage. That is a short timeframe for a groundbreaking innovation. But the market is demanding ever shorter development cycles. Dr. Peter Kritzer, Senior Application Manager, e-Mobility, is one of the creative minds behind DIAvent®. He recognized the potential for a component of this type early on and provided valuable input. Three product developers – Christian Kleinke, Christopher Schäfer and Roman Herzog – went to work on the concept for a prototype, parallel to their daily work activities to some extent. "That shows that we don't ponder things for long – we get right on it," Heislitz said. Freudenberg Sealing Technologies developed the pressure equalization element to the series production stage as it worked with key customers. Its advantages were obvious: DIAvent® increases battery safety significantly. It is more robust than earlier solutions, and it can be easily mounted on the housing. And it helps to keep costs down since it combines two functions into a single component.
Strong Customer Focus, Strong Demand
Since every vehicle manufacture is adopting different batteries for its models, each has different requirements for DIAvent®. "In the automotive field, we almost exclusively manufacture products that are tailored to the needs of the customers," Heislitz said. The functionality is unchanged, but the different thicknesses of the housing walls require modifications. The way the element is attached to the housing varies as well. Screw connections are in the greatest demand. But bayonet mounts that are either detachable or non-detachable are possibilities. "We get together with the customer and develop the solution that is right for them. That is our top priority," she added, describing Freudenberg Sealing Technologies' customer-focused approach. "Only then do our innovations fulfill their purpose: solving customers' biggest headaches in a particular area."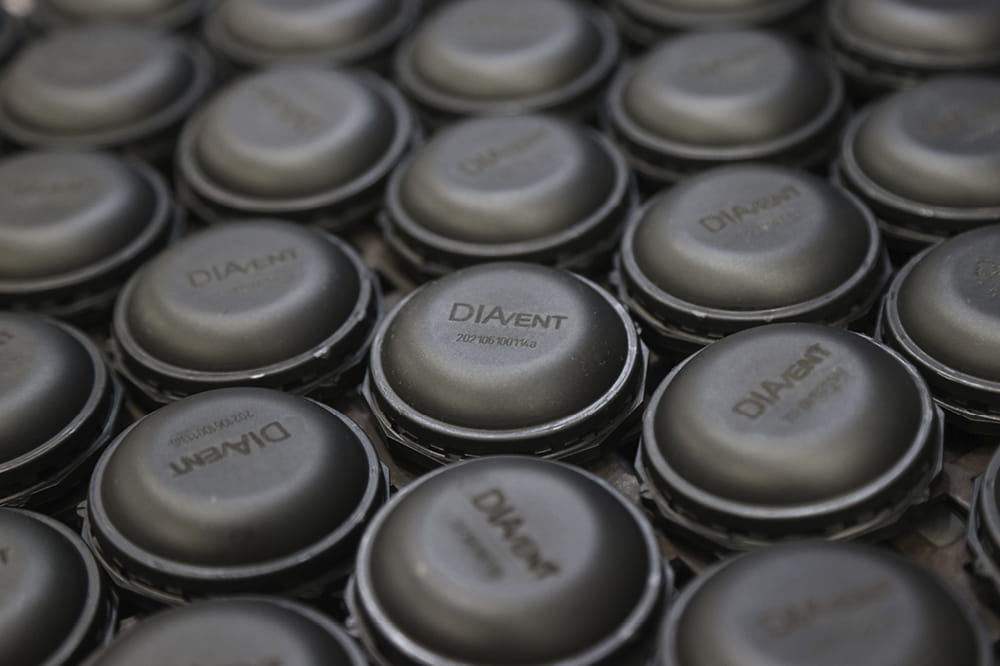 The first manufacturers have been using DIAvent® in large-scale production since 2020. One example is ABT, which equips Volkswagen's e-Caddy and the e-Transport. The Chinese vehicle maker BJEV also uses DIAvent®. An Indian vehicle manufacturer and a battery producer have placed their trust in the product. Freudenberg Sealing Technologies has meanwhile developed DIAvent® further, since batteries with steadily rising performance require ever higher gas volumes to be drained off in an emergency. DIAvent® Highflow can give off up to 120 liters per second at a pressure differential of 500 mbar. During normal operation, it exchanges 10 liters of air per minute. Once again, modifications had to be made under significant time pressures. "We optimized the angle of the sealing lip and integrated more outgoing air channels. That may seem simple, but it required many simulations and a great deal of rework," Heislitz said. The demand is high here as well, and some of the users intend to begin mounting several of the newly developed pressure compensation elements on their battery housings.
Pressure Equalization Elements for Fuel Cells and Electric Motors
The new, more advanced versions of DIAvent® are not limited to battery applications. Freudenberg Sealing Technologies has just brought out a modification, DIAvent® Light, that helps fuel cells and electric motors cope with the prevailing environmental pressure. Since no emergency degassing is required in either case, DIAvent® Light only offers the no-less-important function of pressure regulation. DIAvent® Light is one more example of how Freudenberg Sealing Technologies makes electric mobility safer.
---
Are you interested in our DIAvent® product portfolio? Then visit our overview page (DIAvent® - Freudenberg FST) for detailed information on the versatile pressure compensation element for electromobility. There you will also find a Solutions Sheet for download.
More Stories About E-Mobility