First-Hand News?
Obtain news and background information about sealing technology, get in touch with innovative products – subscribe to the free e-mail newsletter.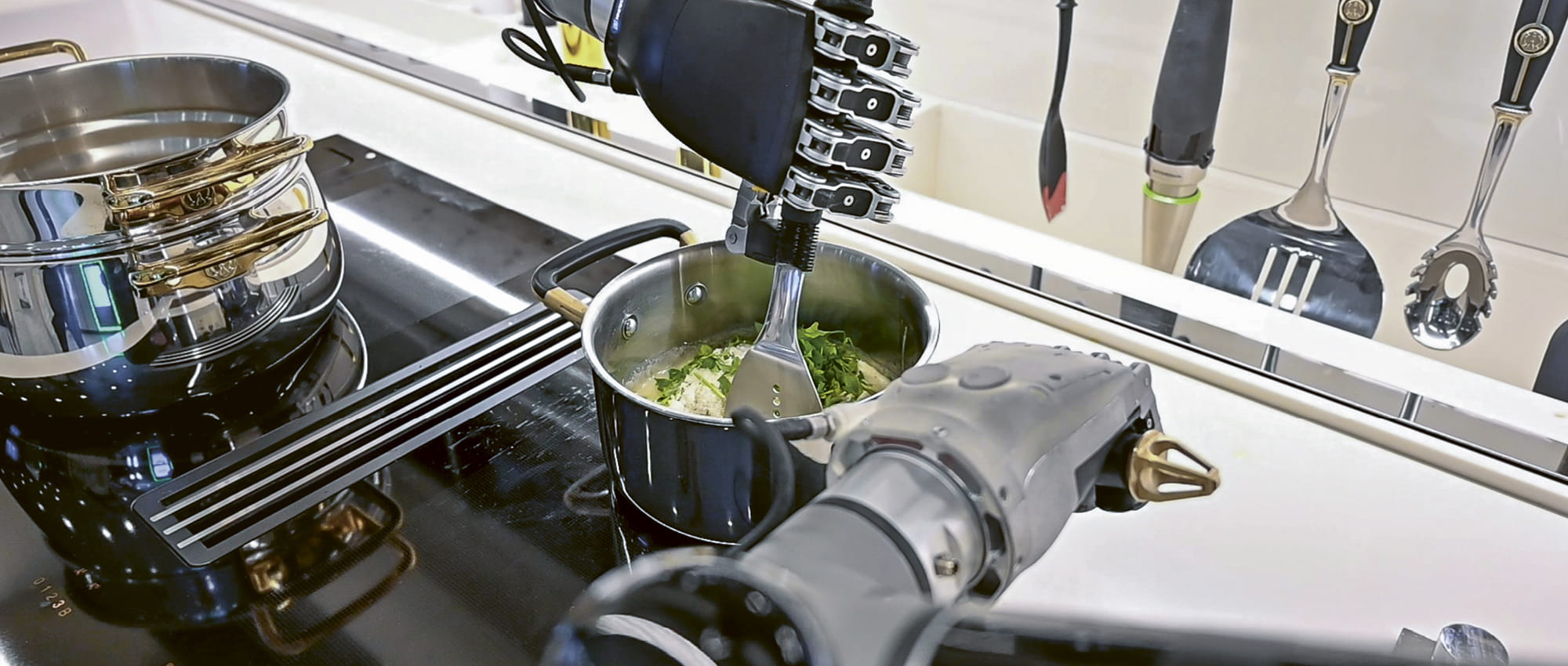 Robots working as kitchen helpers are scoring points for their precision and hygiene. Fully automatic restaurants and android waiters are still a sensation. It is not hard to understand the trend toward robotic food services.
What is often thought to be the world's oldest robotic restaurant is not really a restaurant. "Robo Restaurant" in Tokyo already had robots that danced on stageback in 2012.The concept was theater and entertainment, not cuisine. Still, it was highly successful, even if it was decried as a tourist trap. More recently, a growing number of robot-equipped restaurants that actually cook and serve food have opened their doors.
The "Robot Restaurant" chain in India has robots that bring meals right to diners' tables, and it is chalking upsuccesses. The chain has branches in Chennai and the Indian technological center of Bangalore, among other locations. At the tables, the guests order off a screen, and robots deliver and serve the food. Cooks and chefs need not worry about the robots taking their jobs, however. In the end, they are just logistical robots. The "Robot Restaurant Complex" in Foshan, China, goes a step further. Forty robots, some of them in the kitchen, handle operations for up to 600 diners around the clock. A "noodle robot" can prepare 120 noodle dishes per hour, its operators estimate. It only takes up four square meters (43 square feet) of space.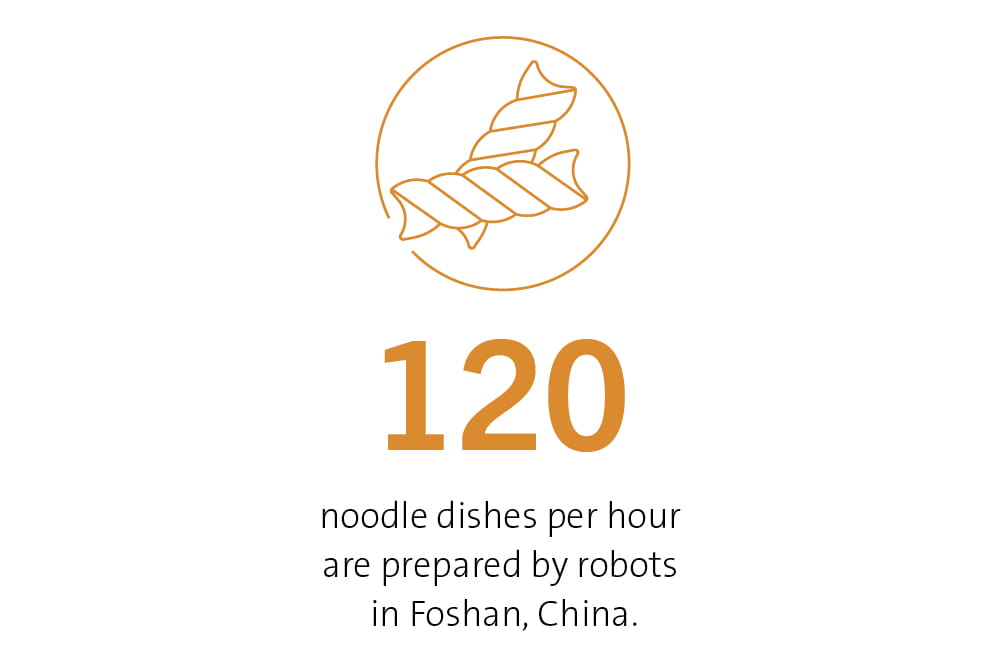 Cut
tin
g
,
Chop
ping
and Stir
ring
Industry experts have no doubt that robots will soon be moving into kitchens in growing numbers, for the same reason that they are widely used in the food industry. Robots can handle routine tasks such as cutting, chopping or stirring at very high speeds – and their hygiene and precision are impressive. That makes them an attractive prospectfor the food industry with its standardized processes.
"Spyce," a restaurant in Boston, has had a fully automatic kitchen since 2018. Ingredients are mixed and stirred there – and the cooks are only responsible for assigning the recipes and for adding a splash of dressing on the food at the end. It arrives almost exclusively in bowls, and the meals are mostly finely chopped potpourris with mixed ingredients. The automated equipment cannot handle more complex menus. The restaurant advertises meals that start at $8 and that are ready in "less than three minutes."
Customized

Ingredients

:

No Problem
In 2015, the British startup Moley introduced a prototype for a fully automated kitchen with two robot arms that hang from the ceiling, stir sauces and cut vegetables. They can also operate several burners. The robot kitchen has mastered more than 5,000 recipes and went on the market this year for about 300,000 euros. With this kitchen, the promise has been realized: It can handle more complicated dishes and different cooking steps automatically.
The automated robotic kitchen has struck a chord: Customers simultaneously expect speed and individuality. Special requests don't confuse robot cooks, whether they involve special ingredients, peanut allergies or low-salt dishes. All it takes is the push of a button. By the end of 2021, an Illinois-based company called Nala Robotics plans to open its first automated restaurant where a robot arm will team up with artificial intelligence to prepare thousands of recipes. The company is still not talking about the technology behind the plans.
Robo

t

s

Can't

Taste

Their Cooking
In the future, will the next two-star restaurant be run by a chef with circuit boards and a processor? At least no one is ruling out the possibility of an actively "creative" artificial intelligence that can invent completely new dishes – thanks to Big Data and deep learning. But for now, robotic cooks will come up short in one area: They can neither taste nor smell the foods they prepare. They know how to cook low-salt meals, but they don't know what "salty" taste like.
The "Robo Restaurant" in Tokyo has now closed its doors permanently. The pandemic has delivered a death blow to the stage show. The guests had been almost exclusively tourists, not locals. As lucrative as the idea was, the owners might have been better off betting on a real robotic kitchen.
---
This article originally appeared in ESSENTIAL, Freudenberg Sealing Technologies' corporate magazine that covers trends, industries and new ideas. To read more stories like this, click here.
More Stories About Digitalization