First-Hand News?
Obtain news and background information about sealing technology, get in touch with innovative products – subscribe to the free e-mail newsletter.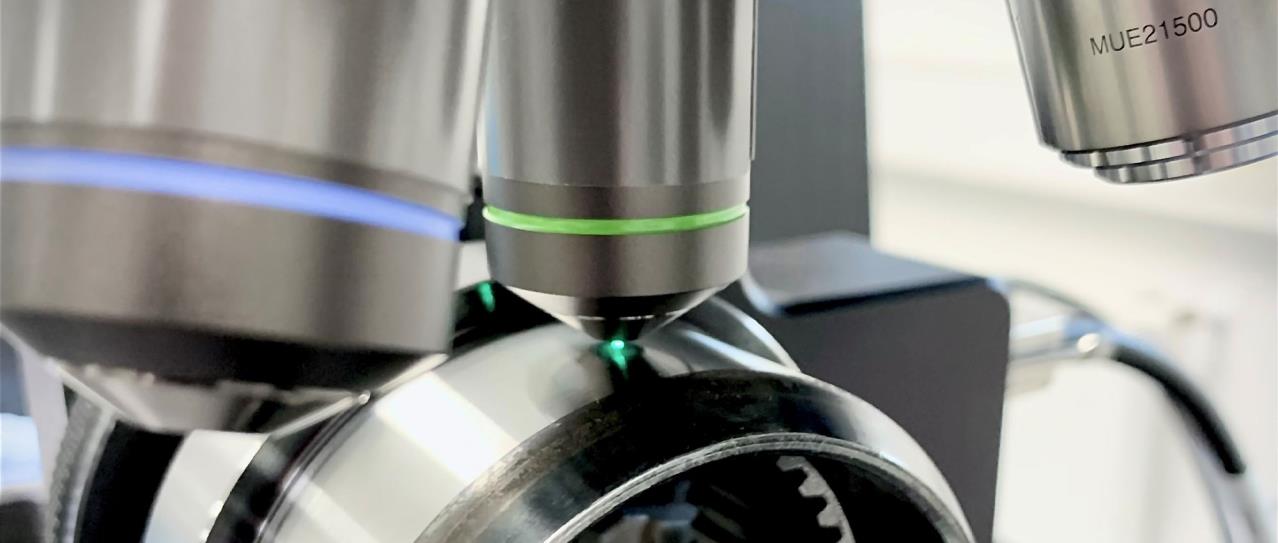 Global Simmerring Engineering
Our Experts Analyze and Test for You
With its Simmerring Engineering Services, the sealing expert Freudenberg Sealing Technologies offers its customers added value that goes far beyond high-quality sealing components. A radial shaft sealing system is a complex tribological system whose functioning and lifetime are influenced by various factors. These include, on the one hand, the interactions between the individual system components (the radial shaft seal, shaft and lubricant) and, on the other hand, the various operating conditions of the respective application.
The Simmerring Engineering experts use extensive analysis and characterization methods of the system components as well as specific analysis and test procedures of the tribological system to find answers to the questions:
What is the optimal design of the sealing system for this specific application?
What led to a failure or leakage in this specific case?
Finding Solutions by an Holistic Approach

The sealing system will only achieve maximum performance over a long lifetime if all the components involved, i.e. the radial shaft seal, the shaft and the lubricant, are optimally matched to each other. The examinations therefore focus on a comprehensive analysis of the entire tribological system. From the results of the various analyses, the experts derive a hypothesis of the possible causes of failure and then verify this either by means of suitable tests or simulations. The results are profound findings that lead to concrete recommendations for action to optimize the system – for an improved sealing function and a significantly longer lifetime of the sealing system.
Detective Intuition and State-of-the-Art Analysis Methods
The first step is comprehensive characterization of the individual components of the sealing system. Using the latest testing and measuring technology, detailed statements can be made about the condition of the sealing system components by means of standardized and newly developed analysis and evaluation procedures.
All Services of Our Service Package at a Glance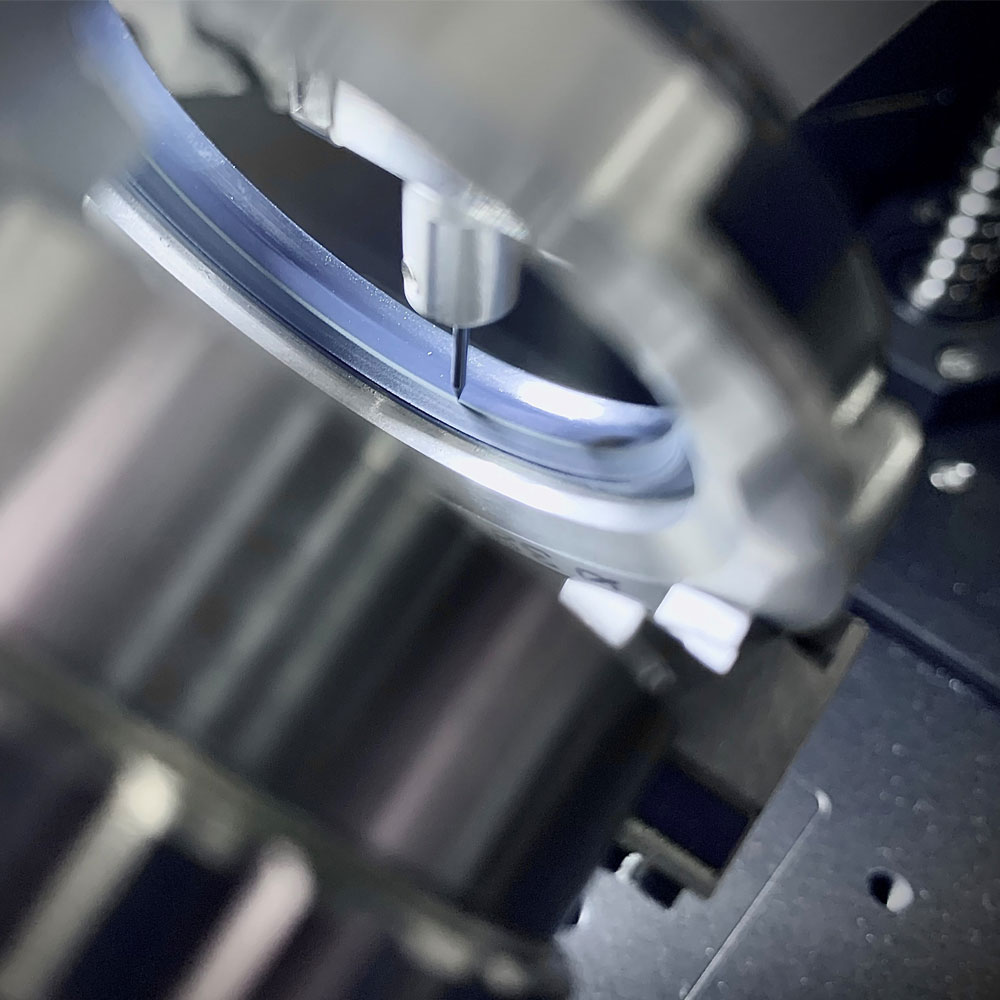 Characterization of the Radial Shaft Seal
A detailed examination of the seal provides information on its condition. For this purpose, optical, chemical as well as micro- and macromechanical changes (e.g. wear, hardening, etc.) are determined and evaluated. The goal is to obtain information on possible damage mechanisms and their causes by analyzing the seal condition.
Examination Methods:
Microscopic assessment of the seal condition
Measurement of dimensions and seal characteristics
Measurement of the International Rubber Hardness Degree (IRHD) according to DIN EN ISO 48
Mechanical µ-characteristics (Microindentor)
Scanning Electron Microscopy & Energy Dispersive X-ray Spectroscopy (SEM-EDX)
Nano computed tomography (Nano CT)
Gas Chromatography-Mass Spectrometry (GC-MS)
Infrared spectroscopy (IR)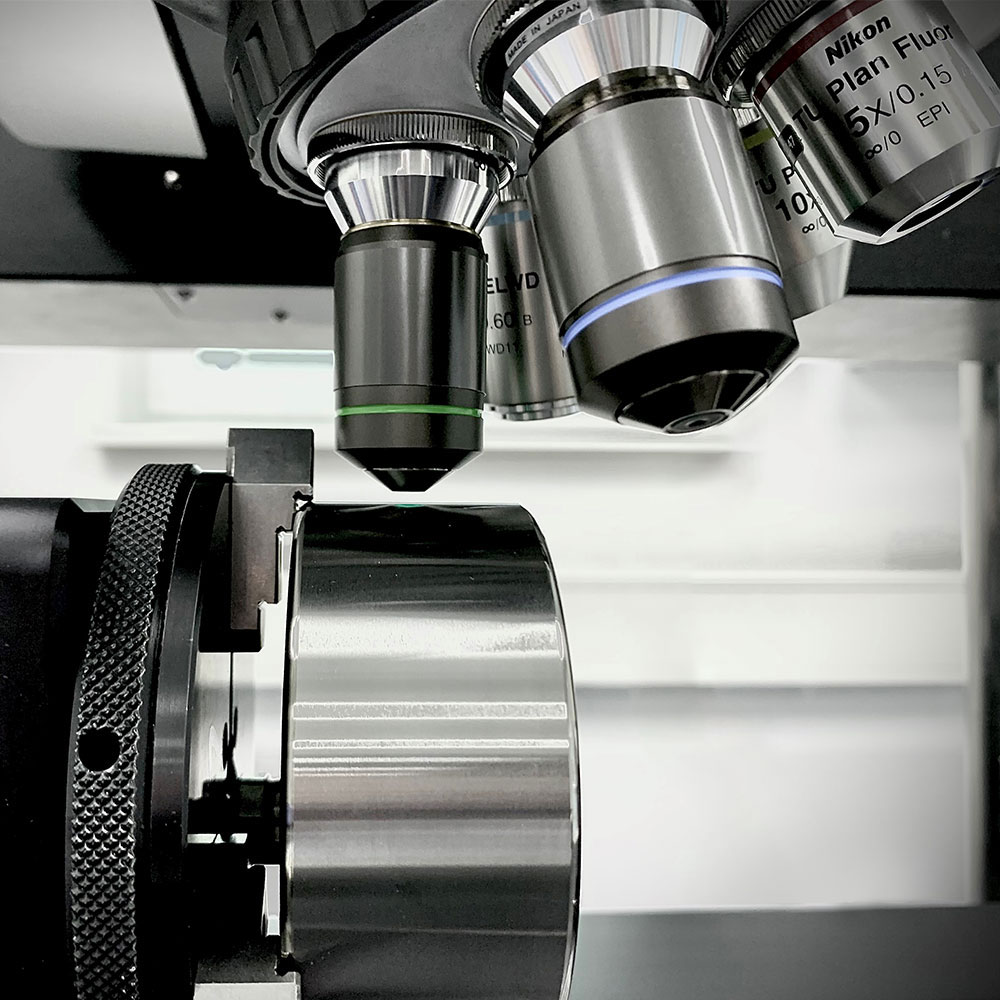 Characterization of the Shaft
The reliable function of a radial shaft sealing system depends highly on the seal counter-surface – the shaft. Besides having the right shaft diameter and roundness and hardness of the shaft surface, the microscopic properties of the seal counter-surface topography are of particular importance.
Analysis Methods:
Tactile and optical measurement of surface parameters of waviness and roughness, according to DIN ISO 4287 and DIN ISO 25178 and VDA
e.g.
Qualitative and quantitative macro- and micro-lead analysis according to MBN 31 007-7 and IMA-Mikrodrall®
Wear analysis
Evaluation and suitability assessment of the counter-surface
Chemical analysis of deposits on the shaft surface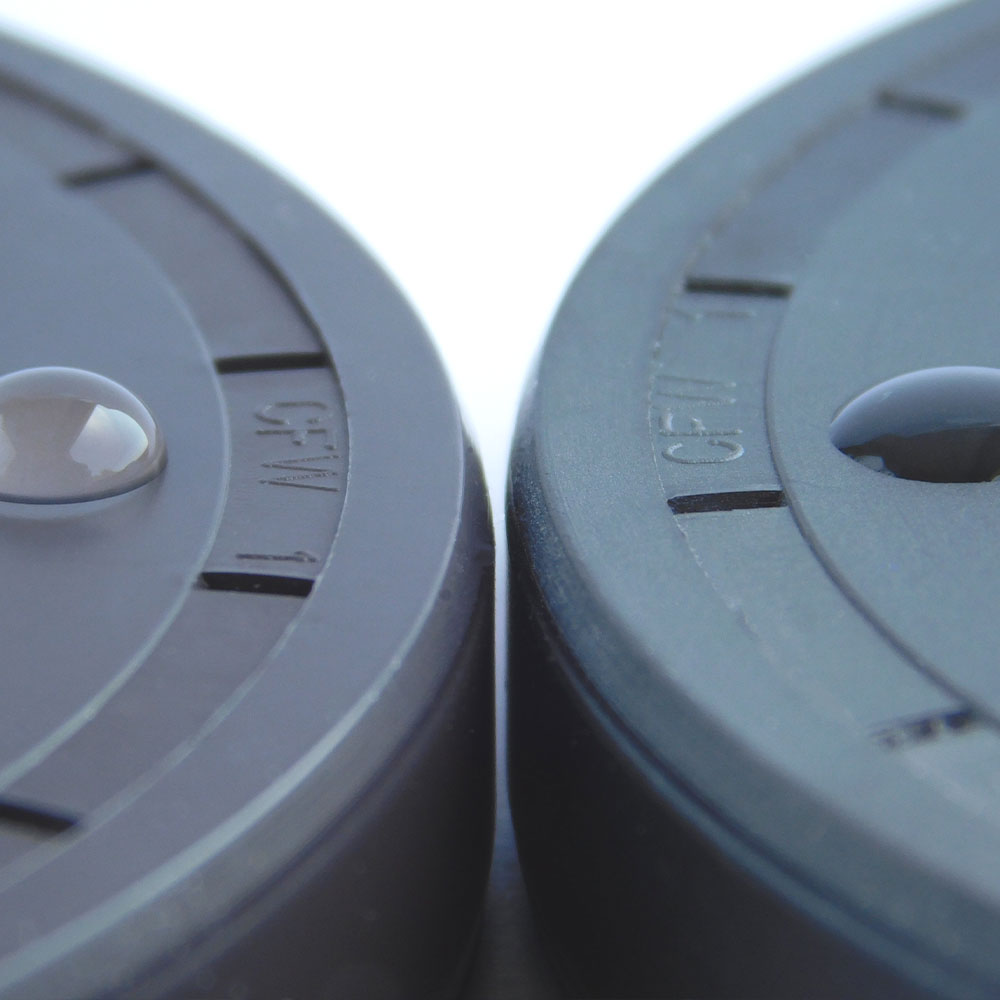 Characterization of the Fluid
The lubricant plays an important role in the proper functioning of a radial shaft sealing system. The interactions between the sealing material and the respective lubricant within a specific application must be closely examined. A condition analysis with regard to the appearance, viscosity, aging, and chemical composition provides important information on possible interaction mechanisms.


Analysis Methods:
Physical and chemical characterization
Infrared spectroscopy (identity, additive degradation, oxidation, tramp oils, opacity)
Analysis of additives in ppm (Ba, Ca, Mg, Cl, Sb, P, Zn, S, Na, Si, K)
Analysis of abrasive elements in ppm ( Al, Cr, Cu, Fe, Pb, Sn, Mo, Ni, Ti, Ag, Mn, V)
Testing of the wetting behavior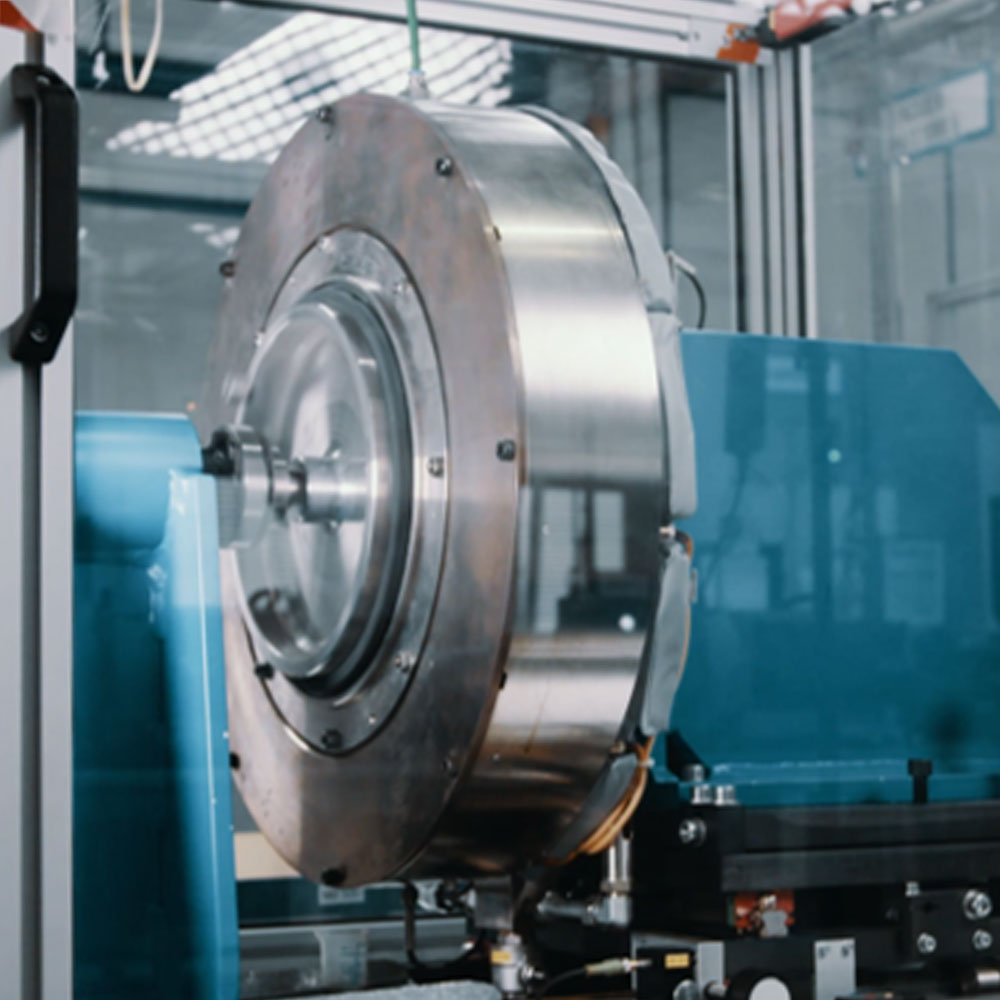 Application-Oriented Answers Through Functional Tests and Simulation
The greatest possible insight into the performance of a sealing system is gained through functional testing under the most realistic application conditions possible. Freudenberg Sealing Technologies' Engineering Service Centers have state-of-the-art dynamic test rigs at their disposal to simulate operating conditions as close to reality as possible by means of a wide range of test cycles that can be customized. This allows the entire range of complex tests and validations to be carried out efficiently for all areas of application of radial shaft seals. Furthermore, standardized test procedures make it possible to perform reliable assessment of lubricant-elastomer compatibility, for example.
Thanks to the use of various simulation methods, the possible behavior of the sealing system in the intended application can be evaluated. For example, FEA (Finite Element Analysis) simulation is used to predict the mechanical behavior of the seal. In addition, specifically developed calculation and simulation methods provide answers to questions about functionally relevant parameters of the radial shaft seal.
Functional Tests:
Design and customer validation according to DIN, ISO, RMA or on an customized specification
Lubricant-elastomer compatibility according to FLENDER and SEW or on an customized specification
Comparison of components
Friction torque measurement
Assembly force determination
Testing According to Specification
DIN 51517-3
DIN 3761
SEW 971180x15
ZF
Custom Testing and Design Validation With:
high shaft speeds up to 36,000 rpm
high pressure up to 15 bar (217 psi)
oscillating shaft rotation (robotics) up to 720° with 0.1 ... 5Hz (±720° @ max. 2Hz)
low temperature up to -50 °C (-58 °F)
dirt and muddy water contamination
hydraulic motors
Simulation:
FEA deformation, contact stress, load and stress peaks
EHL simulation
Contact temperature determination
Lift-off speed analysis
We Are There for You When You Need Us
Global Simmerring Engineering offers customers diverse and customizable analysis and testing capabilities at the highest level. This enables the holistic characterization, evaluation and optimization of the tribologic radial shaft sealing system. With the world's largest test facility for dynamic seals in Weinheim and the test center in Ashland, New Hampshire (USA), extensive testing and validation capacities are available on a total of 1,800 square meters of test area and more than 300 test rigs. This makes on demand customized testing possible for our customers.
Address your specific questions to our Simmerring Engineering experts.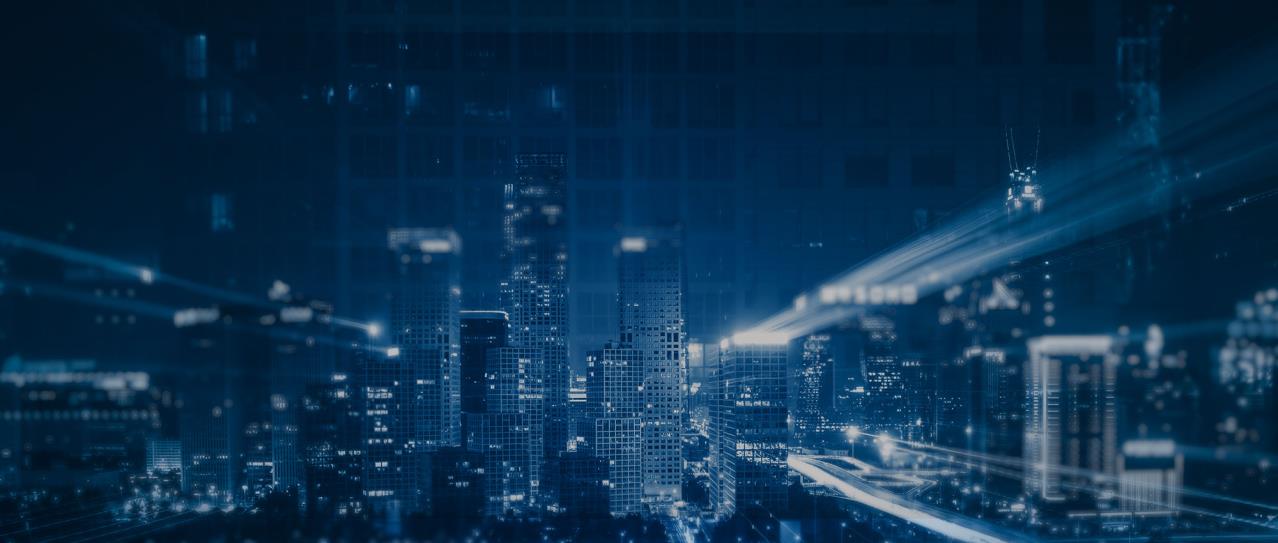 Join Us!
Experience Freudenberg Sealing Technologies, its products and service offerings in text and videos, network with colleagues and stakeholders, and make valuable business contacts.
Connect on LinkedIn!