First-Hand News?
Obtain news and background information about sealing technology, get in touch with innovative products – subscribe to the free e-mail newsletter.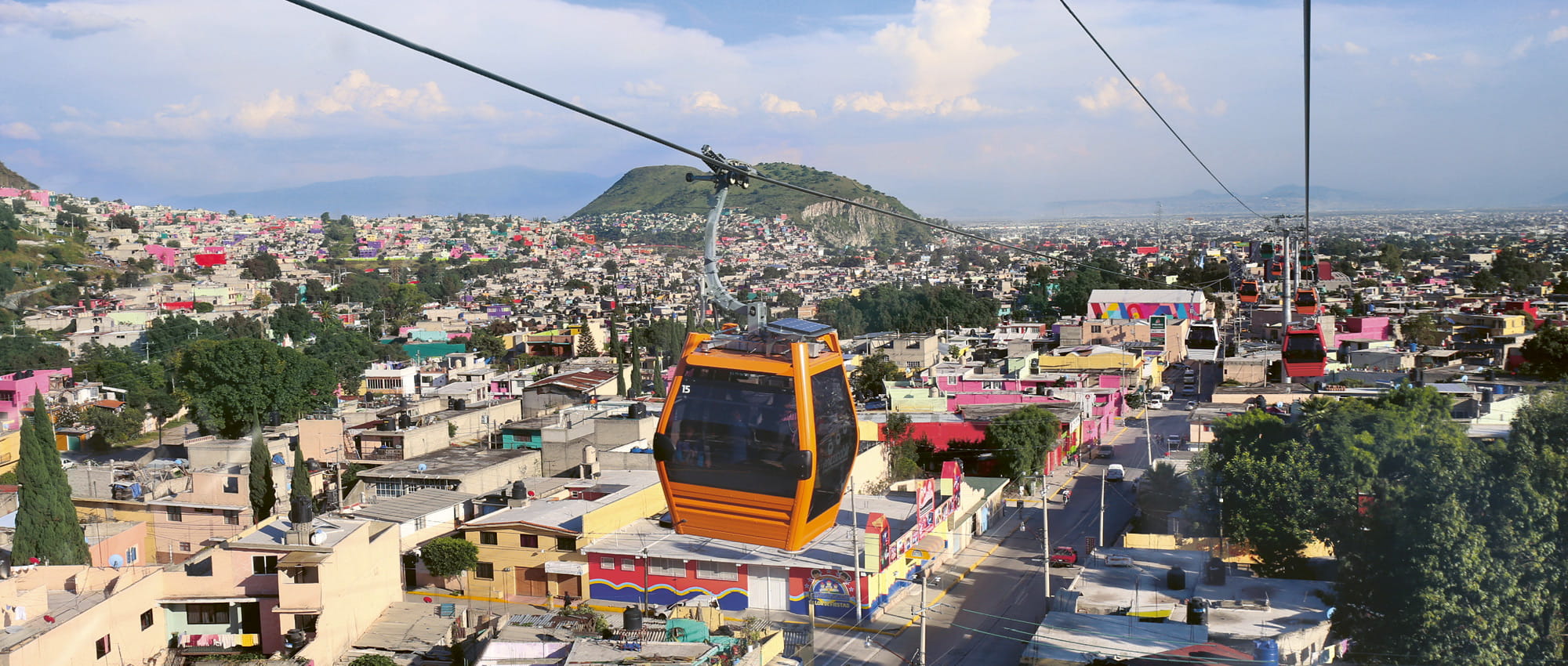 LEITNER is one of the world's leading manufacturers of ropeways. The company's emergence paralleled the rise of winter sports-related tourism. Today, ropeways construction outside the winter sports regions accounts for one quarter of its revenue.
Heavily populated Ecatepec de Morelos lies to the northeast of Mexico City. Over the past five years, if you wanted to reach the upland area of this rambling city, you could take a special form of transportation: the "Mexicable" cable line. It starts at the Santa Clara Terminal, located on the heavily traveled Federal Highway 85, which connects Mexico City with United States. As you approach the station, a huge colorful mural showing the Mexican painter Frida Kahlo comes into view as multicolored trams continually depart the modern building at its rear.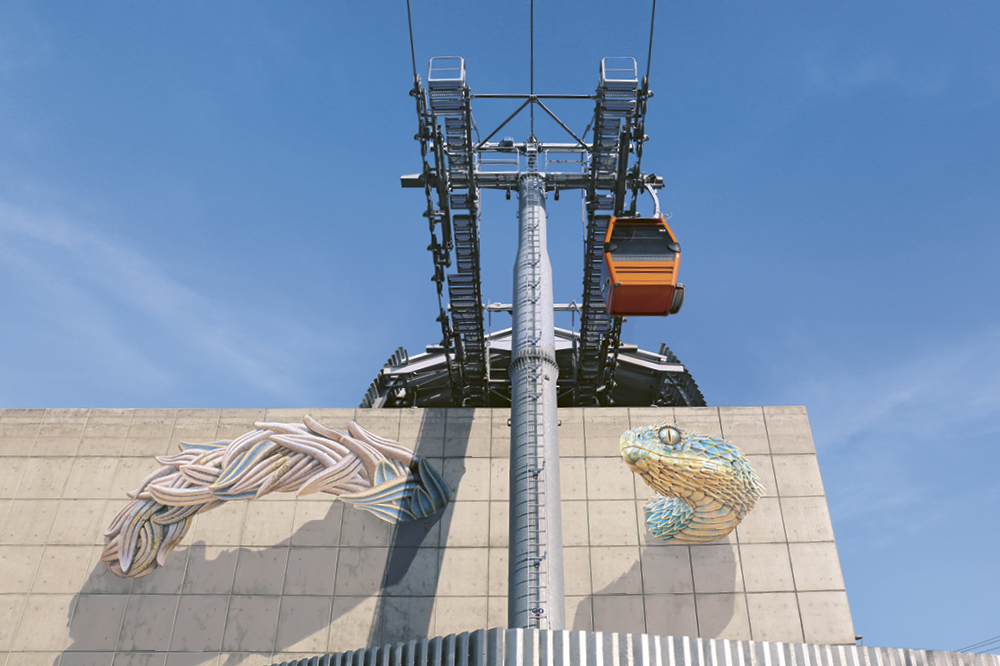 Based in northern Italy's South Tirol region, LEITNER built the "Mexicable," which has two lines running a total length of 4.7 kilometers (2.9 miles). Its transformation into a global company began in the Alps. Initially a family-owned business producing farm machinery, LEITNER turned to ropeways manufacturing as tourism revolving around winter sports emerged 70 years ago. Together with its sister companies PRINOTH and DEMACLENKO under the umbrella of its corporate group HTI, LEITNER has become the world's only complete provider of ropeways, trail groomers and snowmaking systems. In short, everything that tourists require for the carefree enjoyment of winter sports in the mountains. "The fact that we offer everything from a single source gives us an edge in new ski areas like those being developed in China and Russia," said Michael Tanzer, LEITNER's Sales Manager for Austria and Germany.
Shortage of Transit Space Paves Way into Cities
Despite its initial strength, winter tourism today only accounts for about 75 percent of the company's total revenue, about 1 billion euros. This can be traced to the fact that LEITNER began eyeing new markets in 1980. The company started by building systems in Japan and Malaysia that helped to develop new destinations for summer tourists. As in winter sports, the challenge was to bridge great differences in elevation. About twenty years ago, LEITNER added another pillar to its "non-snow" business: urban ropeways. Incidentally, the project mirrors one undertaken by LEITNER's French sister company, POMA. It was responsible for the construction of the first aerial tram in Medellín, Colombia, to be followed by additional lines.
Today, several Latin American countries have urban ropeways. "Central Europeans still think ropeways systems belong in the mountains. But people see them as modes of transportation in South America," Tanzer said.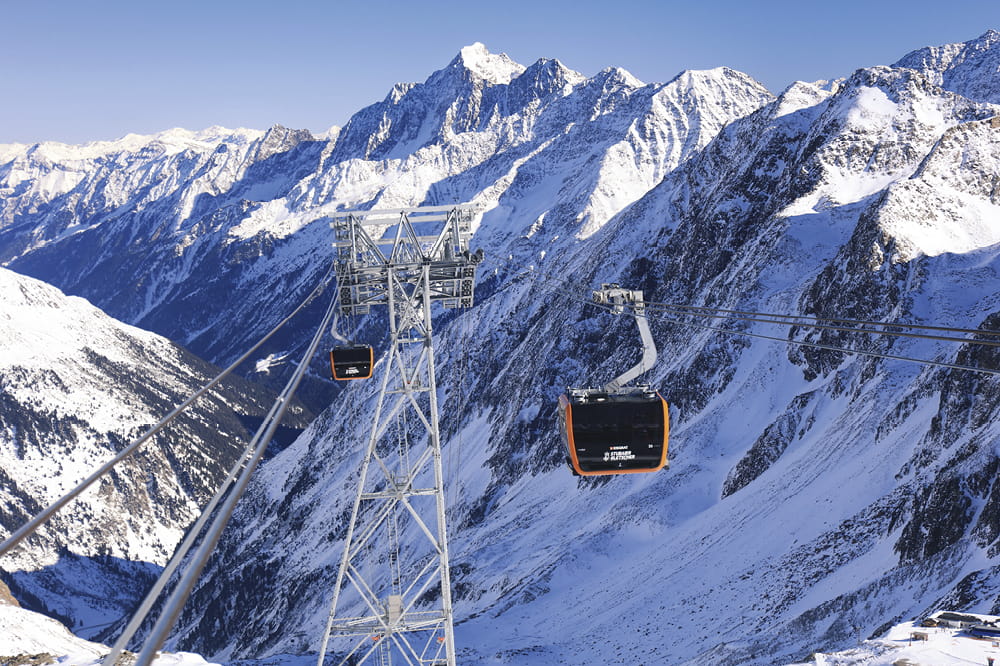 Based in Sterzing in South Tirol, Italy, LEITNER was founded in 1888 and is part of High Technology Industries (HTI) today. Besides Leitner, there are several other brands under the HTI umbrella: POMA (Rope-hauled transportation systems), PRINOTH (snow groomers and tracked utility vehicles), DEMACLENKO (snowmaking systems), LEITWIND (wind turbines) and AGUDIO (material ropeways). They are all part of the world's leading manufacturer of ropeways, which is the Group's core business, snow groomers and snowmaking systems. In 2019, the Group, which has 70 subsidiaries and 131 sales and service offices, generated revenues of just over 1 billion euros ($1.18 billion), surpassing the one-billion mark for the second year in a row. HTI has more than 3,800 employees worldwide.
Picture: © LEITNER
"It was clear to us early on that ropeways systems can solve urban transportation problems," Tanzer said. "Cities ultimately continued to grow and increase in density. Surface area for transportation became scarce." But people first had to become more aware of the solution. Medellín eventually commissioned a line for local transit about twenty years ago. The transfer of ropeways technology from the mountains into this urban environment required some adjustments. First of all, due to the different periods of operation, ropeways are used seasonally in ski areas, and, even then, only for about eight hours a day. In cities, they are part of the local transportation system and are in continual use, except for breaks overnight. "We need to shift the inspection time when maintenance takes place to nighttime, and have it completed in just a few hours," Tanzer said. At 6 a.m., at the latest, the cabins must be loading the first commuters. After all, the availability of the lines is the top priority for operators.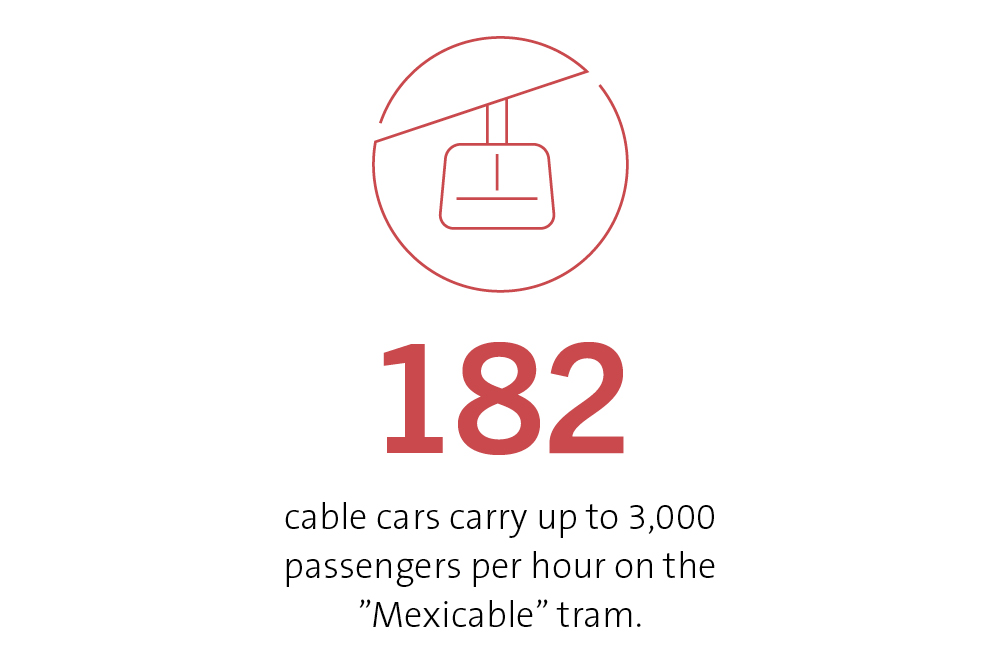 A Range of Advantages for ropeways
To make the maintenance and operation of urban ropeways as efficient as possible, LEITNER has to continually develop products. One development is the gearless direct drive. Besides eliminating gear maintenance, its advantages include the reduced use of resources, greater efficiency, and up to 7 percent less energy consumption. As Tanzer points out, energy use for ropeways is already lower than for buses. "For our ropeways, we only need one drive unit generating 780 kW at most. We can use it to transport up to 5,000 people in one direction. With its approximately 250 kW, a bus transports only a fraction of that number."
Officials in Medellín and Ecatepec found two other arguments that were compelling. One is the high physical profile of the cities in relation to their existing built-up areas. Streetcars and subways are reaching their limits in the battle to overcome differences in elevation. Many cities are also densely built-out. "When the space on the ground becomes scarce, I have to enter the third dimension. That means into the air," Tanzer said. The approach pays off financially as well as practically. "A subway certainly carries more passengers, but it is twenty times as costly as a ropeways system, and it takes significantly longer to complete."
It was clear to us early on that aerial tram systems can solve urban transportation problems.
Aside from these tangible arguments, there are other rationales for urban ropeways. In Medellín, the stated goal was to connect the favelas on the city's slopes with its downtown. Schoolchildren and workers are supposed to get to the city-center more quickly without being afraid of being assaulted. "Mexicable" connects poor neighborhoods at higher elevations directly with a transportation hub. "Crime is a major issue in cities like Medellín. Streets and buses are more susceptible to it than cabins are," Tanzer said." Medellín's ropeways is considered to be one of several reasons crime is on the decline. There is also an opportunity to develop the neighborhood around the ropeways stations by establishing shops and libraries, for example. The lines are thus becoming pieces of infrastructure as well as sociopolitical projects.
Tourists also like to climb aboard to gain a special view of the city they are visiting. The mural of Frido Kahlo described at the start is just one of several on the walls of houses and roofs along the route taken by the "Mexicable." It is small wonder that the addition of a third line to the route is being discussed. One advantage should not be underestimated as well: Passengers don't have to keep track of a schedule because the ropeways doesn't have one. The system runs without interruption and leaves traffic jams far below.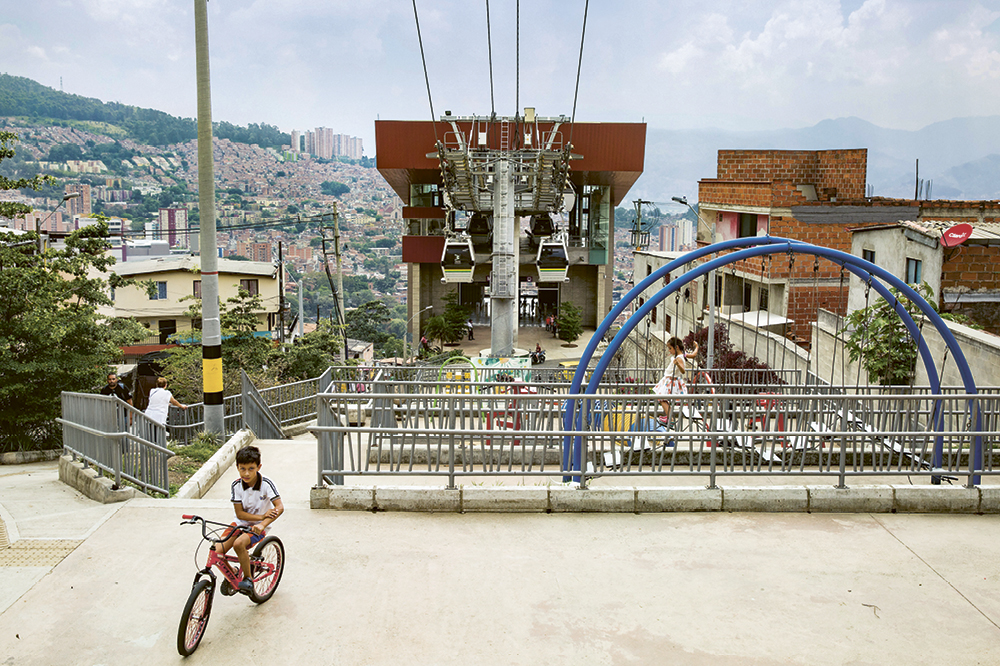 The Difficult Step toward Europe
While ropeways are finding more and more imitators in Latin American cities, they have only enjoyed exotic status in Europe so far. But the HTI corporate group has come up with its first projects. Starting in the summer of 2021, a ropeways system from its French affiliate POMA is connecting three transportation hubs in Toulouse, France, climbing to a plateau at a higher elevation. In Ankara, Turkey, a line has supplemented local public transit for years. In Germany, Berlin is working on the integration of an existing ropeways with its public transit system. The system, erected for the International Garden Exhibition in 2017, could close the gap between the subway and commuter train stations in two of the city's districts.
There are also legal reasons why ropeways are still awaiting a breakthrough as a local transit option in Europe. The laws and regulations covering the systems must first be negotiated. The process starts with residents who create an uproar when they see cabins floating past their living room window. A clarification is also needed on the shading of private lots and the right to travel above them. In Turkey, Ankara made special changes to its municipal laws to allow the construction of ropeways up to 45 meters (148 feet) high that floated across skyscrapers. By comparison, the legal hurdles are low in Latin America. Thus, ropeways projects are – and will continue to be – dependent on society's acceptance and political will. But something else is happening: The EU is making a commitment to CO2-free transportation, and ropeways help it achieve that goal. German states have approved the systems for funding. That's not the least important reason that twenty German cities are currently dealing with the construction of ropeways. "These things take time," Tanzer said. "We just have to keep the ball rolling."
---
This article originally appeared in ESSENTIAL, Freudenberg Sealing Technologies' corporate magazine that covers trends, industries and new ideas. To read more stories like this, click here .
More Stories About Sustainability