First-Hand News?
Obtain news and background information about sealing technology, get in touch with innovative products – subscribe to the free e-mail newsletter.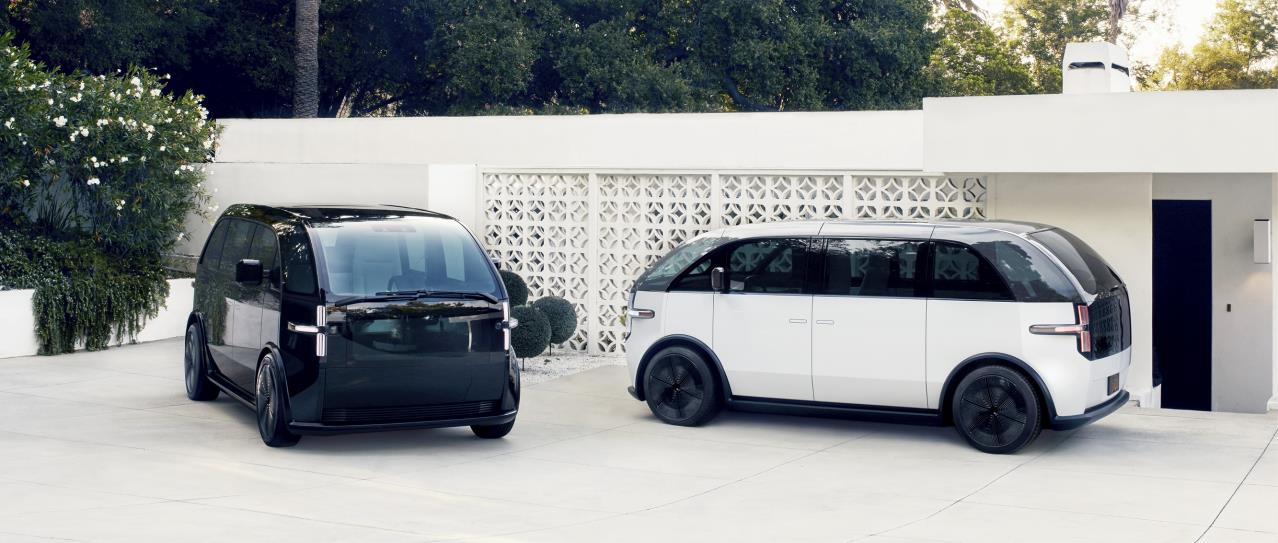 A startup in California wants to drive gas-guzzling SUVs out of cities and build enthusiasm for electric mobility with a car that you can't even buy. The avant-garde Canoo electric van doesn't actually have much in common with a conventional car.
The Canoo looks like a combination of a VW minivan and an iPhone: It is compact, with rounded contours and a shimmering black exterior. Cross-shaped front and rear lights give it an almost robotic look. Much like the legendary Volkswagen "hippie mobile" minivan, its front-end descends sharply, making it nearly symmetrical. But its interior is fundamentally different. Instead of forcing themselves into separate rows of seats, passengers sit across from one another and relax on upholstered benches lining the interior space. They are more like couches than car seats. The Canoo's developers have called the vehicle an environmentally friendly "loft on wheels" that uses electric drive to move quietly through city streets.

From the Old "Automotive World" into the Future
The company, which has the same name as the vehicle, explained the significance of the brand. "A canoe is a simple, sustainable means of transportation that has been used around the world for centuries. We picked it because it sounds distinctive, looks cool, and invokes a feeling of relaxation and movement. And like a canoe, our vehicle provides everything you need and nothing you don't."
A group of executives from the "old" automotive world founded the electric-vehicle startup in California in December 2017, including Ulrich Kranz,Stefan Krause and Richard Kim (previously of BMW). The group was later joined by former Opel CEO Karl-Thomas NeumannThe first question on their minds: "How can we make EVs more accessible and a more sensible option for people living in cities?" They bet on innovation in three areas: design, technology and a different concept of use. Canoo Design Chief Richard Kim explained the recurring theme of the company's work: "We implemented the Bauhaus philosophy, which is centered around minimalism and functionality, and started with the reduction to the absolute minimal need. Next, we applied that approach to the seamless connectivity with the personal devices customers care most about – their phones."
How can we make EVs more accessible and a more sensible option for people living in cities?
Ulrich Kranz, Founder Canoo

Keep it Simple!
The Canoo was conceived as a minibus that could fit into any parking spot yet would be as roomy as a large SUV. There is no wasted space whatsoever in its interior. Thanks to electronic steering, the mechanical steering column has been eliminated, allowing engineers to free up more space for the passenger compartment. The company wants to make access as easy as possible, promising customers an all-around, trouble-free package. Canoo drivers don't need to own a car – they become subscribers by signing a utilization contract with the company, with the opportunity to cancel it monthly. "Membership offers 24/7 vehicle availability and includes a mileage package, registration and maintenance, plus insurance and access to the charging infrastructure," according to the company. "No stress from a car purchase, no ties to leasing contracts with long terms that do not correspond to requirements." There is currently no way to determine whether the Canoo model is more affordable than buying an electric van outright. The company is not yet giving out figures; it doesn't plan to publish pricing before the end of 2021.
Turning Away from Gasoline and Ownership
The flat rate model can lower the bar for making the switch to an electric vehicle. Many drivers who are unfamiliar with this category of powertrain still have reservations. Concerns about the purchase price are just one example. And then there is skepticism about the vehicles' range and charging infrastructure. But anyone who can try out this new kind of mobility for a month doesn't spend a lot of time weighing the pros and cons or reaching a decision in favor of a long-term investment. Startups like Canoo have the potential to literally knock the automobile off its rails and accelerate a change in values and consciousness, moving away from gasoline and ownership and toward electric powertrains and mobility on demand. "We subscribe to everything else in our lives. Why not our automobile?" Canoo's founders argue.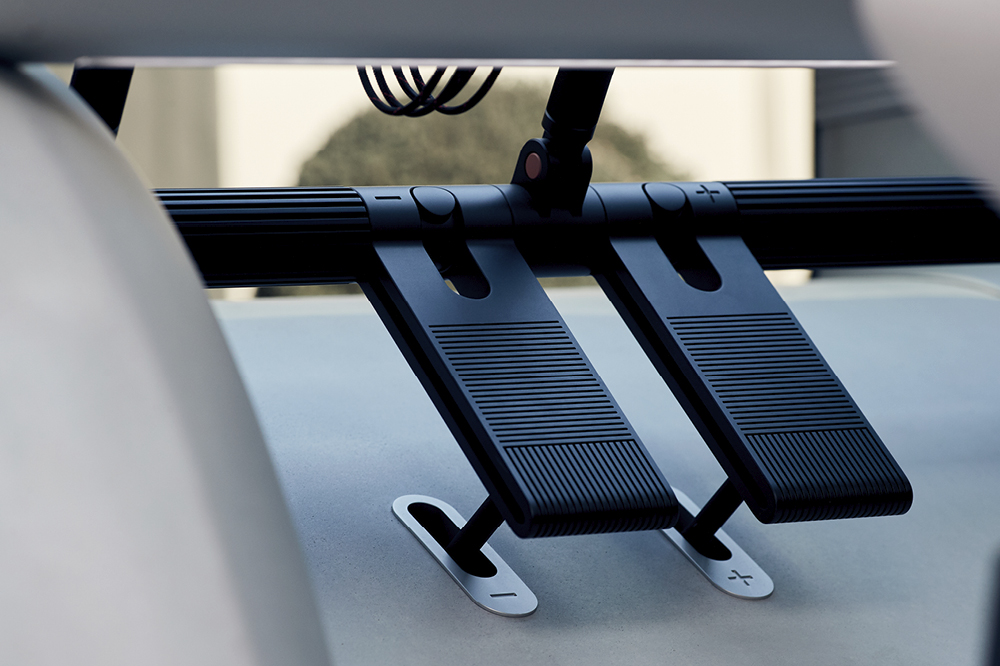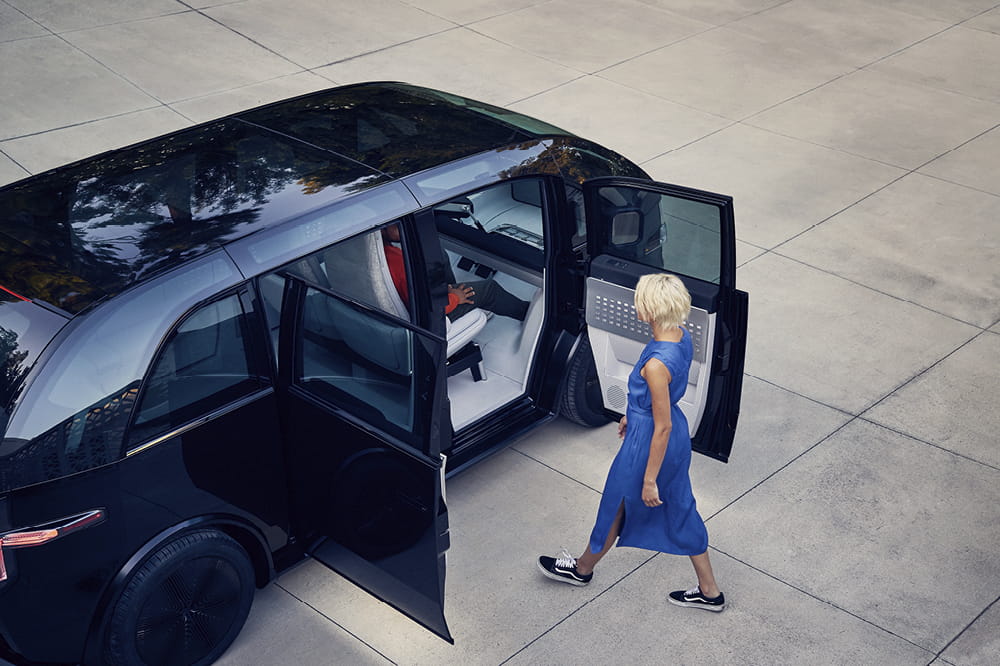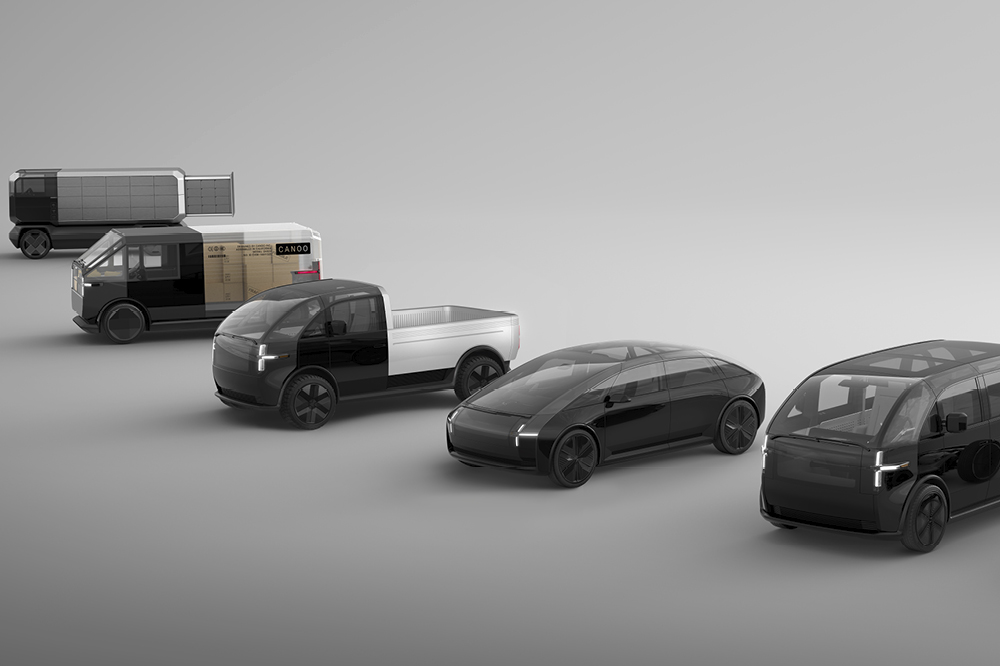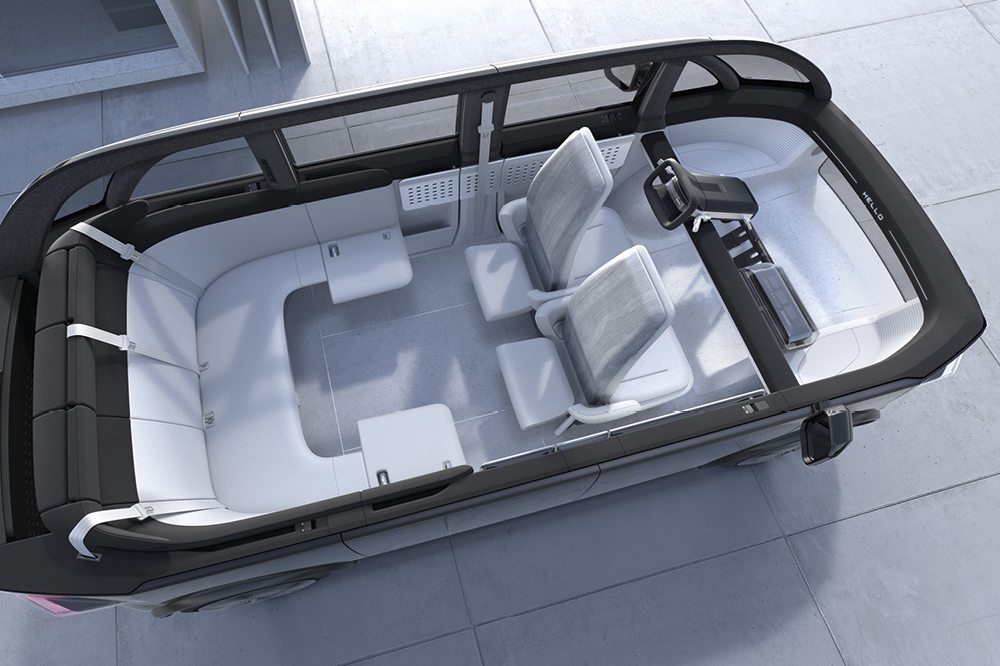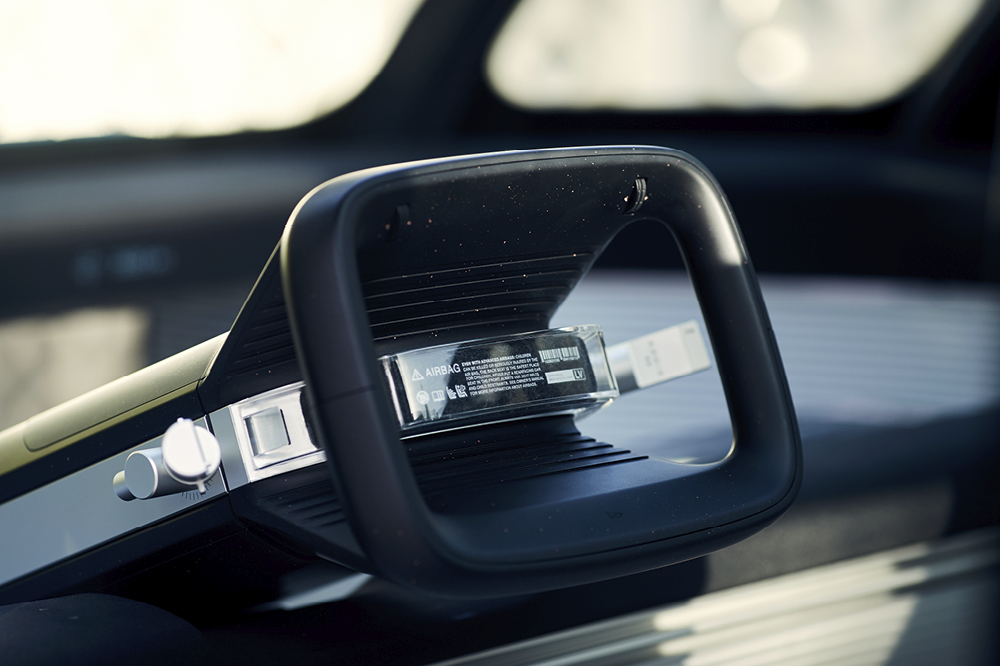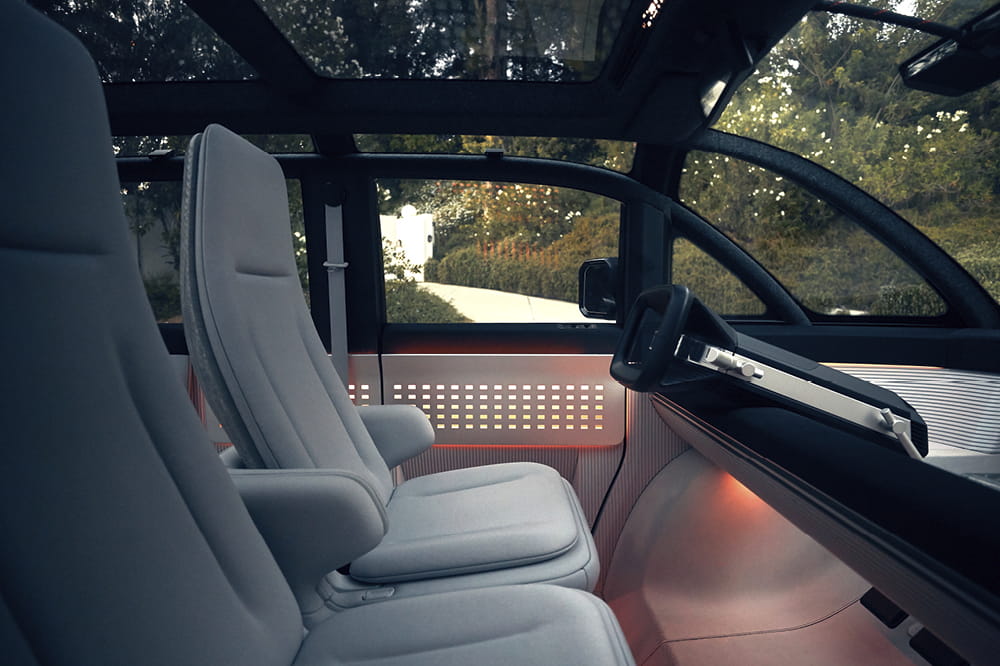 The approach is especially likely to find a receptive audience among young city-dwellers. They are considered to be open to digital services, car-sharing and climate-friendly mobility. So it's logical for Canoo to introduce its electric van in Los Angeles. Other large cities in the United States are expected to follow. The terms of use allow a number of people – families, for example – to share the seven-seater. Canoo also points out that the car would work well for rideshare drivers. This could make the electric van an element of a flexible, sustainable system of mobility.
We subscribe to everything else in our lives. Why not our automobile
Stefan Krause, Founder
The entrepreneurs see an early wave of enthusiasm drawing "experimenters" to the concept. They have a clear idea of their targets: "We're looking at what we call the boundary pushers – people who are always looking for the next great thing or experience," according to Canoo. Its marketing concept is relying on curiosity, exclusivity and playful ambition. Potential customers have been able to sign up since January 2020. The response has "greatly exceeded expectations," the company said without citing figures. The customers on the waiting list are called "first wavers." The company has also turned the list into a marketing strategy: "First wavers get points for referring others to the waitlist or taking one of our surveys. More points give you a better position on the waitlist."

A Skateboard for All
Focusing on the essential applies to design as well. Canoo engineers have developed a chassis, known as the "skateboard," suitable for any brand or model. The electric motor and the battery are mounted on it. Any vehicle cabin, whatever its manufacturer, can be set on this undercarriage. "The use of the uniform, flat skateboard reduces development costs and allows us to manufacture more efficiently and better utilize interior space," the company said.
Partnership with Hyundai
Canoo has already teamed up with a major partner on the concept. Based on Canoo's scalable skateboard architecture, Hyundai is having a fully electric platform developed for its Hyundai and Kia corporate brands. The South Koreans want to standardize their EV assembly line and reduce costs to respond more quickly and flexibly to customers' wishes and the upheaval in the car market. The partnership with Canoo is an element of Hyundai's plan to invest $87 billion to expand its electric program over the next five years. "For Canoo, partnering with a household name like Hyundai was a validating moment for our young company," the startup said. Tests of the beta versions of the electric van are now underway. Canoo is optimistic about the impact of the coronavirus on its plans, expecting the launch to only be delayed several months. As of June 2020, the introduction was planned for early 2022.
More Stories About E-Mobility