First-Hand News?
Obtain news and background information about sealing technology, get in touch with innovative products – subscribe to the free e-mail newsletter.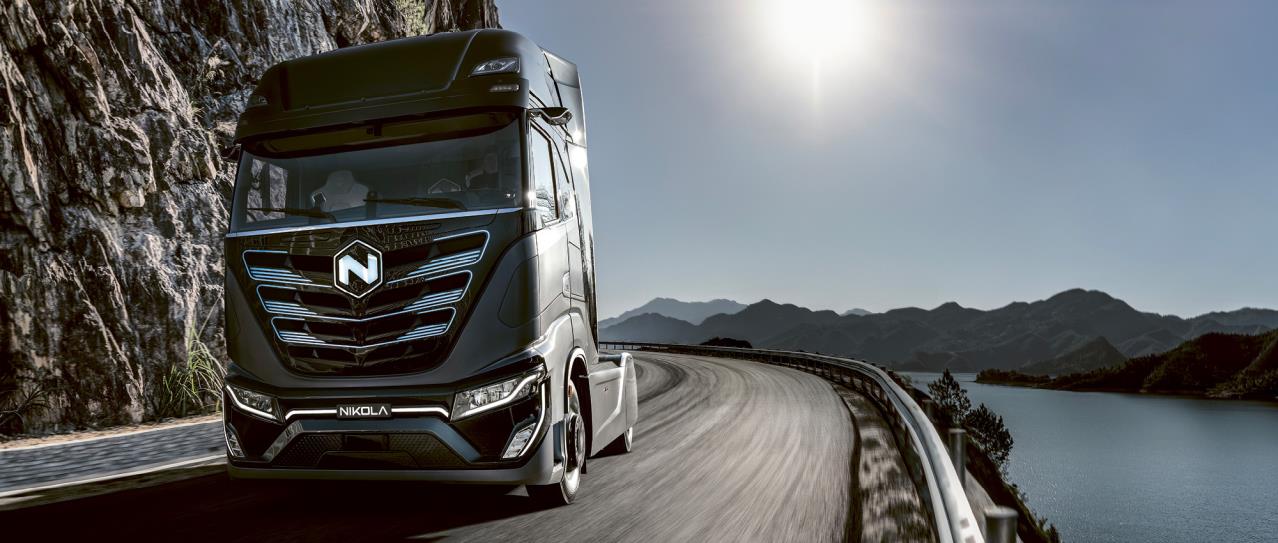 The Challenge: A Cleaner Solution Beyond Diesel
Nikola Motor Company is a startup that intends to move hydrogen propulsion into the mainstream. In the process, it plans to solve a "chicken or egg" dilemma.
Does Jesse Schneider, EVP of Hydrogen Fuel Cell Technologies for Nikola Motor Company, consider himself a veteran or pioneer? The question is a bit rhetorical since Schneider is one of the world's leading experts in fuel cell technology. He has been advancing the cause of fuel cell propulsion for more than twenty years and has worked for companies such as BMW and Mercedes. Schneider has co-developed standards for fuel cells and electric and hydrogen-fueling infrastructures. Fast forward to 2018 when Schneider began leading the hydrogen and fuel cell technology initiative at Nikola Motor Company in Phoenix, Arizona.
Schneider nonetheless answers without hesitation: "It's more definitely the latter. At Nikola, we're the pioneers bringing Class 8 (37-40t) fuel cell trucks to market. Nikola is very fast paced." Founded in 2015, the company is pursuing the ambitious goal of launching hydrogen-fueled powertrains in the heavy-duty market. Before long, test fleets of Nikola trucks powered by fuel cells will be rolling across Europe and the United States. All three of Nikola's Class 8 vehicles — Nikola One, Two and TRE — are being developed in FCEV applications. The Nikola TRE will be co-developed as a BEV with CNH Industrial of Europe, the parent company of IVECO and FPT Powertrain.
Why Now?
Decades ago, fuel cells were already being praised as the powertrain of the future. Why didn't they replace their diesel and gasoline counterparts a while ago? "It certainly takes time to make a transformative technology," Schneider said. "Batteryelectric propulsion was the first revolution for light-duty vehicles that we experienced on the way to emission-free mobility. The greater the mass and range needs of the vehicle, the more the fuel cell makes sense." For zero-emissions in long-haul trucking, Schneider went on to say, "there is no comparison." In the case of the Nikola TRE, the battery-electric version for the European market has a range of up to 400 kilometers (roughly 248 miles), while the U.S. fuel cell version carrying 60 kilograms (132 pounds) of hydrogen has a range of up to 800 kilometers (497 miles).
Many of hydrogen's advantages are obvious: A fuel cell powertrain can be fueled ten times as fast as a battery can be charged. As a fuel, hydrogen is also lightweight, making longer ranges possible. But even just a few years ago, there was a major caveat. The process of extracting hydrogen from water using electrolysis was considered too costly, and it was deemed unsustainable if the electric current came from fossil sources such as coal. Since then, greater awareness of climate change and the global efforts to limit CO2 emissions have accelerated the growth in renewable energy from solar, wind and hydropower sources, resulting in green production of hydrogen and changing the baseline for the evaluation of hydrogen technologies. "The missing link?" asks Schneider. "Renewable energy costs have decreased dramatically. For instance, renewable power is between 2 and 4 cents per kWh today."
A customer buys a few hundred trucks, and then we build the stations for that specific fleet.
Jesse Schneider, EVP Hydrogen & Fuel Cell Technology
So, is now the right time for hydrogen-fueled propulsion? "The answer is definitely yes," Schneider said. "There are different factors that are bringing hydrogen to market faster than we thought." On the one hand, there are the ecological aspects affecting companies worldwide, motivating them to lower their CO2 footprint. On the other, there are the legislative guidelines such as Europe's climate protection goals for 2030. They require certain sectors to cut their CO2 emissions by 30 percent compared to 2005. "Many truck makers are realizing that very soon there's going to be a zero-emission vehicle (ZEV) mandate, not only for light-duty vehicles as in California today, but for heavy-duty vehicles as well. And that is pushing hydrogen forward, as the only option for long-haul trucking (40t) and beyond," he explained. Experts expect up to 13 percent of Class 8 trucks to be hydrogen-fueled in 2030 in Europe due to CO2 regulations and in the U.S. states with the ZEV mandate.

Like a new technology itself, changes of thought also pose a challenge. Schneider points to the which-comes-first challenge. "We are always reminded of the 'chicken or egg' dilemma. Does the infrastructure or the vehicle come first? That has always been the question," Schneider said. "There are around a hundred hydrogen stations in the U.S. and about the same number in Europe, and that's not close to being competitive with fossil fuels or even electric charging, so far. What happened was that the investment didn't come in hydrogen, but now it is coming. That's really a big difference."
The rethinking has begun. "Customers now want to reduce their ecological footprint and transport their freight emissions-free. But they don't want to make any compromises," Schneider noted. "With hydrogen, you can do fast fueling and get the same range. And with renewable hydrogen, you can get well-to-wheel zero-emissions on both the truck and the infrastructure." It is difficult for long-haul trucking companies to justify waiting hours for charging and giving up that much cargo. Time is money, and that is especially true for cargo weight. Class 8 BEV trucks have 7 tons of battery alone.
The Nikola Strategy: Everything from a Single Source
Nikola plans to solve this dilemma with a smart business model requiring massive investment: "Regarding the 'chicken or egg' dilemma, Nikola is bringing the omelet. We are rolling out stations in parallel with our fleets of vehicles," Schneider explained. With the company's 'Total Cost of Ownership' leasing model, the goal is that the cost to customers would be predictable since they pay a fixed cost, price per mile, considering that the truck, fuel and maintenance are all included.
Hydrogen is expected to be produced right at the stations using current from renewable sources, supplemented by grid electricity and then stored at mass quantity (10 tons of hydrogen / or 1.25 days of storage) to provide power flexibility and backup hydrogen. The company intends to produce green electricity in its own solar farms while buying surplus electric current from suppliers of wind energy and hydropower.
The fuel cell is ready to reach the range and power of the diesel. We're essentially replacing the diesel one-to-one.
Jesse Schneider, EVP Hydrogen & Fuel Cell Technology
According to the company, there are already 14,000-plus pre-orders for the trucks, including 800 for Anheuser-Busch InBev. The network of hydrogen-fueling stations is expected to grow all along the primary American truck routes, focusing first on California.
The startup is betting on collaboration with a range of companies, including the German auto supplier Bosch and the commercial vehicle manufacturer CNH Industrial (IVECO and FPT Powertrain) that Nikola is partnering with to build the Nikola TRE BEV in Ulm, Germany. The company's hydrogen infrastructure partner is Nel ASA, and Hanwha is providing solar panels for the production of electricity. In early March, Nikola announced its merger with VectoIQ, becoming a publicly traded company to be listed as NKLA later this year.
Vision: The Largest Hydrogen Network in the World

For light-duty trucks, fuel cell technology has already matured to the point that a fill-up only takes five minutes and is good for 300 to 500 kilometers (186 to 310 miles). Now it's the heavy-duty trucks turn. In heavy-duty, Nikola is developing fuel cell hardware to compete with diesel in performance (300 kW), fueling time (15 minutes) and range (800 kilometers or roughly 500 miles).
Starting in 2023, Nikola and IVECO plan to launch the TRE, along with hydrogen-fueling stations in the United States as well as Europe. Schneider outlined the timeframe: "Next year, we want to produce one to two tons of hydrogen via electrolysis. In 2022, our goal is to quadruple that amount by producing eight tons in an expanded electrolysis station. By the end of the decade, we plan to have hundreds of stations in the U.S. Every station will serve at least 200 vehicles." It's the vision of Trevor Milton, Nikola's founder and CEO, to operate the world's largest network of hydrogen-fueling stations.
In January 2020, the Hydrogen Council forecast steep declines in the costs of producing hydrogen. Schneider is convinced that this will accelerate the use of fuel cells. "If you can get the price down to $5 to $6 a kilogram ($2.2 to $2.70 per pound), then you are starting to compete with fossil fuels today," he said. Schneider is certain about one thing: "The fuel cell is ready to reach the range and power of the diesel. We're essentially replacing the diesel one-to-one."
More Stories About E-Mobility