First-Hand News?
Obtain news and background information about sealing technology, get in touch with innovative products – subscribe to the free e-mail newsletter.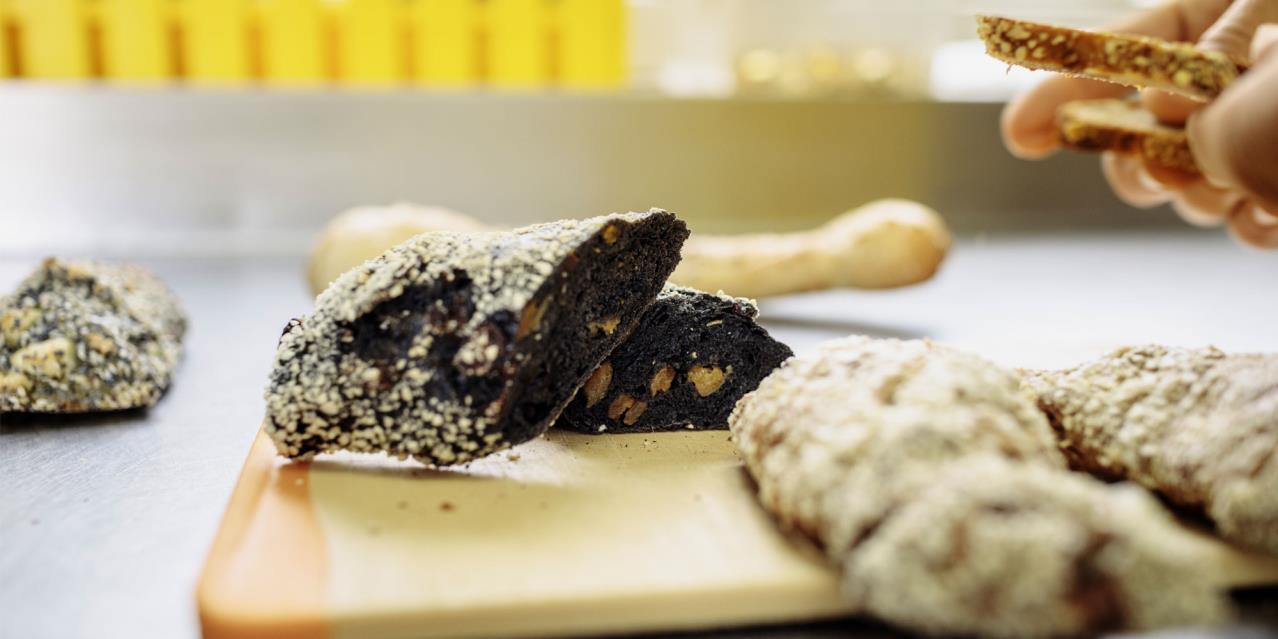 Spelt baker Stefan Dümig has three facilities near Munich. Is his company too small for automation and digitalization? On the contrary, Dümig says. He is constantly on the lookout for better equipment and more efficient processes, and he is now expanding his online business.
Stefan Dümig is standing in front of a large computer display and studying a list of ingredients in his storeroom, which smells of spices and fruit. The display on the scales only shows the color green for each ingredient when the correct weight in grams is attained. "Previously, bakers worked by intuition and experience," Dümig said. "Sometimes the intuition was right, sometimes it was wrong." In the worst case, the dough did not rise properly or the final product just didn't taste good. "I want precision," Dümig said.

Dümig's bakery is not a large operation. His grandfather made bread in the same building in Haar, near Munich. Its window shutters are yellow. It has a sales counter and a few roundtables where customers can enjoy breakfast in its front room. But its cellar is full of the kind of machines that you would normally find only in industrial bakeries – such as a large digitalized scale or a stirring device that automatically adheres to the correct kneading times. Even back in the 1990s, Dümig purchased a computer-controlled deep fryer that he could use to automatically turn over his doughnuts. "At the time, my colleagues laughed at me," he said. The machine did, in fact, make mistakes in the beginning; it cut the doughnuts in half when it turned them over. But Dümig was obstinate. Today, the fifth generation of the deep fryer helps him make 37 varieties of doughnut – everything from mango cheesecake to strawberry mascarpone.
Dümig, who has short, white-blonde hair and the physique of a triathlete, seems to generate one idea a second. He continually imagines what he can improve or invent. His fanciful doughnut creations are joined by baguette-like loaves of white bread, so-called souls, in flavors like gorgonzola fig or spinach feta. Dümig adores his creations.
THE MACHINES TAKE UNLOVED WORK FROM US.
People Often Bring Out an Idea Too Early
He doesn't see his interest in computers and machines as a contradiction: "Quite the opposite. Thanks to the digital scale and the software in my office, I can devise new recipes more easily." If he is lucky, an attempt at a new creation will prove successful immediately. Dümig said he would prefer a direct interface connecting his office and the scale, then he could digitally schedule the orders for the next day. Screens showing videos of the bakery are mounted in the sales room, and the customers have WLAN. Dümig is also an active user of social media – he is developing his own app to let customers collect bonus points and pay with their smartphones. Even in 2019, many other German bakeries of comparable size don't even let customers pay by credit card.
Perhaps Dümig owes his interest in experimentation to spelt. After he took over the bakery from his father in 1989, he quickly decided to bet on spelt flour. His ambition: to produce as many baked goods as possible from spelt instead of wheat. Spelt has to be processed differently, and there were hardly any recipes to guide him so he developed them himself. Dümig likes to try things out. He was already experimenting with the "bio" concepts, which are widespread in Germany today, back when it was impossible to get bio-butter in parts of the country. Today there isn't a single baker who doesn't sell at least one bread variety made of ingredients from ecological agriculture. Dümig launched his first online shop eleven years ago, but closed it later. "People often come out with an idea too early, but they gain valuable experience," he said.
Increasing Quality, Avoiding Defects
Dümig is not just playing around. As the owner of the family business, he makes business-oriented calculations and recently opened his third operation. He has 55 employees. Despite his love for automation, the idea of unstaffed production facilities doesn't thrill him. "Machines are taking over the work that people dislike," he said. "I would like to boost the quality of the craftsmanship and make fewer mistakes." The goal: baked goods that are handcrafted and creative despite mechanical assistance.

}
Although it was widespread in Europe in earlier times, spelt was extensively replaced by wheat during the age of industrialization. Due to its husks, spelt is more robust than wheat, but requires longer processing. Some bakers, including Dümig, believe the processing offers some nutritional advantages, making spelt's enzymes and gluten less aggressive. Today spelt has regained some of its old popularity. Its main areas of cultivation are southern Germany, Switzerland, Belgium and Finland. Spelt only made it to the United States in 1890 and was later nearly entirely replaced by wheat, but the organic farm movement is slowly reviving it.
Of course, new machines sometimes put stress on employees. In some cases, the equipment doesn't run smoothly at first. The time and effort needed to run the new equipment suddenly turns out to be greater than the amount of work saved. That was the case with machinery that Dümig used to automatically produce soft baked goods such as baguettes. He spent 250,000 euros on the equipment. "I applied pressure to get it working, and the operators were peeved," Dümig said. Today, they wouldn't do without it. "It is precise and it conserves resources. And we don't have leftover dough."
The situation was similar for the automatic dough sheeter for puff pastries that Dümig has owned for 24 years. "No one with a bakery of the size has this," he said. "It has really made a lot of money for me." When the dough has to be folded 27 times, people get confused and count wrong, Dümig said. But the machine doesn't. And his many baked creations were only invented after careful consideration from a business standpoint, he said. He noted, incidentally, that there is no bread with lemon grass and cellophane noodles. But it is worth trying, he said. "Even if the idea is too offbeat and doesn't work, customers will at least try it once. They are curious and keep coming back. They enjoy being surprised," Dümig said.
BACKING IS CREATIVE HAND WORK IN DEFIENCE OF MACHINE AID.

It's the Only Option
Dümig is now busy with the third edition of his online shop. It proved to be a success this time. It is growing at a good pace, almost too good. He hasn't even advertised it yet. It would be inconvenient if he were suddenly swamped with orders and he couldn't deliver the products. He has worked on ways to send his baked goods throughout the country and have them still arrive fresh. "We bake some of them halfway and immediately package them hot to sterilize them." The customers only have to re-bake them at home. Another of Dümig's tactics involves the shipment of pretzels. He uses a special form of salt that moisture doesn't dissolve. You get the sense that he leaves little to chance. Yet he is a little surprised by his success. It is clear that allergy sufferers or spelt lovers throughout Germany would use his online service. But why would customers in northern Germany buy small sweet pastries typical of the region from a baker in Munich? Dümig smiles: "A baker needs the kind of customer who drives past four of other bakeries to shop at your place."
Is this a way for small operators to survive competition with major bakeries? "It's the only option," Dümig said. "You have to develop a brand. Find your niche, be innovative." Dümig has no fear of famous names. He went through a year-long process to affirm his right to call a feta spinach pastry "Popeye," winning a court case against a U.S. company that had secured the rights on a pro forma basis. Dümig doesn't know why so few master bakers are embracing the future and looking at issues like digitalization as an opportunity. "Sometimes I ask myself why so many of the others aren't following suit. We're showing that this can work." Is this a way for small operators to survive competition with major bakeries? "It's the only option," Dümig said. "You have to develop a brand. Find your niche, be innovative." Dümig has no fear of famous names. He went through a year-long process to affirm his right to call a feta spinach pastry "Popeye," winning a court case against a U.S. company that had secured the rights on a pro forma basis. Dümig doesn't know why so few master bakers are embracing the future and looking at issues like digitalization as an opportunity. "Sometimes I ask myself why so many of the others aren't following suit. We're showing that this can work." On the way from the automated stirring machine back to the office, Dümig says he would be happy to use a robot in the bakery. Unfortunately, the space is too limited for that. He moves past a cast-iron oven, a monster of a machine that is still wood-fired at great expense. "There's nothing digital about this," he says with a wink. A remnant of the past? "Oh no," he says. "We use it for the urlaib, a bread made of natural sourdough." It's a nine-pound loaf made of rye and spelt. Dümig thinks for a moment and then says: "I didn't know a better way to make it."
More Stories About Digitalization