Freudenberg Maintains Altitude with United Technologies' Supplier Gold Recognition
Plymouth, Mich. (USA), Dec. 18, 2018. Outstanding customer collaboration, product quality and on-time delivery, among other factors, have helped Freudenberg-NOK Sealing Technologies win two coveted United Technology Corporation (UTC) Supplier Gold awards during 2018. The company runs the business operations for Freudenberg Sealing Technologies in the Americas.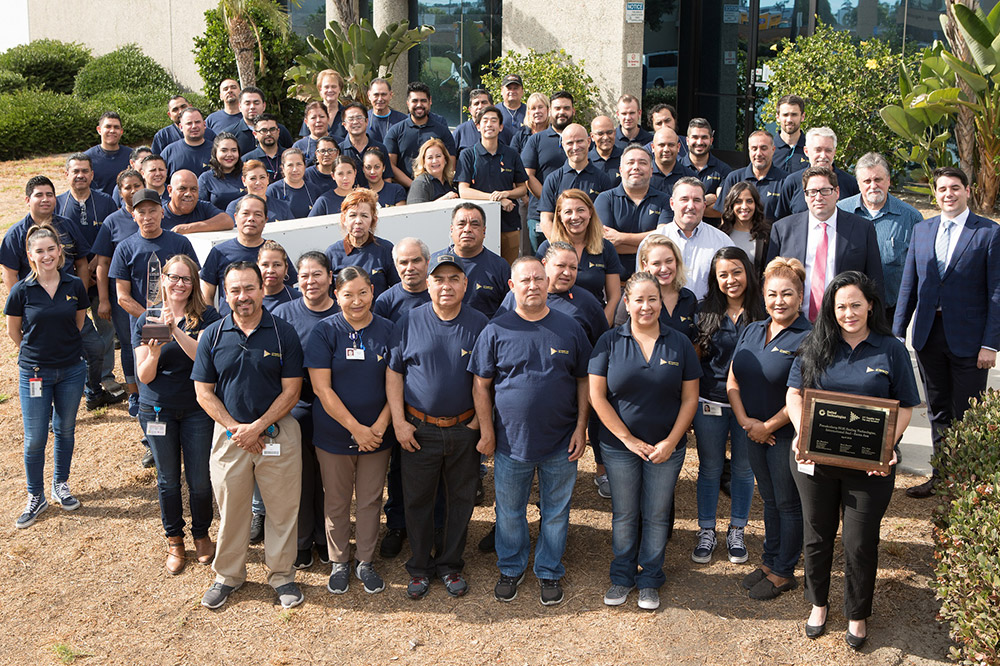 Freudenberg-NOK's Santa Ana, Calif., and Tillsonburg, Ontario manufacturing facilities were honored with Supplier Gold status for their support and service to UTC's Pratt & Whitney in Canada. Both plants are AS-9100 and Nadcap certified and manufacture a variety of precision seals, including fire seals, ducting, air inlet screens, grommets, gaskets and O-Rings for critical aerospace engine applications.
"We are honored to receive such recognition from UTC – a customer we value as an innovation leader in the aerospace industry," said Vinay Nilkanth, Vice President of the Global Mobility Sector for Freudenberg-NOK. "Employees at our Santa Ana and Tillsonburg facilities have consistently demonstrated a commitment to manufacturing improvements, product excellence and customer value, and I am proud of their accomplishments with these awards."
Five important criteria
Freudenberg-NOK's Tillsonburg facility has been awarded Supplier Gold status for the seventh time since 2009. Santa Ana was awarded Supplier Gold status this year after implementing new quality and delivery procedures.
Supplier Gold status is the highest level of supplier achievement used by UTC and is awarded to businesses that meet five criteria: excellent customer service, on-time product delivery, best-in-class quality, cost, and use of lean practices throughout operations. This award was established to help promote and facilitate the exceptional supplier practices and performances found among the thousands of suppliers who do business with UTC.
Freudenberg-NOK has more than 30 years of experience in designing and manufacturing precision sealing products for the aerospace industry. The company's crucial assistance in designing an advanced pylon seal solution for UTC Aerospace Systems' (UTAS) helped customer Embraer Commercial Aviation meet its aggressive schedule for the first flight of its new E195-E2 jet. The seals were delivered to UTAS in record time and met "burst duct" conditions involving higher pressures and larger system gaps.
Supporting customers with material development, construction as well as product and material testing
The company offers customers an extensive portfolio of aerospace products and materials that address challenges including flame resistance, fuel and high thermal stability oil resistance, extremely high and low temperatures and lighter weight.
Both the Tillsonburg and Santa Ana material laboratories are LCS (Laboratory Control at Source) compliant well as individually certified to American Association for Laboratory Accreditation certification (Santa Ana) and Nadcap AC1722 (Tillsonburg). They produce fluorocarbon, fluorosilicone, silicone, ethylene propylene diene monomer, nitrile and Simriz® perfluorinated elastomeric components for aerospace applications.
"In addition to an extensive portfolio of products and materials, we also offer customers engineering support with material development, part design, and product and material testing to assist in developing unique solutions to their challenges," noted Thomas Lee, Global Segment Director, Aerospace, for Freudenberg-NOK. "We are motivated to achieve excellent results on behalf of our customers. Achieving and maintaining Supplier Gold status is of paramount importance to our organization."