Freudenberg Offers Material and Product Solutions for Evolving E-mobility Challenges
Plymouth, Mich. Nov. 8, 2018. As manufacturers ramp up production of electric and hybridized vehicles, automotive technologies and materials will need to evolve in order to address new safety and performance requirements, a trio of Freudenberg-NOK Sealing Technologies experts told an audience during a webinar on Nov. 7. Freudenberg-NOK runs the business operations for Freudenberg Sealing Technologies in the Americas.
Freudenberg's F. Joseph Walker, Global Technology Director of Materials and Laboratory Services, Michael Blake, Application Specialist, E-Mobility and Ray Szparagowski, Technical Director, Automotive and High Performance Plastics, led the webinar. They shared insights about how the evolving battery powered and fuel cell propulsion landscape – likely to reach more than 30 percent of global vehicle production by 2035 according to company predictions – is already generating customer requests for products that offer new capabilities in areas such as thermal management, electromagnetic interference and radio-frequency interference (EMI/ RFI) shielding and extreme temperature and pressure environments. The success of these products is founded on development and testing of new polymers and high performance plastics that demonstrate enhanced performance characteristics.
"We anticipate that key sealing applications in engine and fuel systems and in transmission systems will disappear over time as manufacturers continue to focus on the design and engineering of alternate powertrain technology," said Blake. "Our existing products are a bridge to innovations that can address new requirements in areas like batteries, thermal management and E-Powertrain applications."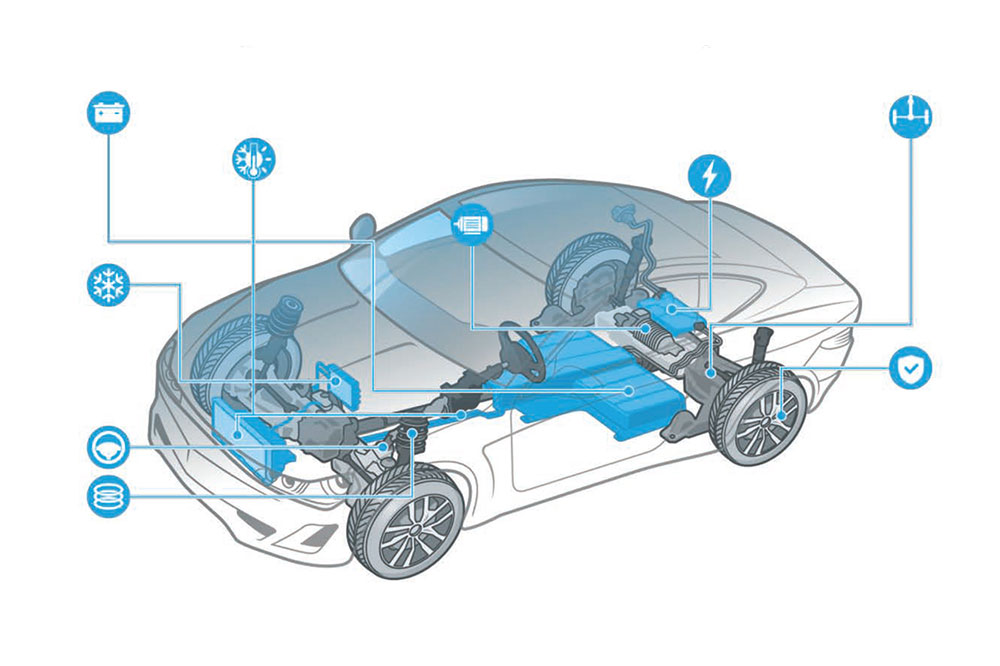 Earlier in the year, Freudenberg Sealing Technologies revealed that up to 70 percent of its automotive sales could be at risk if it does not embrace new E-Mobility and fuel cell opportunities. In response, the company has begun repositioning material and product research and development to address lithium ion battery and fuel cell applications as well as electric motors, inverters, charging systems and new mobility driveline innovations.
Blake identified specific product applications and E-Mobility systems that Freudenberg has focused upon in a bid to bring new value to automotive customers. Innovative components like the company's DIAvent pressure compensation element, which combines a pressure compensation valve with an emergency overpressure release valve, and its electrically conductive radial shaft seal, which safely dissipates excess electric potential and prevents damage on key components like e-motor gears and other moving parts, are part of a growing portfolio of new mobility sealing solutions the company is offering to automotive and general industry customers.
At the heart of this innovative portfolio, Walker and Szparagowski pointed out during the presentation, is the development and testing of new rubber and plastic materials that address emerging system concerns associated with battery electric, plug-in hybrid and fuel cell electric vehicles.
"The impact of alternate powered vehicles on the automotive market continues to evolve and with the emergence of new propulsion technologies, material technology is also being challenged to address hereto unknown and unaddressed demands," Walker said. "There are many needs for new advanced materials in lithium-ion batteries, E-motors, inverters and chargers and drivelines. Thermal management, pressure regulation, thermal and electric shielding, lower friction, lower stiffness, lower weight and lifetime lubricants are just some of the elements that materials now need to successfully address in a new mobility landscape."
Walker introduced a variety of Freudenberg developments including advanced elastomeric smart materials. Smart materials sense changes in the environment around them and respond in a predictable and reversible manner. One material, which gets its intelligence from magnetism, for example, have been developed using magnetic fillers. Material experts at the company have developed a special process for imparting iron fillers into the rubber that eliminates the possibility of rust formation within the seal.
Another smart material the company has developed is being used to detect wear in rotating shaft seals. In this case, the elastomer is a composite construction made from an electrically canceling elastomer and an electrically conductive elastomer. The innovation is found in the construction of the composite and the electrically conductive material, Walker said, and can determine the service life of rotating shaft seal.
Electromagnetic shielding in today's wireless and internet-enabled vehicles is also critically important, Walker said, and Freudenberg has developed smart materials to protect communication signal reliability.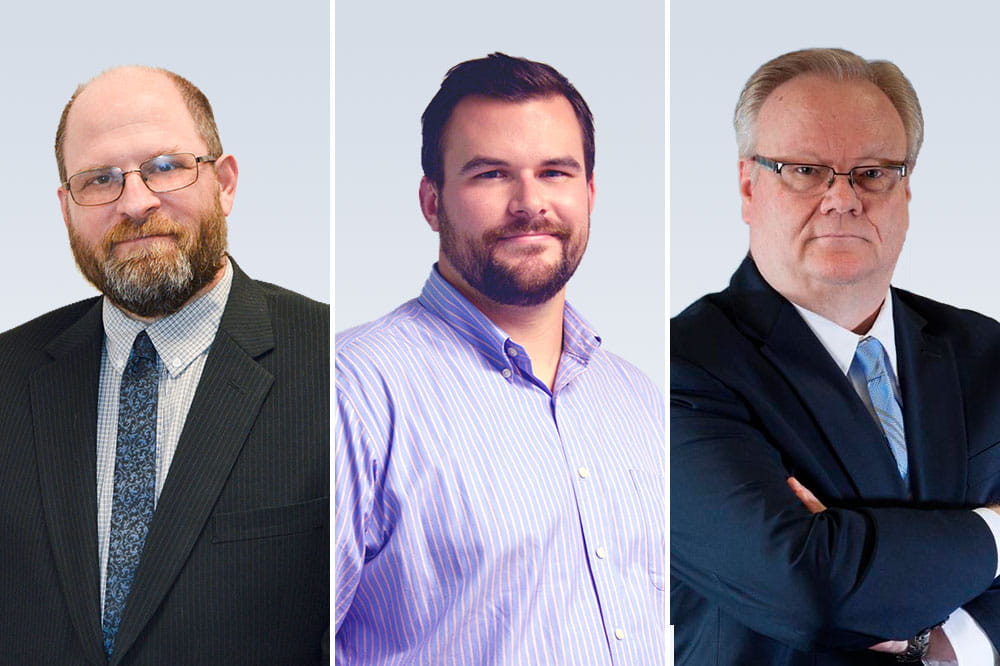 Other material innovations were also discussed during the webinar. The company has leveraged its knowledge of aerospace industry materials, for example, in addressing thermal management requirements in E-Mobility battery applications. A new flame retardant material that meets safety requirements in China is already available and, in anticipation of even tougher E-Mobility global thermal safety standards, fireproof materials are also being developed.
The company also used its general industry knowledge to develop a family of Extreme Temperature Seals (XTS™) designed to continuously operate at more than 400°F (204°C). The unique, fluoroelastomer-based compounds used to manufacture the seals offer exceptional chemical resistance and sealing ability in an E-Mobility environment.
Szparagowski rounded out the technical discussion with a review of Freudenberg's newest research and testing in the area of high performance thermal plastic materials. "When we talk about high performance plastics, we are talking about what we can do to improve performance by lowering wear, friction and weight," Szparagowski said.
Freudenberg uses dry and wet standard at various pressures and velocities in wear testing, Szparagowski pointed out. By using specifically developed wear testing that reduces variation by controlling temperatures and eliminating debris, the company can clearly evaluate how fillers used in high performance plastics impact wear performance and friction, thus enabling chemists to develop better performing materials. Such rigorous testing has enabled the company to develop a new polyetheretherketon (PEEK) Q55-14 formulation, for example, that offers manufacturers both low friction, low wear and extreme durability characteristics.
Freudenberg has also applied the same process and fillers in formulating a new Quantum® polytetrafluoroethylene (PTFE) that offers high roughness resistance and low wear comparable to PEEK and other injection-moldable materials. A new development-grade thermoset, Q72-4, has been formulated from polyimide and unique Freudenberg fillers to improve durability and reduce component wear.
Szparagowski concluded the presentation with a discussion of materials that have been developed to reduce weight and replace metals in E-Mobility applications. The company offers customers a Quantix® polyphenylene sulfide (PPS) that is 75 percent lighter than aluminum accumulator pistons. Other Quantix materials have been used to design roller bearing replacements in torque converters that offer a weight savings of 80 percent over traditional metal bearings. But in addition to the use of advanced thermoplastic materials, the design of such replacement components is crucial.
"Design is really important. You can't just replace a metal part and not change the geometry or you'll or you'll get a failure mode," Szparagowski said. In response, Freudenberg has introduced technology like its Levitorq™ thrust washers and Levitas™ seal rings that save fuel, lower emissions and extend the operating life of the powertrain. Both rely on hydrodynamic oil film technology to reduce transmission friction by as much as 70 percent over conventional components depending on application conditions.
The Freudenberg webinar can be viewed on demand on SAE International's website at here.