23.08.2018
Professional Work while Learning
A tailor-made entry into the automotive business: The Junior Key Account Management Program at Freudenberg Sealing Technologies.
There is nothing as enduring as change. With his studies complete, Christoph Reißenweber suddenly had to reconcile his ambitious career plans with another job: that of a new father. In light of the happy event, the 33-year-old is thankful that he can put the foreign assignment envisioned in the program on the back burner. For the time being, he will continue to work as a Junior Key Account Manager.
It is precisely this flexibility that distinguishes the Junior Key Account Management Program (J-KAM) at Freudenberg Sealing Technologies. The industrial engineer has been participating in J-KAM since October 2017. He will soon begin supporting key automotive customers on his own, providing them with made-to-order sealing solutions.
Learning by Doing
The "made-to-order" part applies to J-KAM as well. "We want to promote the individual strengths of our young talent and prepare them as well as possible for their future assignments in the domestic market and abroad," said Human Resources Manager Dario Mancuso. Neither the program's contents nor its exact duration are prescribed in a clearly structured framework. The break-in period and training plan are tailored to the individual. "The program is an important component of our targeted staff development activities for Sales Automotive," Mancuso said.
After just nine months, Reißenweber's colleague Christopher Wecht, also an industrial engineer, was given the chance to take the job of a Key Account Manager, a position with major responsibilities. He didn't hesitate to seize the opportunity. "I was extremely well prepared in the J-KAM program. I have become acquainted with our products, their applications and our markets, I have already had the first customer contact and, internally within the company, I have seen the organization first-hand and created a network. The focus is on 'learning by doing,' he said.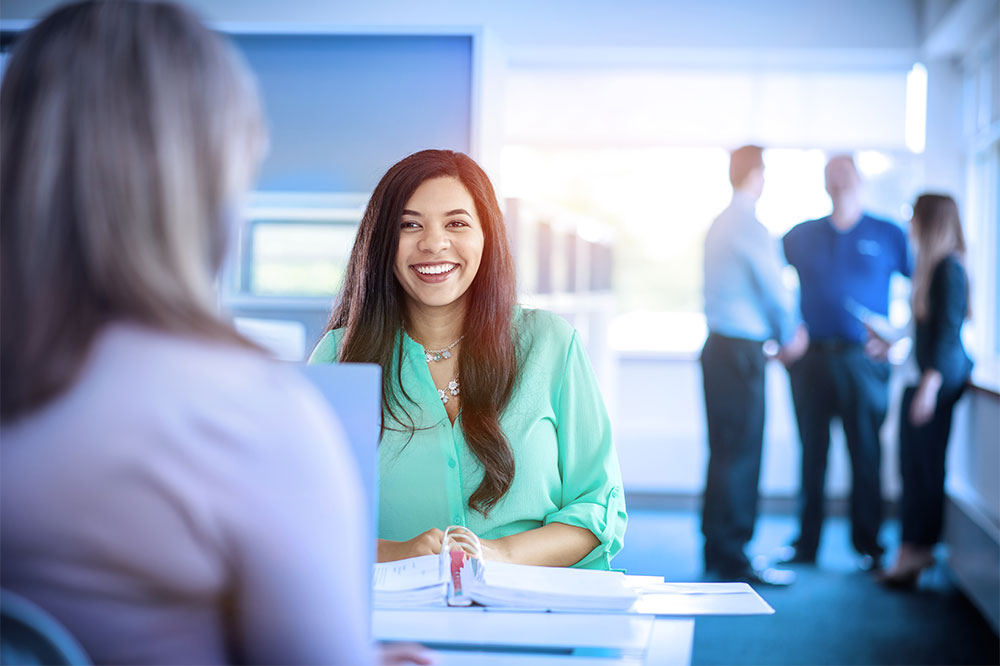 One Participant – Two Sponsors
Melanie Schneider has placed great value on practical relevance and active, autonomous collaboration. Schneider, who is the Vice President for Automotive Inside Sales, co-founded and co-developed the program to nurture young talent at Sales Automotive Europe.
"Right from the start, our J-KAMs take on demanding tasks within our sales organization. They handle projects, for example, in the lean office area, ensuring that our processes become even more aligned with the customer. No one is thrown into the deep end of the pool. We place a high value on a good, comprehensive education."
Training and seminars provide the theoretical background. Aside from the entire sales team, two personal sponsors provide each of J-KAMs with close, in-depth guidance. They give them support and the opportunity to learn their trade from the ground up. One of them is in Inside Sales – here the focus is on communication about internal processes. In Outside Sales, a sales engineer is usually the personal contact person and mentor on technology issues and the cultivation of personal relationships with customers.
Gilda Semik is a sponsor in Inside Sales. "The J-KAMs are highly motivated. We are on an equal footing on the team," she said, referring to the open communication and spirit of partnership within the group. "They don't just want to learn – we want to support us and our work energetically. For example, they can fill in for us when we are on vacation and give the work a 'test-drive.' If they are familiar with the requirements and work processes on the other side, meaning in Inside Sales, when they are Key Account Managers later, there will be greater mutual understanding."
Time and Latitude for Project Work
Michael Schuhmann, Director of Sales and a sponsor, is another fan of the program. "The J-KAMs have the latitude to work on projects that would otherwise fall by the wayside from time to time. In the process, they see things from a different angle than long-time employees do. They have new ideas, and we are interested in them." He also points to the arrangements for succession on a sales team. "If an employee leaves the company due to retirement, for example, you usually lose a great deal of knowledge. The Junior Key Account Management Program offers the opportunity for seamless, well-ordered knowledge transfer and on-the-job training. This benefits the company and customers value it. In addition, the young talent can learn a great deal to help them with their careers, especially from veterans with a trove of experience."
Are you interested in a program to promote young sales talent in the auto industry? Here is a recommendation: Try your hand at a technical internship at Freudenberg Sealing Technologies ahead of time – preferably while you are still a student.
Please find our current job postings.