Greenhouse with CO2 Absorber
It was right in front of me: a delicious hamburger, a quarter-pounder with cheese, iceberg lettuce, a slice of tomato and, of course, ketchup. I was sitting in a restaurant on the edge of the Jeevanjee Gardens in the center of Nairobi and dining on meat again. It made a pretty decent meal. By law, farmers have had to feed their cows especially nutritious grasses that are enriched with a special seaweed. The feed reduces their flatulence – and their methane emissions – by more than half. Things got serious after lunch. "Now to the residential project," I told Avar. "What's the best route to the dormitory?" My AI assistant did a quick calculation. "Nero, it's not more than 400 meters to the Nairobi campus. You can walk."
---
Abuya, an assistant professor at Mount Kenya University, greeted me at the dorm and showed me my quarters, a small room with a bed and desk. She was overseeing the experiment: A group of 10 students residing there intended to feed themselves completely self-sufficiently and CO2 neutrally for a year – living only on what they could grow in and on their building. I was due to participate in the experiment the following week. A number of universities and companies in Africa, Europe and Asia are involved with the project, which is designed to show that megacities could soon be able to feed themselves. But there was a slight drawback: Only food on the menu was vegan. That was my excuse for the trip to the burger shack at noon.
Day 2 and 3
Over the next two days, I had to help Robert and Kelly in the roof garden, which supplies residents with fresh vegetables. Our agenda includes cleaning the nightshade house. "You're handling the mopping robot," Kelly said with a smile. She pointed to a cube-shaped box with a large display. "You only have to program it. The nano layer on the wiper picks up dirt automatically." Before I got started, I looked up at the strange roof structure, and Robert had followed my gaze. "That is the CO2 absorber," he said. "It filters the carbon dioxide out of the air. We use it as fertilizer. The CO2 absorber runs on electric current from the solar coating incorporated in the exterior walls." Tomatoes, paprika and potatoes thrive on the widely spaced branches of the horizontal and vertical carrier structures in six separate sections of the half-open greenhouse. The structures resemble ice crystals. "How is the mopping robot doing?" Kelly admonished me. "Oh well, I still need to write my blog article later," I explained. "And I can't even identify the individual plants." Kelly laughs. "No wonder. There are tomatoes, paprika and potatoes on single plants, which we call tompaptatoes. This is much more efficient than individual varieties."
Day 4
My day to write. In the afternoon, I wander through the city of Nairobi. Only electric robo-taxis and robo-trucks are on the streets. Other means of transportation are only permitted outside its perimeter. In the evening, an excellent meal at the dormitory: home-baked cassava bread with a tasty spread made of chickpeas and herbs, a thick vegetable stew, plus homebrewed beer from a small brew kettle in the cellar. Wonderful – I didn't even miss meat as a side dish.
Day 5
The well in the cellar was on the agenda on day 5. The pumping system, which transports the liquid plastic for the renewable well pipes deep below the ground, had broken down. Takao, a mechanical engineering student from Nagoya, had already been tinkering with it for a few days. "The plastic is equipped with hygrophilic sensors," he said. "That means the pipes can orient themselves to the water veins as they grow." But it takes materials to do this. There's not much I could do to help. I worked as his assistant, handing him tools. Late in the afternoon, I heard a whirring sound and an enthusiastic "Banzai!" from Takao. The pump was running again.
Day 6
Unfortunately, I was back in the cellar again. Multi-storied plant boxes with violet lighting are located here. Manioc, barley and a few other types of grain were thriving in them. In addition to organic LEDs, the partners in the project have been testing fluorescent plankton made of various types of algae as lighting for the boxes. Marijke, who is from Amsterdam, accompanied me. She breathed deeply. "Due to the biomass down here, we have a constant supply of surplus oxygen," she said. "We conduct the used air into a small system with molecular sieves, and we deliver the oxygen that we collect to nearby hospitals." We harvested a few tubers from the low-growing manioc plants, which were bred especially for cultivation in enclosed spaces and provide an extremely high yield per acre. In the kitchen, we peel and grate the tubers, and then soak them so they can be roasted and processed into meal later.
Day 7
The day of departure. "We can never get away from technology," I say somewhat philosophically to Avar. "Here in Nairobi, it was surprisingly down-to-earth – in a megacity of all places. Please note for my report: We human beings will never dine on anything digital. We still need plants for that – and maybe a good burger now and then, too."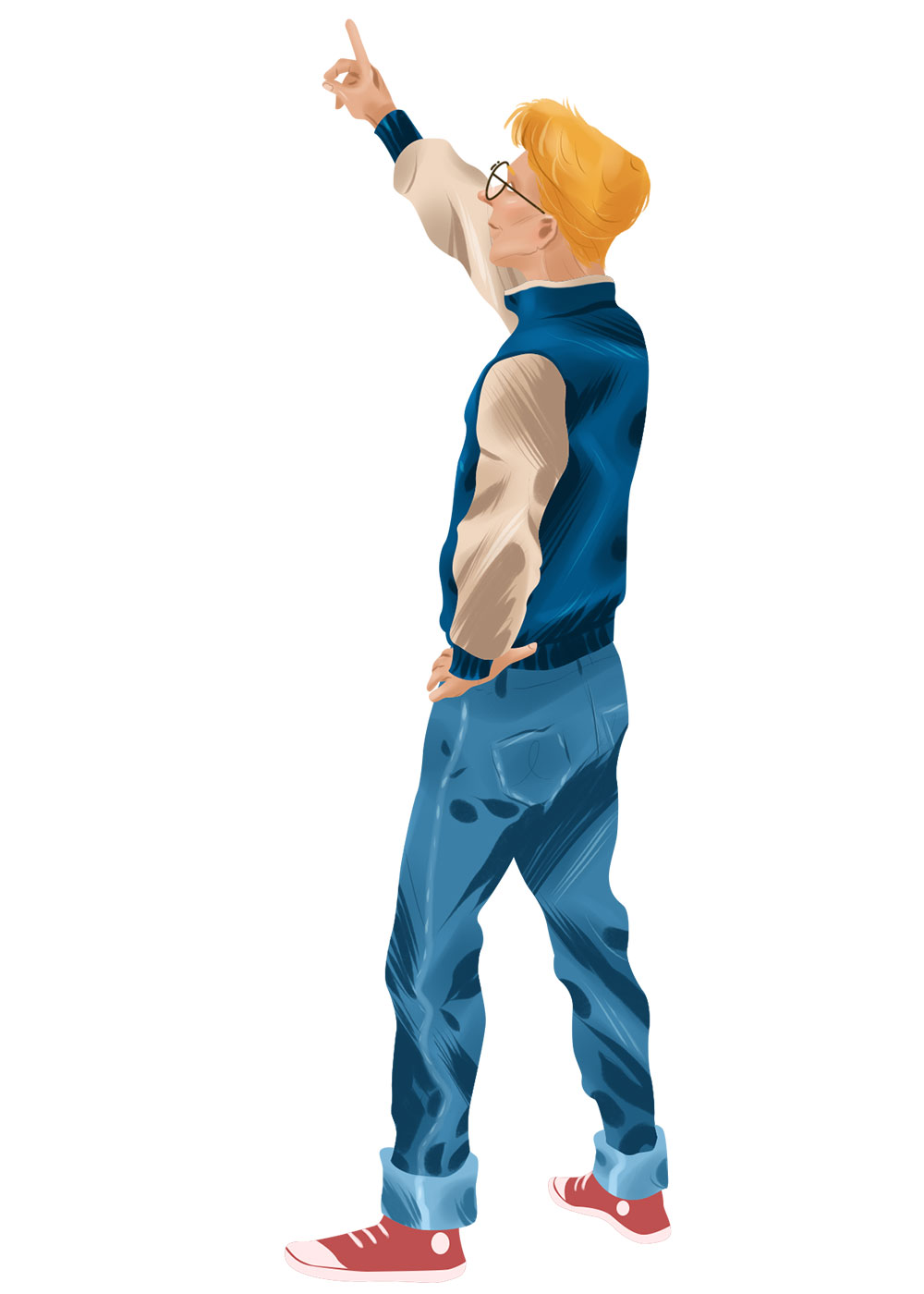 ---
Read more about other adventures of Nero and Avar!