Tesla and PayPal founder Elon Musk is the driving force behind the Hyperloop project. In 2015, he initiated an international competition calling on young researchers to come up with concepts for these sophisticated transportation capsules, also known as pods. The ideas submitted by 30 student teams throughout the world were so promising that they were asked to build prototypes.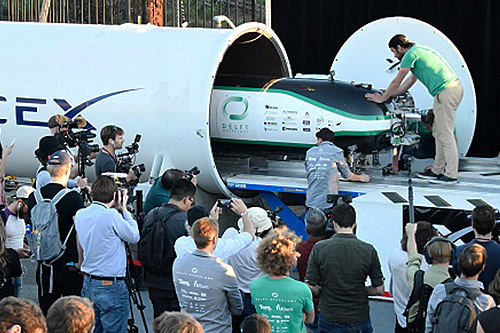 The trials took place in late January 2017. There the three best teams, which were from the Massachusetts Institute of Technology (MIT), the Delft University of Technology and the Technical University of Munich, were invited to compete against one another at a testing site in California.
While the pod from TU Delft had the edge technologically, the design from the Munich students was impressive for its speed. On a test track one mile (1.6 km) long, the winning vehicle achieved 94 km/h. Elon Musk, who was present at the finals, considered speeds up five to ten times as high to be possible in the foreseeable future. The time-saving travel of the future has thus come a good distance closer to reality.
---