First-Hand News?
Obtain news and background information about sealing technology, get in touch with innovative products – subscribe to the free e-mail newsletter.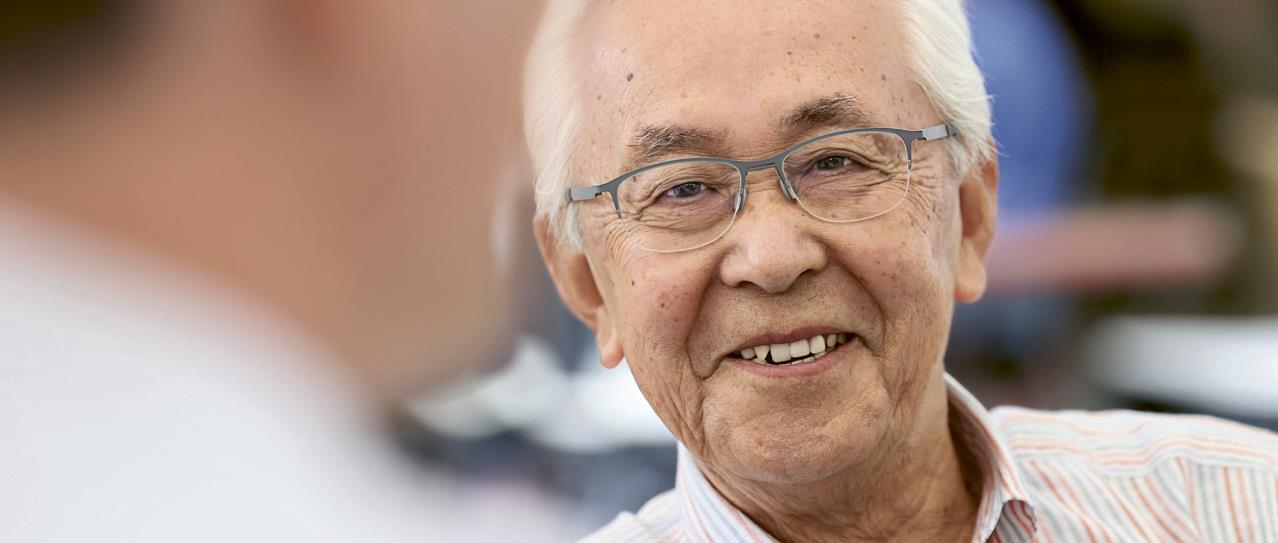 A close partnership has linked Freudenberg and the Japanese company NOK for 60 years. Freudenberg Sealing Technologies has benefited from the joint development of key foreign markets right down to the present. What is the secret of this unusual alliance?
When Katsuhiro Yamaguchi moved to Weinheim for good in 1975, he began to lose a kilogram (2.2 pounds) a month. It took him a while to get used to traditional German cooking. But in his work, he adjusted comparatively quickly. He expanded Freudenberg's business in slide ring seals within a few years. The timing was perfect since European automakers had converted many of their engines from air- to water-cooling, and every coolant pump needed a slide ring seal. The know-how for this special type of seal came from Yamaguchi's homeland, Japan.
It´s not companies who befriend one another. It´s managers and employees.
Katsuhiro Yamaguchi
Slide ring seals were new to the German market. They were able to catch on quickly due to an unusual alignment in the history of German machine-building. In 1960, the Freudenberg Group acquired a 25 percent stake in a Japanese seal manufacturer that was still called "Nippon Oil Seals Corporation" and now does business as NOK.

Dr. Hans Erich Freudenberg, who then headed the economics department of the family-owned company, had spent several weeks traveling through the "Land of the Rising Sun" the year before. Japan was only beginning its economic development and was building about 190,000 vehicles a year. Germany's volume at the time was 1.5 million units. Dr. Hans Erich Freudenberg bet on Japan and won: In 2019, more than 8 million cars were built in Japan, and Toyota, which holds a stake of several percent in NOK, sold 10.7 million vehicles worldwide last year.
Freudenberg benefits from the arrangement far more than its minority stake might suggest. As Dr. Hans Erich Freudenberg wrote in the report from a further trip in 1961, "We aren't expected to provide just technical processes and investments, but also the friendship, rapport and constructive criticism that ought to mark a close relationship between partners."
During the early years, both Freudenberg and NOK concentrated on their respective home markets, and the cooperation was mostly of a technical nature. Still, the leadership of each company met at least once a year and held in-depth discussions. At the end of the 1970s, they had made it through the oil crises of the decade, and industry in both Germany and Japan underwent huge expansions. Freudenberg and NOK teamed up to acquire the Brazilian company Rubasil, their first subsidiary in a third country.

With his production of slide bearings underway, Yamaguchi found himself serving as a translator when top executives met. "This wasn't just translation. It involved the interpretation of what was said as well," he recalled. If the Japanese side said, "We'll think it over," the Germans might often mistakenly interpret this as "yes." It was actually a polite way of saying "no."
At the end of the 1980s in the United States the German-Japanese partnership achieved a major success. Both companies had already built or acquired small local factories there, but they ranked low on the list of the top 10 seal suppliers. "The result was price competition that hurt both companies," Yamaguchi said. After in-depth discussions, the partners formed the Freudenberg NOK General Partnership in 1989. The basic idea was straightforward: Freudenberg would deal with Europe and NOK with Asia, and they would conquer the U.S. market together.
It may be a long time before we return to pre-crisis levels.
Matthew Portu, President-Freudenberg-NOK Sealing Technologies
At a minimum, the latter plan succeeded: The joint venture, whose shares are 75 percent owned by Freudenberg, achieved revenues in the high three-digit-million range in 2019 and has operated highly profitably. Significant segments of its revenue come from seals and other parts for automakers operating in the U.S. "We do good business with the large U.S. manufacturers as well as with German and Japanese OEMs that build cars domestically," said Matthew Portu, President of Freudenberg-NOK Sealing Technologies, which runs the U.S. business operations of Freudenberg Sealing Technologies (FST). "A major advantage of our global alliance is that we can deliver parts anywhere in the world with exactly the same quality," he said. This is especially important because every automaker has the strategy of building powertrains from globally uniform modular kits.

Portu, who once worked in purchasing at Ford, believes that the successes can also be traced back to a blending of cultures. "Some of the stereotypes that we entertain are absolutely justified. Germany has very clever engineers and Japan is incredibly quality conscious. In our company culture, we combine the two, and add our very goal-oriented American management style." Weakened by the corona pandemic, the U.S. car market will pose major challenges in coming years, he warned. "It may be a long time before we return to pre-crisis levels." This is where the long-term orientation of each parent company will be needed, he said, adding that "our customers and suppliers recognize this as well." It also took stamina for Freudenberg and NOK to build up their business in China. Launched from Singapore in 1995, the 50-50 joint venture NOK-Freudenberg now operates plants in important Chinese industrial regions.
Meanwhile, Yamaguchi is long retired. Asked whether there can really be true friendship between business enterprises, he smiled, paused a moment, and then replied: "It's not companies who befriend one another. It's managers and employees. It is easier to maintain the friendship if each person has something to give." Then he changed the subject, pulled out his smartphone and displayed pictures of his grandchildren. "That's a good reason to stay around, isn't it?"
---
This article originally appeared in ESSENTIAL, Freudenberg Sealing Technologies' corporate magazine that covers, trends, industries and new ideas. To read more stories like this, click here.
More Stories About Sustainability