First-Hand News?
Obtain news and background information about sealing technology, get in touch with innovative products – subscribe to the free e-mail newsletter.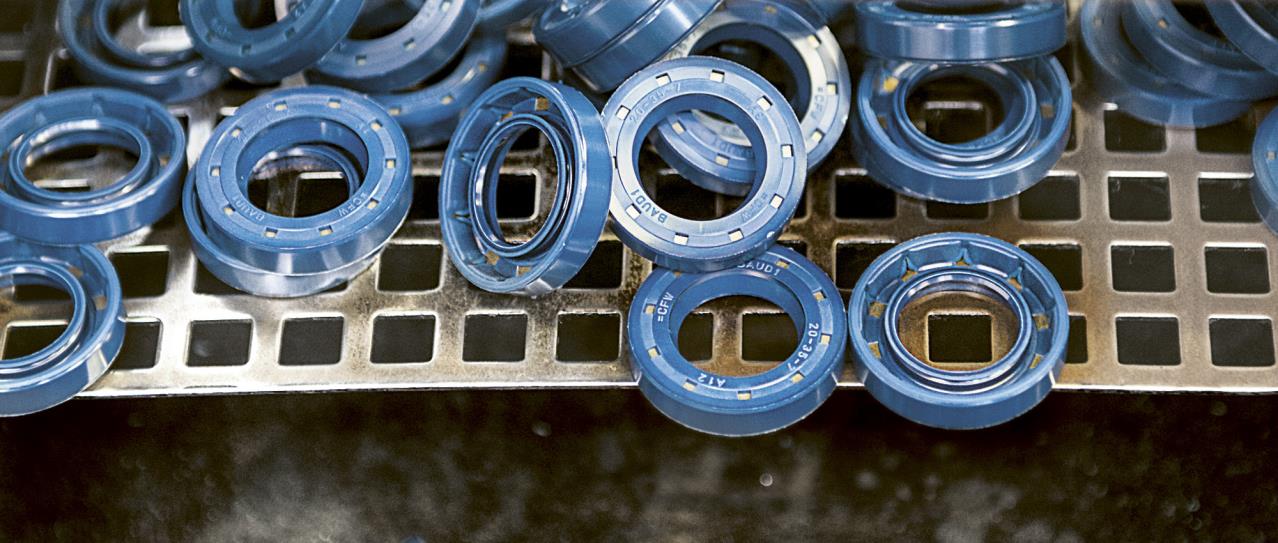 Pinerolo, a small town in northern Italy, is a key location in Freudenberg Sealing Technologies' global network. It is almost a miracle that neither employees nor customer relationships have been harmed during the corona crisis.
A half-dozen semi-trucks, all gassed up and packed with freight, were parked in front of the factory in mid-March. It was purely a precaution against the possibility that the Freudenberg Sealing Technologies factory in Pinerolo, a small town near Turin, would suddenly have to close. Among other products, the plant makes valve stem seals. These are small parts. invisible to a driver, but no engine can function without them. In the auto industry, which does without large part stockpiles, the lack of a component can quickly lead to a complete production shutdown. The semi-trucks never left the plant since automakers never ran out of the parts.

As the corona pandemic spread across most of Europe, most car and truck makers closed their factories. "While it was imperative not to cause a production shutdown at a customer's operation, it then became a challenge to wind down our own manufacturing operations and logistics," Plant Manager Andrea Giordano said. His colleague Daphne Giorgis, Manager of Customer Service, added: "That applied only to the manufacturers, however. We had other customers, in the service shops, for example, who were heavily dependent on supplies of replacement parts." Pinerolo faced its next challenge in May. It was essential to ramp up production since some of its customers had announced they were reopening their plants. Since Freudenberg provides upstream products, its own factories had to open a week earlier. Employees and government officials had to be convinced that it was really safe to work in the plant. "It's true that the impact on the Turin region was comparatively low." Giordano said. "Still, we had to ease people's fears of being infected." This worked out as well, and production was launched as planned, although at a fairly low level.
Communication Instead of Detailed Planning
What's the secret behind this successful example of crisis management? An especially clever emergency plan? Claudio Zoppi, who is in charge of Freudenberg Sealing Technologies' operations in Italy, smiled. "In this kind of crisis, you can't take extremely detailed precautions. It would be crazy to try to foresee everything down to the last detail. Instead you have to make new decisions every day, and this only works with a team that communicates constantly." The most important crisis management tool by far is communication with the customers, with employees, with officials, with the company headquarters in Weinheim, and naturally with one another. But at a minimum, the preconditions for good, open communication as well as for working together beyond the borderlines of departments can be met before a crisis.
Not a single customer production line had to shut down worldwide.
Sören Schmitz – Vice President Global Supply Chain Management at Freudenberg Sealing Technologies
That is exactly what has happened at Freudenberg Sealing Technologies in recent years. Zoppi assembled the managers of each division as part of the initiative "One Team One Heart" designed to rid the company of turf battles. "It worked like an inoculation during the crisis. Everyone got behind our common goals," Zoppi said. For example, there are plenty of opportunities for conflicts over urgently needed resources during a crisis. But if you activate the potential for human solidarity, everyone wins. Several other Freudenberg managers confirmed that this was a success in northern Italy. But there is another more technical reason why the Pinerolo facility made it through the crisis with relatively few difficulties.

For fifteen years, it has been much more automated than normal seal manufacturing operations. To be sure, even robots need human operators. But in a highly automated plant, it turns out to be easier to maintain physical distancing, which is essential to protect operators' health. This is also true for the regional warehouse where 13 autonomous transport robots are in operation. "This technology enabled us to react faster to the new demands arising with COVID-19," says Emilio Chiolerio, who is in charge of the warehouse.
More Intelligent IT
A change of scene to Weinheim: Sören Schmitz is in charge of global supply chain management at Freudenberg Sealing Technologies and was continually on the phone with his Italian colleagues last spring. The corona crisis kept him busy early on since some of the raw materials and parts used by Freudenberg Sealing Technologies come from China. When the virus reached northern Italy, the company had to react very quickly. A task force evaluated the risk of causing production shutdowns at customers' plants and agreed on countermeasures. "We didn't bring a single customer's production line to a halt," said Schmitz, who has long been working to improve the company's response to crises. His goal: resilience. That's what experts call the resistance of supply chains to disruptions. "We are actually well-positioned, with a relatively decentralized structure of production facilities and logistics centers," Schmitz said. "But there is still plenty of potential that improved IT offers." As many Freudenberg customers closed their factories, they were no longer in a position to accept the products they ordered. They ended up back at the shipper as product returns. At times, there were 600 return shipments stacked up at the new central warehouse in Bischofsheim. In contrast to the major retail mail-order companies, the processes at an automotive or industrial supplier were not geared to handling large numbers of returns. There's more: In some cases, customers' SAP-controlled IT systems kept spitting out orders even though their production lines had been shut down for a while. A large number of manual corrections were inevitable. "You can never do entirely without them, but we ought to improve our simulations of the consequences of disruptions in the supply chain so we can prepare countermeasures," Schmitz said. Work is underway on a suitable IT tool called "Sales Inventory Operations Planning." It should also help to make warehouse efficiency more transparent. "This much is clear," he said. "The cheapest warehouse is always no warehouse whatsoever. Resilience is first and foremost a cost factor. But even these costs can pay off." If just one customer switches to a competitor because of a supply chain or production shutdown, it can cost a company dearly.
---
Read more about globalization in our next issue of ESSENTIAL. The ESSENTIAL, Freudenberg Sealing Technologies' corporate magazine-covers, trends, industries and new ideas. To read more stories like this, click here .
More Stories About Digitalization