First-Hand News?
Obtain news and background information about sealing technology, get in touch with innovative products – subscribe to the free e-mail newsletter.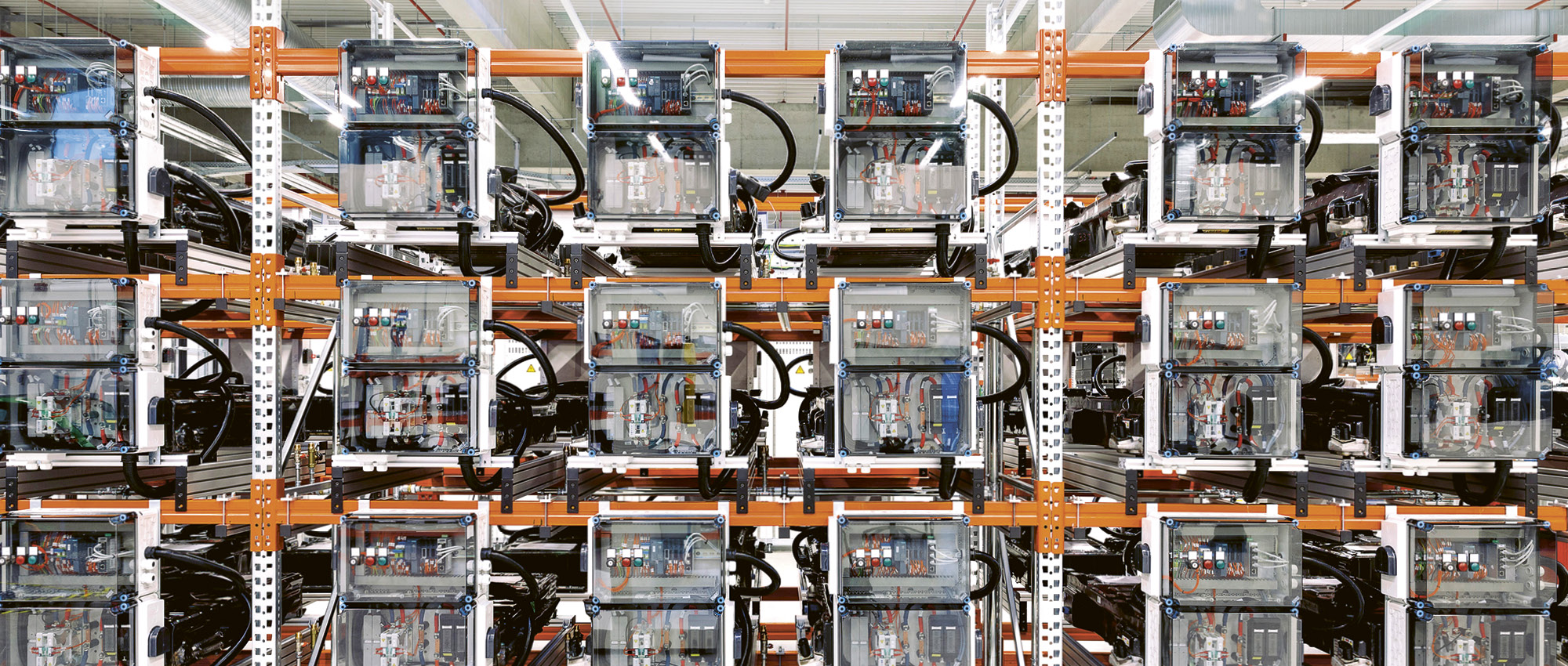 Storing Electricity off the Road
The used-up batteries of electric vehicles don't have to be recycled or discarded. Due to their remaining storage capacity, they are an attractive option for a second life in a stationary energy storage system.
In 2019, there were 5.6 million electric vehicles worldwide. If the International Energy Agency (IEA) is to be believed, there will be 125 million electrically powered vehicles in ten years. The quantity of used electric batteries will climb as the number of vehicles rises. Based on this forecast, a scrap problem for electric cars is looming. After all, the recycling processes for these technologies are far from impressive. They are both laborious and energy-intensive. But there's a way to approach the millions and millions of used powertrain batteries as an opportunity.
At its Leipzig factory, BMW is using up to 700 batteries from its i3 model as an energy storage system.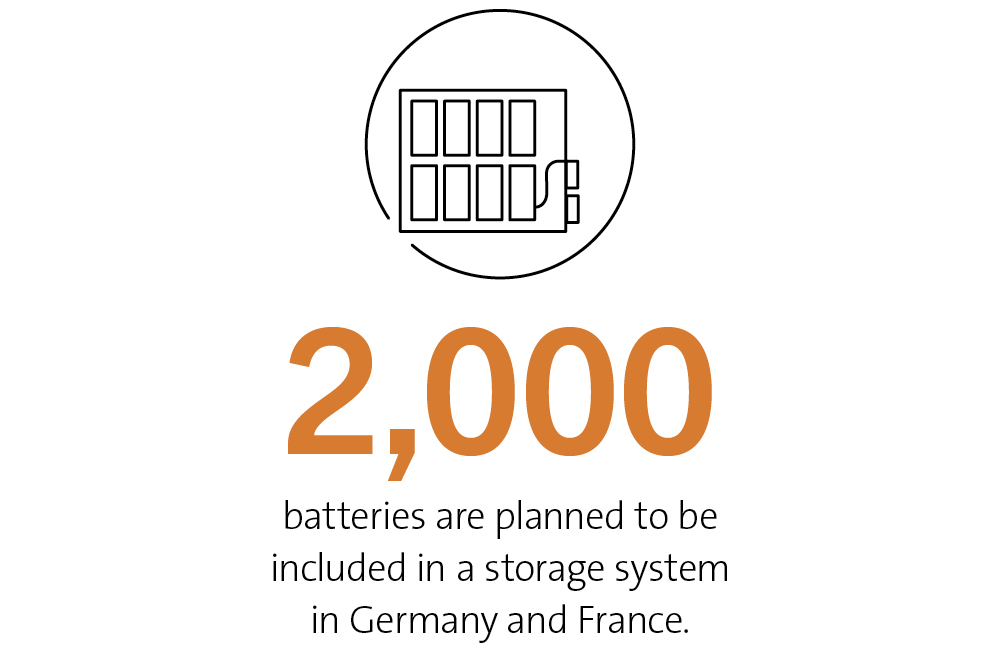 After 10 Years Still Not Ready for the Scrapheap
And that's exactly what the early players are doing right now. A lithium ion battery will propel an electric vehicle for about a decade. During this time, its storage capacity will gradually diminish to around 80 percent. That increasingly seems unsatisfactory for demands of transportation. But it would still come under consideration for use in a stationary storage system, perhaps for a period of ten to twelve years.
The Japanese solar park Hikari-no-Mori turned to this approach back in 2013, relying on sixteen used lithium ion batteries as an energy storage system. The batteries came from Nissan Leafs and have added to the stability of its network as buffer storage. If an energy bottleneck looms, the stored solar electricity is released into the grid. By contrast, if the situation involves peak loads, the energy is parked there. This kind of reuse of electric batteries improves their environmental impact. At its Leipzig factory, BMW is using up to 700 batteries from its i3 model as an energy storage system. The wind energy to power its manufacturing operations is retained temporarily inside the system, and, when necessary, fed into the public grid. For its part, Audi has reassembled used electric batteries to propel industrial trucks on the shop floor, saving money in the process.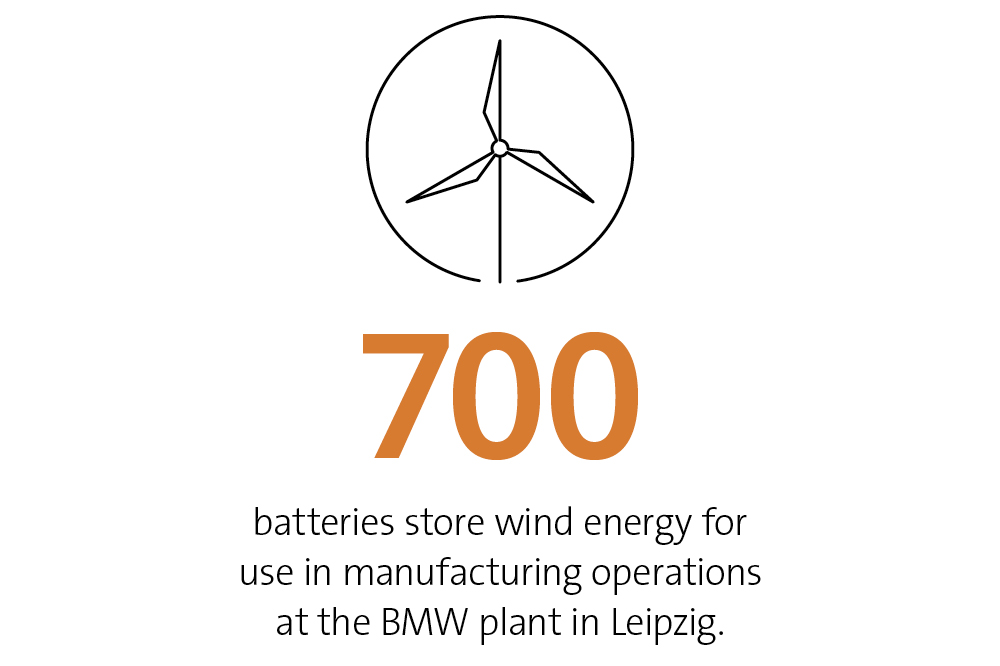 Energy Storage System at a Soccer Stadium
Meanwhile, a project in the Netherlands is attracting attention. New and used battery cells from Nissan have been assembled into a huge 3-megawatt battery at the Johan Cruijff ArenA, the highly advanced home stadium of the Ajax Amsterdam soccer club. The storage serves as an emergency supply and reduces the use of the usual diesel generators. The system is capable of providing the stadium, which holds 55,000 spectators, with energy for at least one hour. Aside from supplying electricity for events, the storage system retains energy from a solar cell system on its roof and delivers it to the commercial grid when it is needed, generating income.
"The Mobility House," a Munich-based technology company with additional operations in Switzerland and California, provides the operation of the novel energy storage system in the Amsterdam stadium with its intelligent charging and energy solutions. The Munich firm works with other automakers that are looking for a connection to the energy market. Collaborating with Daimler AG, the company is establishing a battery storage system for stabilizing the electricity grid on the grounds of a former coal-fired power plant. But in that case, it is turning to around 2,000 brand-new battery modules. The rationale for this 9-megawatt storage system is different. The new modules not only store electricity – they are also a "living" source of replacement parts. If a defective battery has to be replaced in a Smart car, Daimler can help itself to modules in the battery storage system.
Teaming up with Renault and other companies, "The Mobility House" has announced the construction of stationary storage systems in France and Germany. Together, they are expected to achieve a capacity of 60 megawatt hours. The standardized system, which is stored in containers, consists of 2,000 batteries. It is designed to temporarily store enough energy to meet the daily needs of 5,000 households.
Battery cells from Nissan provide electricity for 55.000 spectators at the Johan Cruijff ArenA
Second Life as a Flexible Power Bank
By contrast, Volkswagen is working hard on the reuse of used lithium ion batteries in electrical recharging systems. What were once propulsion batteries are helping out their still-functioning counterparts by serving as a "power bank." The series production of the charging stations is expected to get rolling this year, either for grid connections or for mobile operations, perhaps at a music festival or similar events. The charging stations are scalable for any purpose. As soon as the energy in the mobile stations is depleted, the batteries are replaced and recharged in a service park. They are only recycled when they are no longer suited for this mission. The second life of electric batteries doesn't just have the potential to make electric mobility more sustainable – it can also promote the energy transition.
More Stories About E-Mobility