First-Hand News?
Obtain news and background information about sealing technology, get in touch with innovative products – subscribe to the free e-mail newsletter.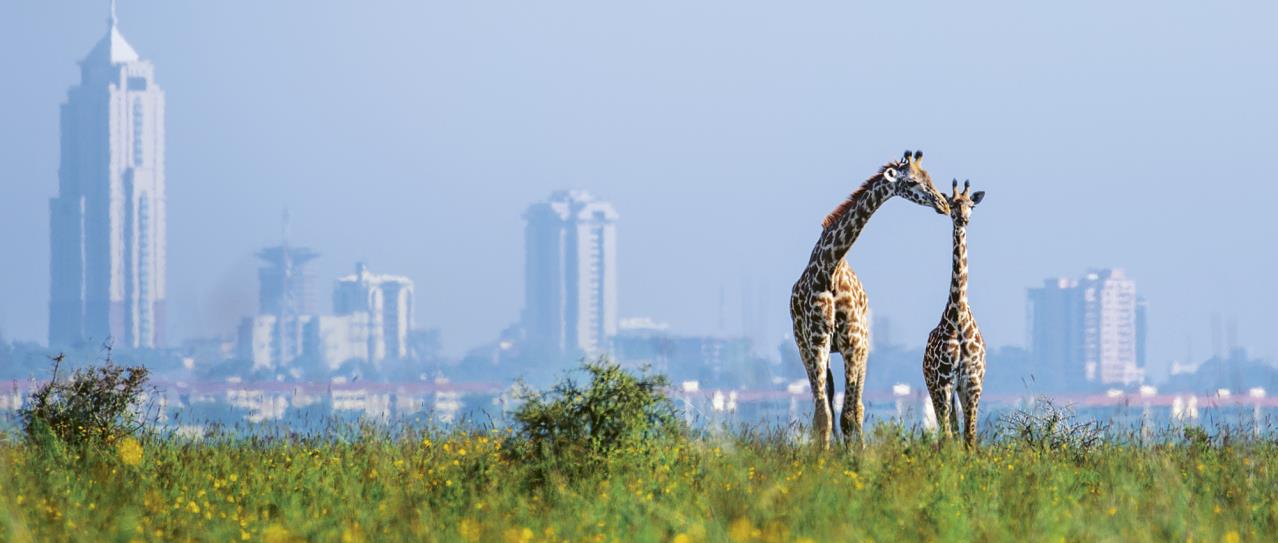 The Continent of Globalization
Africa is rarely mentioned when people discuss globalization. Even then, it is thought to be one of the losers in the game. In reality, the continent tends to be ahead of other regions when it comes to digitalization and its spirit of innovation. It has already derived benefits from the trends.
A dismal picture of Africa prevails in many industrialized western nations. It is seen as the continent of crises, catastrophes, disease and wars, to the point that its image obscures many remarkable characteristics, according to Hans Stoisser, an Austrian economist and corporate consultant. A keen observer of Africa for decades, he knows how other Europeans typically view the continent. "In the slipstream of globalization and digitalization, things have happened in Africa that we have not yet seen in Europe."
It all began with communication. Much as modern communication shaped globalization throughout the world, Africa's starting shot was fired when mobile telephones began making inroads around the turn of the millennium. "At that point, hardly anyone outside the continent understood that countries considered to be backward actually need mobile telephony," Stoisser said. It's not the first time in history that a lagging region has been able to leapfrog a stage in technology. Telephones have even proven to be more important than electricity since they simultaneously revolutionized communication, electrical supplies and payment processes.
Mobile Money Conquers the World from Africa
In Kenya and other nations, the mobile telephone soon became a way to make payments. "You could easily pay the market lady for your bananas by telephone," Stoisser said. It was the origin of mobile money. "It was a storybook innovation. It involved testing and learning. It was easy to do, and you could gradually build on it." The approach was so successful that the large, global companies' only option at some point was to export the system to other countries. The French wireless company Orange is an example. It has mobile money operations in a dozen countries and now proclaims that it has the "first 100 percent mobile online bank" in France, "They are implementing what they learned in Africa – naturally adjusted and with some differences," Stoisser said.
In the slipstream of globalization and digitalization, things have happened in Africa that we have not yet seen in Europe.

The same thing happened with cargo drones, another innovation. People marveled at them when they were deployed in Rwanda. A few special circumstances promoted their introduction there as well: a comparatively sparsely settled area, coupled with the need to transport medications to physicians in remote locations. The drones, which jettison packages of medicines by parachute, are operated so expertly and easily that European organizations like the German Federal Aviation Office plan to study their operation on site. "The special technical challenge is for drones to find their way. On the other hand, the catapult launches, parachutes and containers are actually simple technologies." The American company Zipline has now expanded into Ghana and, with the outbreak of the corona pandemic, is giving the green light for the use of drones in North Carolina.
Fewer Legacy Rights, Less Headwind
Many African countries have another edge over Europe and America: "There are fewer legacy rights, less old technology, fewer rules. That means innovations can emerge more easily," Stoisser pointed out. This has created very active startup scenes in many large African cities, launched and driven by a class of young, internationally networked business people, some of whom have attended universities abroad. In this respect, they resemble the globally oriented youth in other cities of the world. In turn, the developments have led people from countries such as Germany to participate in the activities, according to Stoisser. "You find many interesting people doing exciting things." He sees great potential for these efforts, especially in e-government, e-health or digital insurance. "Of course, it helps if an innovator has a real opportunity to have an impact on the rules."
Hans Stoisser, an economist, started working in Africa in 1982, staying for two-and-a-half years. Since 1992, he has headed the management consulting firm ECOTEC that advises ministries and communities in Mozambique, Uganda, Cape Verde and South Africa. In his book, "The Black Tiger" (2015), he shed light on the other Africa that Europe has not been inclined to acknowledge. He organizes instructional trips to Nairobi, among other destinations, and blogs at www.hansstoisser.com.
Kenya
Kenya contributes about 40 percent of East Africa's economic output. It has a dynamic private sector, a growing middle class and a committed civil society. Nairobi, its capital, is known as the "Silicon Savannah" and is considered a hotspot for digital innovation with a lively startup scene. In recent years, the Kenyan economy has grown 5 to 6 percent annually. Its challenges include high population growth and youth unemployment.

For example, a new way to obtain electricity emerged during this flurry of innovation. It relies on solar panels to provide enough electricity to power a television or meet the needs of a modest household. The system is connected to the phone network, not the electrical grid. Payments are made via a built-in SIM card. "Thanks to this off-grid solar-energy system, a special business model has emerged especially for poorer households in East Africa," Stoisser explained.
Future Markets for Those Who Think Globally
Stoisser is a passionate advocate for the continent, arguing that Europe should pay attention to developments there and follow China's long-standing example by identifying its business opportunities. On each business trip that he has accompanied to the continent, right down to the present, he has seen travelers get their first understanding of the contrast between image and reality in Africa. He says the events of 2020 present the best possible proof that Africa is integrated into global networks. In response to the corona pandemic, it is heading into its first true recession in a quarter-century. "The corona pandemic is basically not a health crisis here — it is an economic crisis that is severing African countries from global supply chains and other economic connections," Stoisser said. But even if the coronavirus is slowing once-dynamic economies, "there are economic opportunities, markets of the future and above all growing markets in Africa if you think long-term and globally."
---
This article originally appeared in ESSENTIAL, Freudenberg Sealing Technologies' corporate magazine that covers trends, industries and new ideas. To read more stories like this, click here.
More Stories About Sustainability